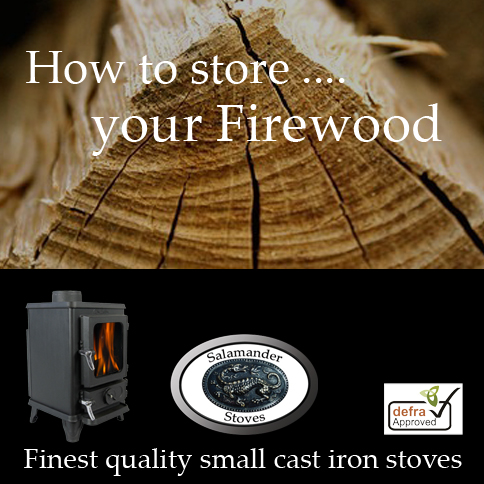 There are the organised among us that have prepared their log pile 5 years in advance of when they intend to burn them! The result being perfectly dry logs that burn well, give out great heat and leave little ash and deposit.
Then there are those people that snaffle a bag of logs from the garage on the way home and wonder why these logs give out no heat and burn poorly.
The general consensus is that logs should be cut and stored for a minimum of 2 years and have a moisture content less than 20%. The preparation of the fuel for your woodburning stove is something often overlooked but is actually an essential component in successfully using your stove. Fresh cut wood has a high moisture content of 60-70%. Allow logs to dry until the moisture content is below 20%
Care should be taken to choose good hardwoods such as oak, ash and beech. They should be converted into either rings and chord wood or even better be cut and split into logs. These logs are then best kept stacked with a tarp covering or stored in a dry shed. Check out this article on stylish wood storing solutions for the design savvy among us!
Resources for choosing and storing Wood for your Wood Burner
This Which Guide has a good article about choosing and storing wood for your wood burner.
The Forestry Commission has a great downloadable PDF guide "Wood as fuel a guide to choosing and drying logs" that is a useful guide
The Good Firewood Website has a great page on choosing and using wood for your wood burning stove. In fact the website has some great information on wood for your stove
Summary
Chose Good Hardwoods
Cut and store for a minimum of 2 years
Moisture content should be ideally less than 20%
Use woods such as Oak, Ash and Beech
Convert into Rings or Chord Wood
Split into Logs if possible
Stack with a Tarp or in a dry shed
Keep up to date...
Subscribe for Updates
Keep up to date with the
Hobbit Stove
and our new products and news. Just enter your name and email address and we will make sure you have our latest news. We will not spam you or give your details to anyone else.