Description
We are now taking orders for our new tiny wood cookstove and due to a huge amount of interest in our new little mini range the current waiting time is now 8 weeks.
I am very are very proud to say that after 2 years of developments running my prototype here in my old cricket pavilion, my new little baby is finally ready to go!
The idea behind it's conception was to give you much more than a normal stove has to offer by incorporating the elements of a cooking range, like a Rayburn or Aga. The opportunity for the owner of a cabin, tiny home or similar small space to extract much more value from their wood stove over and above the heat it provides.
I wanted to make a tiny stove-range that brought together all of the advantages a stove and cooking range provide but moulded together in a perfectly formed small package. A unit that could become the cosy heart of any small home. Providing warmth, hot water, enhanced cooking potential (large cook plate and oven), as well as what the Scandinavians would term 'hygge', that feeling of comfort where you slide back on the sofa inside your toasty tiny home and let the feelings of sheer bliss and a little smile appear on your face.
If you are interested or would like to place an order for your mini range then please email me or call me. mark@salamanderstoves.com or 01626 363507/333230. or simply place your order through our online shop.
The SALAMANDER tiny wood cook stove. This new mini stove-range is based around our little stove but is more like a mini cooking range. Manufactured and tested to the same high standards as our stove the mini range is another option for a medium sized fireplace where you want more than just heat. A farmhouse kitchen inglenook for example, can now be used to give you added cooking and heating potential. Due to its compact size it is also ideal for fitting in canal boats, tiny homes larger wagons or shepherd's huts.
When the back boiler option is incorporated my little range can also supply a source for hot water or radiators. Although unlike my Hobbit stove the boiler position is actually at the right side of the firebox so the pipes must exit from here. Please give me a call or email and I can forward pictures of this set up not shown here.
Additional options include a direct air system which can be incorporated
Overall Tiny Cook Stove Dimensions
Option A £1585 for horizontal rear splash guard with enamel finished stove top outer
Option B £1750 for horizontal rear enamelled splash guard with enamel finished stove top outer, splash back with enamel finish
Option C £1900 for horizontal rear enamelled splash guard with enamel finished stove top outer, splash back with enamel finish + top enamelled black splash back section with stainless rail and cast iron brackets.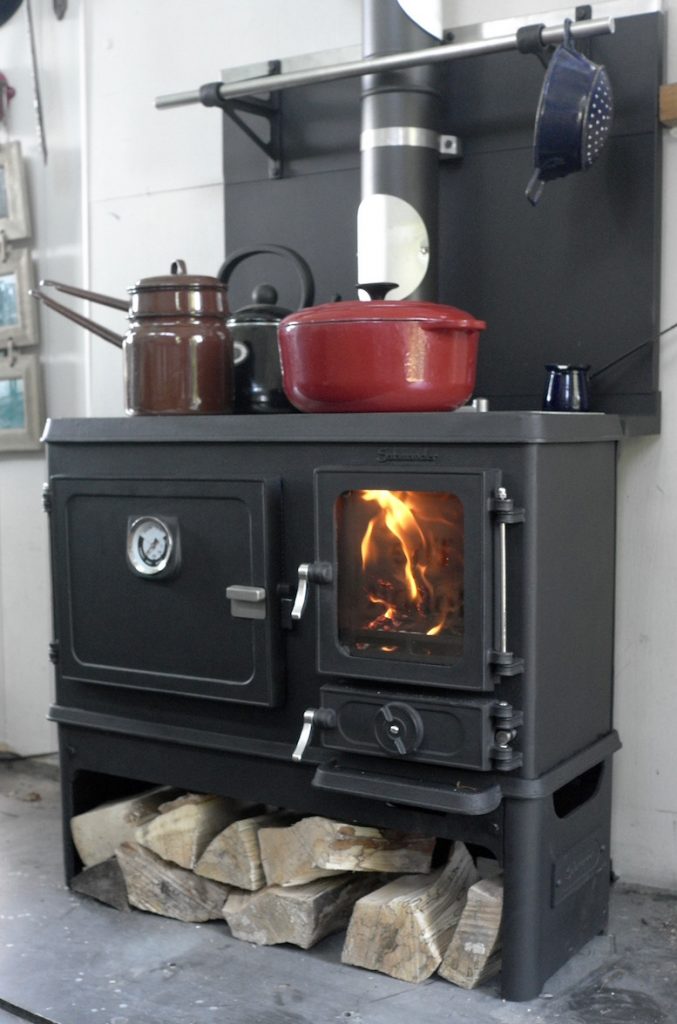 watch my little promo video by clicking on the image above.