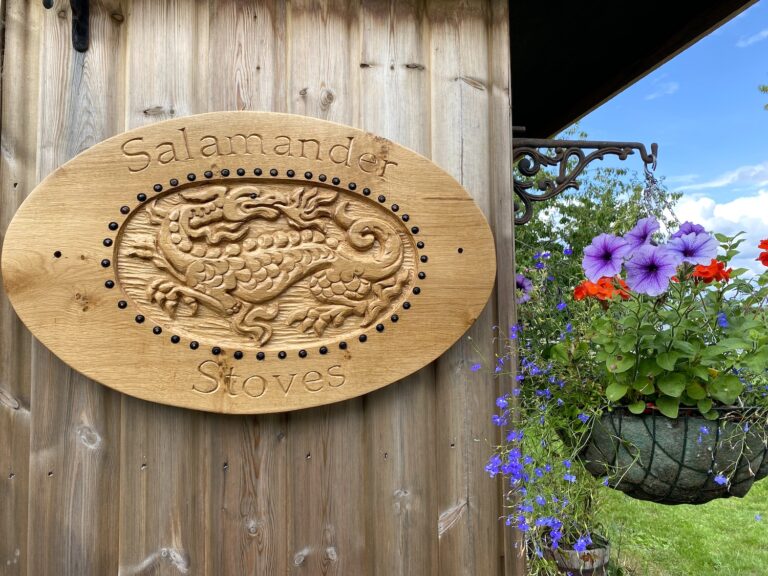 Bespoke Salamander Stoves Sign
We recently commissioned a bespoke Salamander Stoves sign, which has been lovingly hand-carved by Zabdi Keen – a talented sculptor and environmental artist who is based on the Isle of Arran! Our company logo was carved from a stunning piece of oak that Zabdi sourced from the gardens of Brodick Castle.
Zabdi uses traditional wood and stone carving methods to create truly beautiful works of art. She also spends a lot of time beach combing and collecting discarded materials, which are repurposed to create mixed media sculptures and contemporary craft objects.
Zabdi's strong sense of creativity began in her childhood, when she lived with her family in a caravan on Kilmory shore. Growing up with only an occasional supply of electricity meant that pencils were her main form of entertainment, and the harsh winters were spent in a secluded farm cottage.
After spending 30 years running a paragliding school in Arran, Hong Kong, Outer Mongolia and Nepal, she has now settled on the Isle of Arran once more, where she has been focused on her art full-time since 2020. She has even started chainsaw carving!
You can visit her outdoor studio in Kildonan at No. 2 Coastguard House on the Isle of Arran, but as this is quite a remote location, you can also visit her website to find out more about her work.
We are incredibly pleased with our bespoke Salamander Stoves sign, which is now proudly mounted on the side of our office and showroom. This durable piece of solid oak will endure the weather for many years to come!
If you happen to be nearby, then please feel free to contact us to book an appointment so that you can see our stoves in person! We have 3 different stoves on display and we are always more than happy to advise on your installation or to discuss any questions you might have.
Alternatively, you can find your nearest Hobbit stove or Little Range that's on display by entering your postcode into our authorised dealers page.