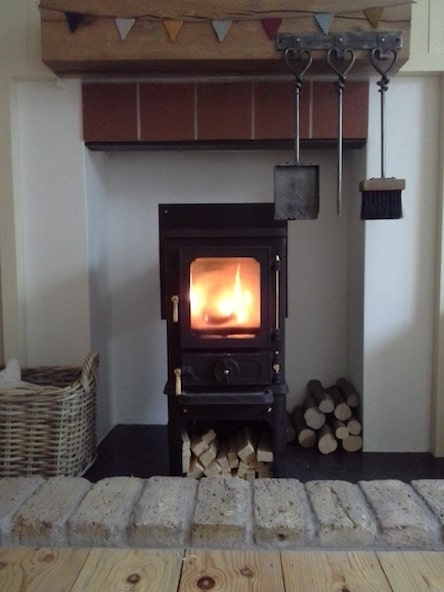 EcoDesign 2022 Hobbit Stoves
The new ECODESIGN version of our Hobbit stove will be available later this year, well ahead of the required deadline.
All our Hobbit stoves are hand finished to each customers specification.
We had our little stove independently tested in the UK by the KIWA lab in Cheltenham.
The full report will be available as a PDF.

Air pollution is often in the news at the moment with headlines proclaiming that installing a wood stove is detrimental to air quality.  Wood smoke from residential heating actually only accounts for less than 10% of the air pollution in cities and that the figure includes open fires which release far more particulates than stoves.  The arguably therefore unfair burden on stove designers has still however been taken up and a revolution in stove design has been championed by the Stove Industry Alliance a group representing manufacturers, government departments and fuel producers to produce wood stoves that meet an ECODESIGN standard.
Lower Particle Emissions
Ecodesign places a maximum level of 40 micrograms per cubic metre (40μg/M3) for airborne particulates in stove flue exhaust. Recent SIA tests have shown that modern, clean burning stoves reduce particulate emissions by 90% compared to an open fire and 80-84% compared to an old (10-year+) stove. Reference the drawing below.
Ecodesign is a European-wide initiative to lower emissions from wood burning and multi fuel stoves.
From the 1st of January 2022 all new solid fuel installations must only incorporate appliances that are compliant with the Ecodesign emission parameters. The new parameters require stoves to produce less particulates and CO gas emissions to help maintain overall air quality.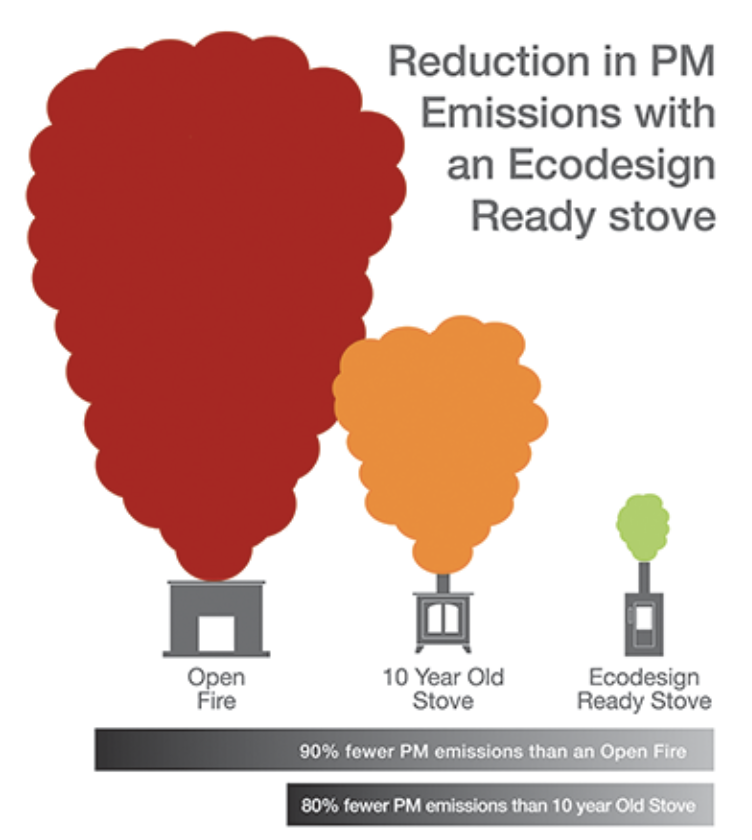 Will existing installations be affected?
No. The new regulations proposed only cover those newly produced roomheater appliances that are made available for sale on the UK market after 2022. There are also stipulations for the installer in ensuring that newly installed and commissioned appliances after the implementation date have been independently tested and verified as meeting the new provisions within Ecodesign legislation.
Do I need to buy an ECODESIGN READY HOBBIT BEFORE JAN 1st 2022?
No. There is no real need to buy an Ecodesign stove before the legislation actually changes on 01/01/2022. Until this date the current stove legislation applies and therefore a classic Hobbit stove or the DEFRA APPROVED SE Hobbit although marginally less efficient can be fitted into any domestic setting, installed in line with the current building regulations and Approved Document J.