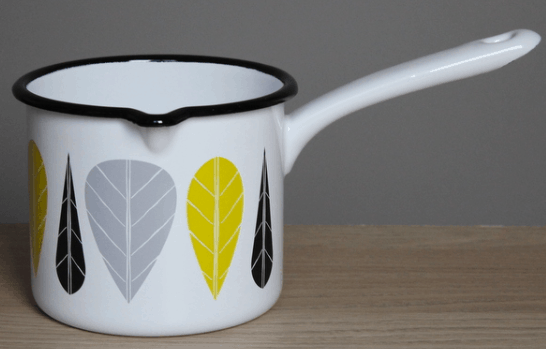 Small wood cookstove review – Muurla leaves motif enamel cookware
On a great trip down to Brighton to see Rosie over the weekend I picked up a lovely new toy for ongoing testing of my small wood cookstove.
The MUURLA ENAMEL MILK PAN .
I love the retro design and the Scandinavian simplicity of this range which is ideal for using on a wood cook stove.
I know it is only a milk pan but it also a brilliant size for making a wide range of sauces on my wood stove. It says on the bottom that it is suitable for just about all hob types but I will keep it close to my woodstove.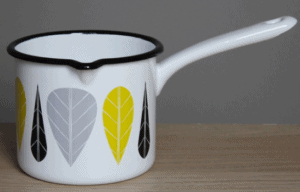 I made a mango, ginger and red onion chutney on the top of the wood stove to open the account of my new Muurla pan by firstly gently simmering the onion in a little oil. Then added crushed garlic and some very finely sliced and diced fresh ginger. Nigella seeds and the inside seeds of a few cardamon pods along with salt and black pepper. Some cider vinegar and some brown sugar and boiled it all up with a dissected fresh mango and a little splash of water.
So there was really only one thing we could have with our new chutney cooked in the new pan and that was a new culinary invention. It was Shrove Tuesday or Pancake day so it had to be 'cumin curry corn pancakes' along with the chutney.
I followed this up with two traditional pancakes cooked in a little more butter and served with a fruit compote that I again used the new Muurla pan for. I can see myself using this great pan a great deal and have already found that they also do a range of Moomin cookware!!! brilliant.