Hannam & Taylor
A father and daughter duo and a team of skilled craftsmen and women, who make stunning shepherds' huts on the edge of Windsor Great Park!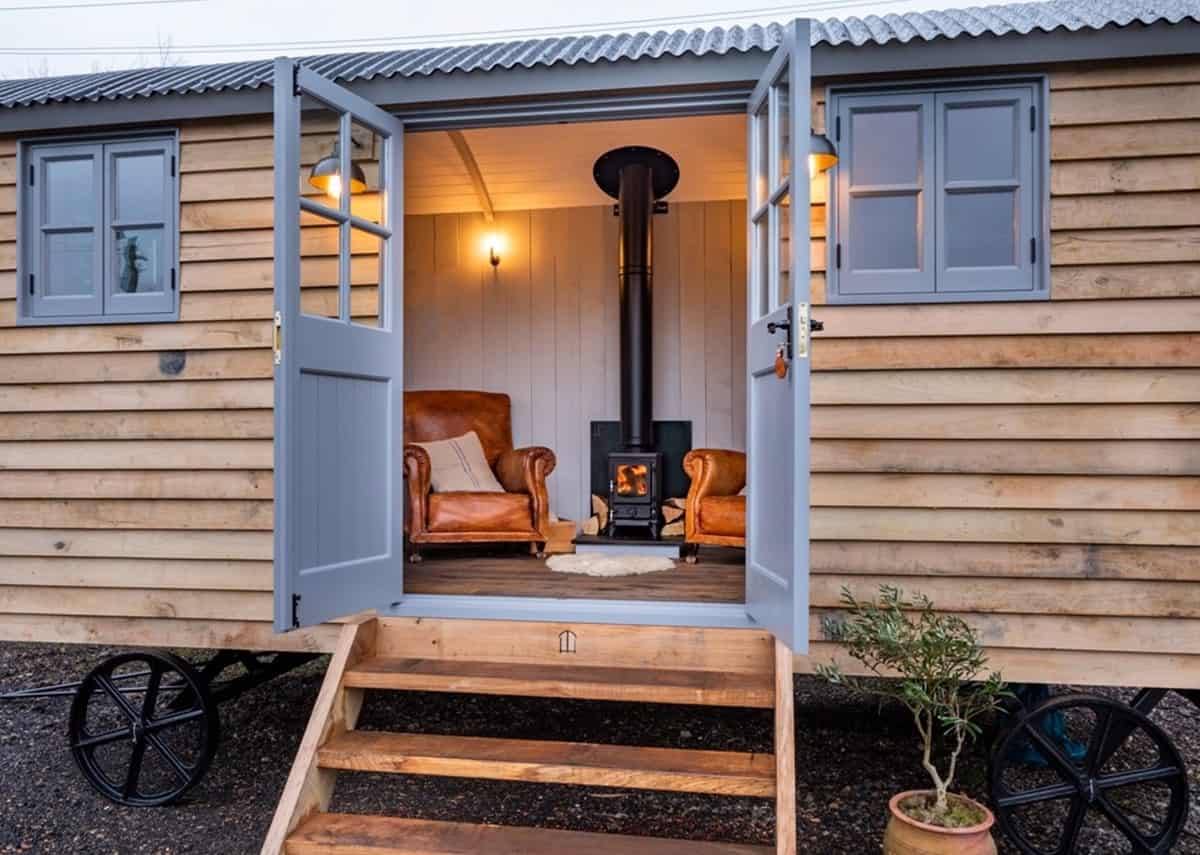 Richard and Millie are the father and daughter team behind Hannam & Taylor, a family-run shepherd's hut company that's tucked away on the edge of Windsor Great Park, just outside of London. Together, they have over 35 years of combined experience in the events construction sector!
Richard and Millie locally source the finest sustainable materials, to ensure that each customer has an eco-friendly shepherd's hut. Every bespoke shepherd's hut that leaves the workshop is built to the highest quality, and the huts are finished to impeccable standards by their team of talented craftsmen and women.
Hannam & Taylor shepherds' huts are the ideal glamping space for guests to stay in, but they also work wonders as a boutique hotel extension, or as a home working space in your back garden.
One of the options that you can add to the build of your shepherd's hut is our Hobbit stove! Our small wood burning stove will ensure that you and your guests can stay warm and cosy in this delightful space all-year-round. When it's time to kick back, relax, and unwind from the day, nothing beats lighting a fire inside your small wood burner and watching the flames gently flickering away. 
You can read more about Hannam & Taylor's shepherds' huts here.
Installing a small wood burning stove into your shepherd's hut will breathe life into this space, even in the cold depths of winter! If you load up our small wood stove with some kiln dried logs or briquettes before jumping in bed, you can still wake up to a good pile of toasty embers in the morning. All you'll have to do is roll out of bed and refuel your tiny wood burner to get a roaring fire going again!
If you already have a shepherd's hut and would like to get a Hobbit stove installed into your structure, then make sure you check out our wide range of installation kits. We have specifically designed two installation kits for shepherds' huts, and although these structures can vary in size, these flue kits have been tailored to suit most shepherds' huts. 
If you think your hut might differ slightly, then please do not hesitate to contact us, as we offer a bespoke flue consultancy service free of charge. You can also visit our page of authorised dealers to find your nearest Hobbit stove stockist and installer, who will be able to advise you on how you can incorporate our small wood burning stove into the design of your shepherd's hut.
If you're going to be installing the stove yourself, then this document will show you how much space you will need to have around your Hobbit stove. Our tiny wood burner will also need to sit on a non-combustible hearth that's at least 12mm thick, and you will need to maintain at least 225mm of space from the front of the stove to the front of your hearth.
If you're looking to install the Hobbit stove into a corner of the room, then this document will show you a good example of how this can be done. Our heat shield option is also a popular extra when it comes to installing our small wood burning stove into a shepherd's hut, as it dramatically reduces the clearances that you will need to maintain.
Make sure you also check out the Hannam and Taylor website to find out more about their beautiful huts! Enquire now to order yours today!