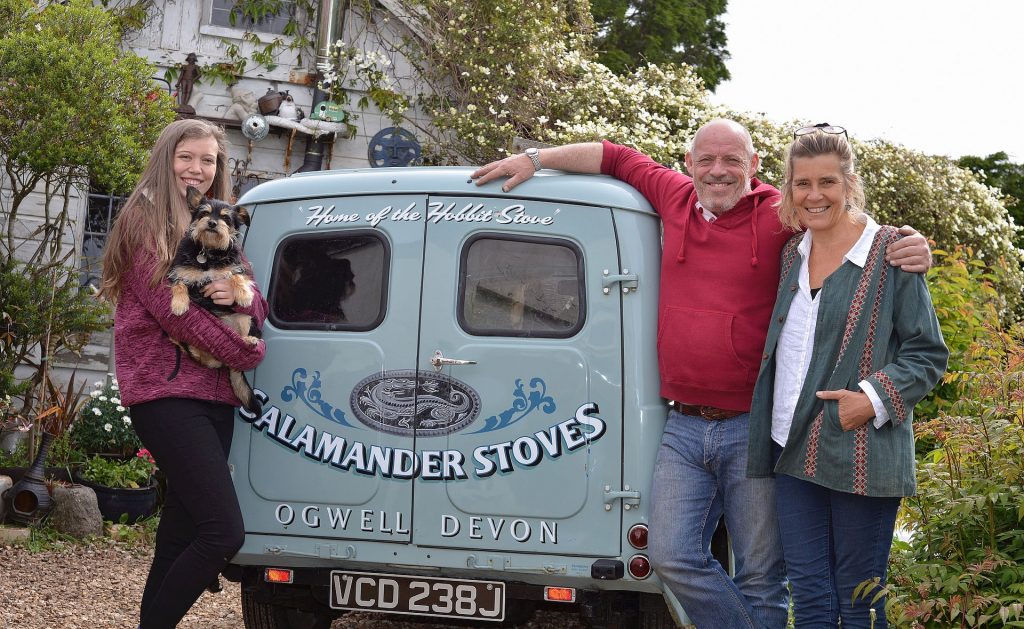 We are a small family owned business based in sunny Devon. Specialising in the production of our flagship stove, '
The Hobbit
'.
Our aim is to provide you with a quality stove that will give you years of long,
trouble free service.
We supply the additional 5 star customer care and attention along with our
5 year warranty, for no extra charge.
With over 12 years experience dealing in a wide range of antique, modern and contemporary stoves we have carefully brought this knowledge to bare in the design of our Hobbit stove.
We recognised that there was a demand for a high quality cast iron stove but that had a smaller footprint. An affordable small stove with all of the attributes of a bigger one. Traditionally and elegantly styled to fit in with every style of decor.
Suitable for those stove installations where the space for a stove is more limited. Yet whilst the Hobbit stove is a small package, it still packs a punch when it comes to providing heat and a great view of the fire.
Since 2009, The Hobbit stove has found its home in canal boats, small fireplaces, cabins and many many other locations all around the globe. We have sent our Hobbit stoves to customers from as far a field as Greece, Norway, Denmark, Sweden, France, Germany, South Korea, Australia, Canada and the USA, thanks to the amazing internet.
We hope other Hobbits will find many more good homes and take great pride in every Hobbit stove that comes from our workshop. Each Hobbit stove has its own unique serial number and can be registered here.
You can buy a Hobbit from one of our Hobbit retailers or Hobbit installers or direct from our shop.
In addition, we are able to supply a wide range of flue components and offer a cost effective flue system design service to accompany every stove we sell.
Please contact us for more information about our small cast iron multi fuel stoves or advice about your individual requirements and we will do our very best to help you.
Salamander Stoves – Small Cast Iron Multi Fuel Stoves Suppliers in Devon, UK
Philosophy
In conjunction with British flue manufacturers such as MIDTHERM and FIRST CHOICE METAL SPINNING we aim to provide every customer with a quality product that will give long and reliable service.
Coupling this excellent product quality with first class customer service our philosophy is simple, a great product at a fair price combined with great service and prompt delivery.
Quality & Approvals
All of our flue kit components conform to the highest standards of quality.
BS EN 1856-1:2003 and the general requirements of
BS EN 1443:2003 and complied with all relevant clauses.
BSRIA Test report no. 55693/1
Our Hobbit stove has been independently tested by GASTEC (Kiwa) lab and been EN APPROVED. Click here to view the certificate.
We also have configured a Hobbit stove for wood burning in smoke control zones and the Hobbit SE stove is DEFRA APPROVED.
Every stove is hand finished in our Devon workshop to each individual customers requirements and comes with a 5 year guarantee.
We take great pride in every Hobbit stove that we send out into the world from our workshop so if you have an issue please contact us immediately and we will put the matter right.
To view our test certificates visit the Hobbit page or click the links below
With additional