The Hobbit ECO Small Stove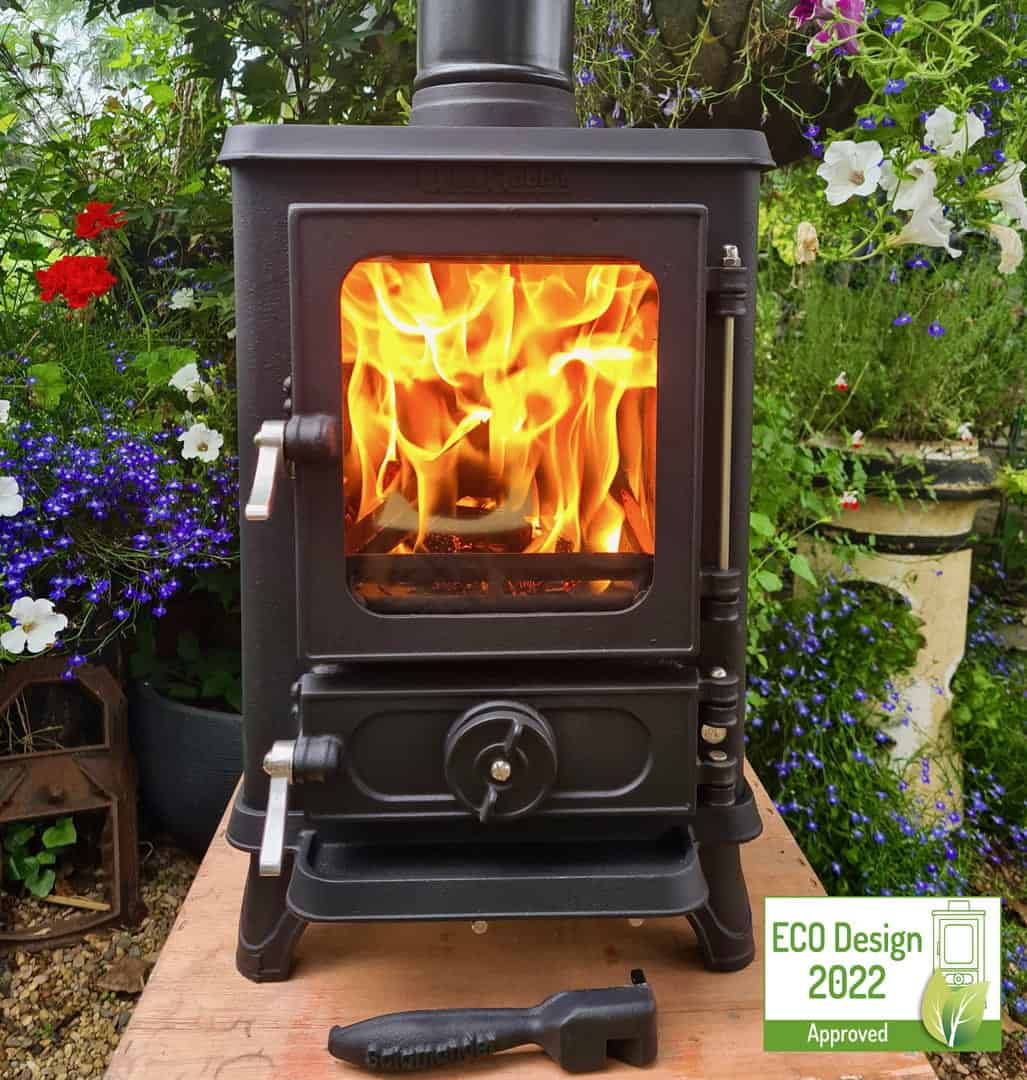 The Hobbit ECO Small Stove is a small cast iron multi-fuel stove that is able to burn wood, coal or eco logs and fully complies with the new Eco Design regulations, which makes it suitable for any installations after the 1st January 2022. Eco design 2022 is the stove industry's response to the DEFRA Clean Air Strategy which aims to improve air quality and reduce emissions and pollution.
Our stove is specifically designed for installations where the space for a stove might be more limited, and this makes our stove the ideal choice for small fireplaces, where larger stoves simply won't fit.
Unlike the requirements for DEFRA Exemption, which only applies to smokeless zones the ECODesign regulations will apply to the whole country, so no matter where a new stove is to be installed it must comply with EcoDesign.
The Tiny Hobbit is a 4.1kW stove and it comes with a 5 year warranty when you register your stove with us.
The Hobbit Eco and the Hobbit Eco SE are finished in a flat black colourway as standard.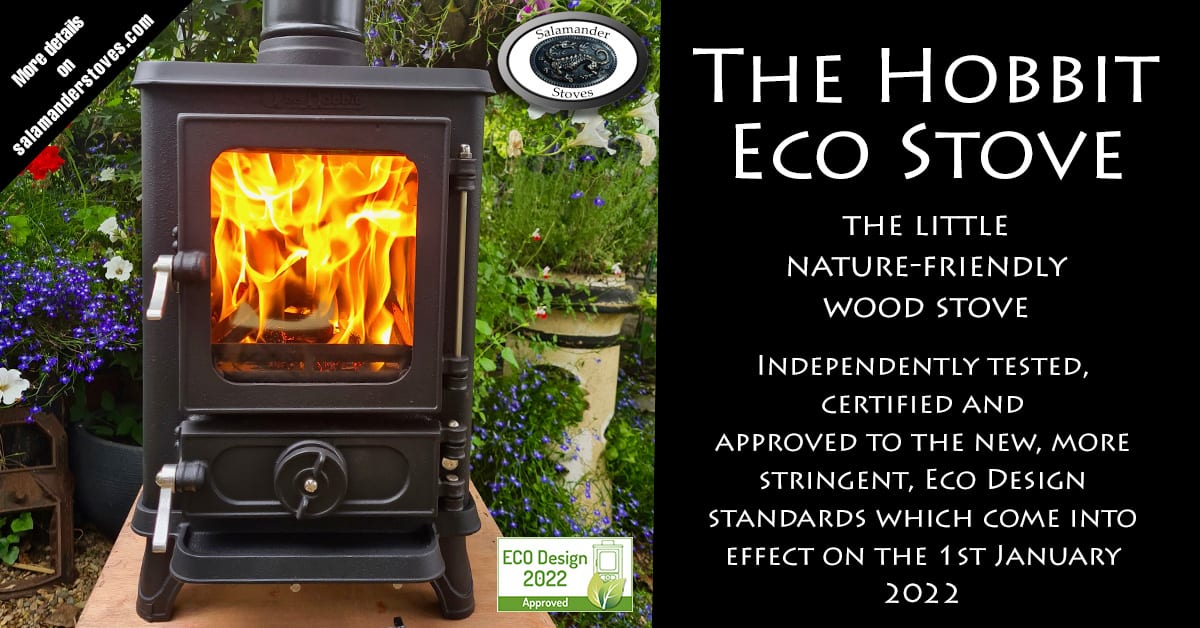 The Hobbit Eco stove
*  Multi-fuel stove, compatible with wood, coal or eco logs
*  High quality cast iron construction
*  New improved efficiency of 81.4%
*  Reduced particulate and gas emissions
*  Provides 4.1kW of efficient, clean burning heat
*  New pre-heated tertiary air intake and
*  Enhanced pre-heated secondary combustion technology
*  Air controls at the front of the stove, for improved usability
*  Complimentary 5 year warranty
*  Every stove is hand-finished, fettled and inspected at our Devon workshop
*  Measures only 302mm wide, 272mm deep and 465mm high
*  Glass window with greatly improved Airwash technology
*  Improved main grate, for better multi-fuel capability
*  Dust-free riddling
*  New ash direction plates for cleaner, more controlled de-ashing
*  Riddling grate, ashpan and multi-tool included
*  Independently tested, certified and approved to EcoDesign 2022 standards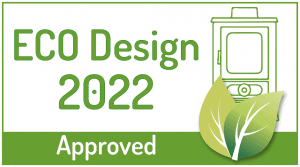 Our
Hobbit Eco stove
is now available, and it has been independently certificated at
KIWA UK
, in Cheltenham, so that it meets the new set of higher standards that are now required for wood stoves. Our little Hobbit Eco stove has an efficiency of over 80%, and it releases far fewer particulate and gas emissions into the air, making it a much more environmentally friendly heat source!
If you are planning to install your Hobbit wood stove after the 1st of January 2022, and if you require your installation to be compliant with current UK building regulations, then you will require the Eco Design version of our little Hobbit stove. The compact size of our Hobbit Eco stove allows for any ornate period features of an older cast iron fire surround to be retained, enabling a small, inefficient open fire to be replaced with ease.
The main improvement in the design of our Hobbit stove has been to incorporate a new, pre-heated tertiary air system. This burns up any particulates and gases much more effectively, and it also improves the amount of secondary combustion that takes place at the top of the firebox.
We have been able to increase the efficiency of our small multi-fuel stove to over 81%, and we have also reduced the particulate and gas emissions to a level which is below the new, more stringent, Eco Design levels, which now have to be met.
The Hobbit Eco Improvements
The cleaner burning and enhanced secondary combustion of our stove has also improved the efficiency of the glass airwash, which will now provide you with a greatly enhanced view of your fire whilst the flames flicker away! The new air system arrangement also means that all of the air flow controls are now at the front of the stove, to improve usability. This is incredibly useful if you're going to be installing your small stove into a particularly tight space!
The new tertiary air and improved secondary air are both controlled at the front of the Hobbit Eco stove, using the two sliders beneath the footplate, but the primary air is still operated in the same way. When the stove is in operation, the new air system provides you with much greater control over the burn-rate of your fire and the pattern of the flames! And greater control means greater efficiency and improved fuel consumption of your tiny wood burner.
The design of the main grate has also been improved to maintain the multi-fuel capability of our small Hobbit Eco wood stove. Plus, we've also added new ash direction plates, which allows for cleaner and more controlled de-ashing of the stove when you go to clear the remnants of your fire.
The overall dimensions of the Eco Design models are exactly the same as the original Hobbit stove.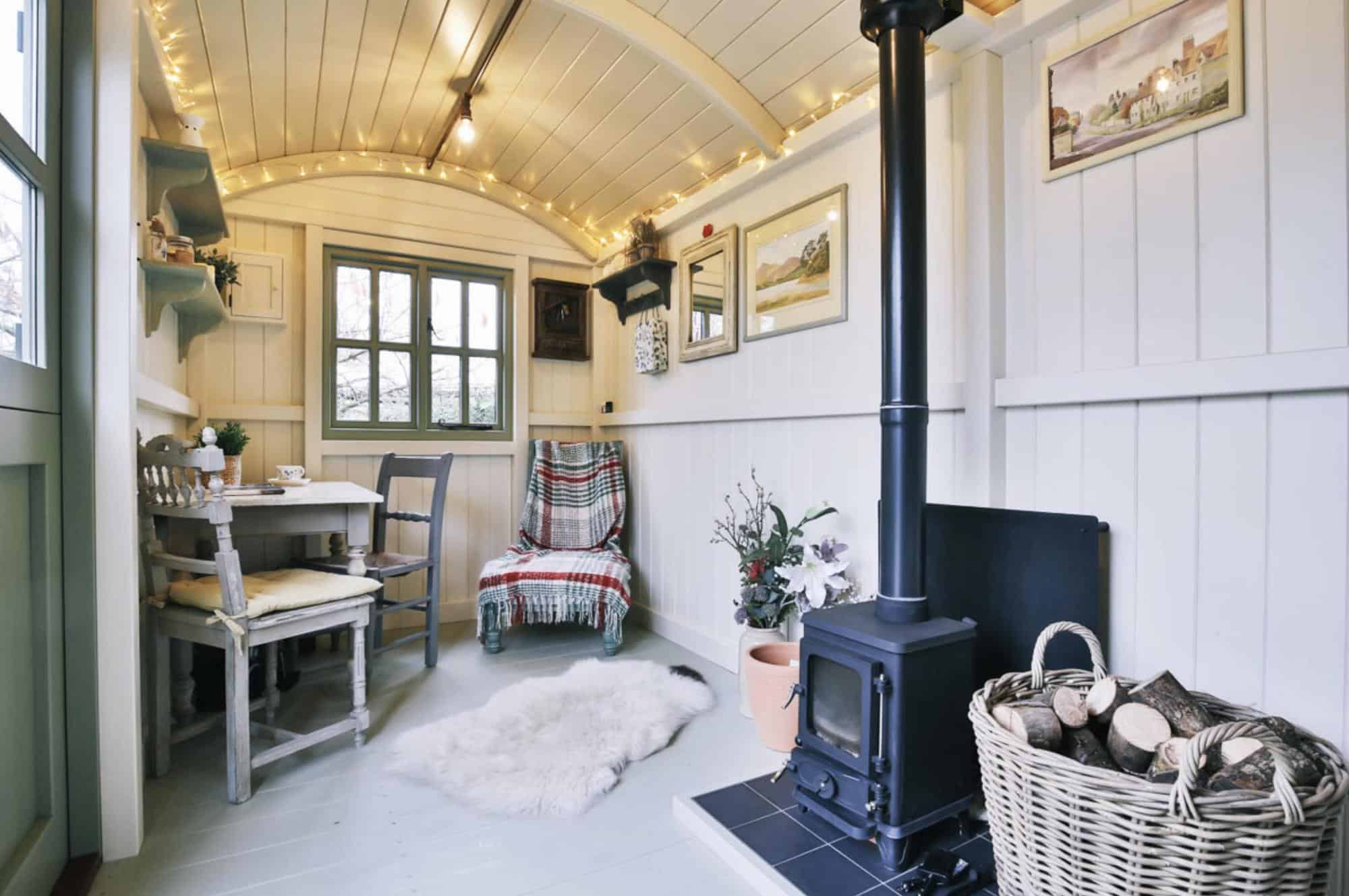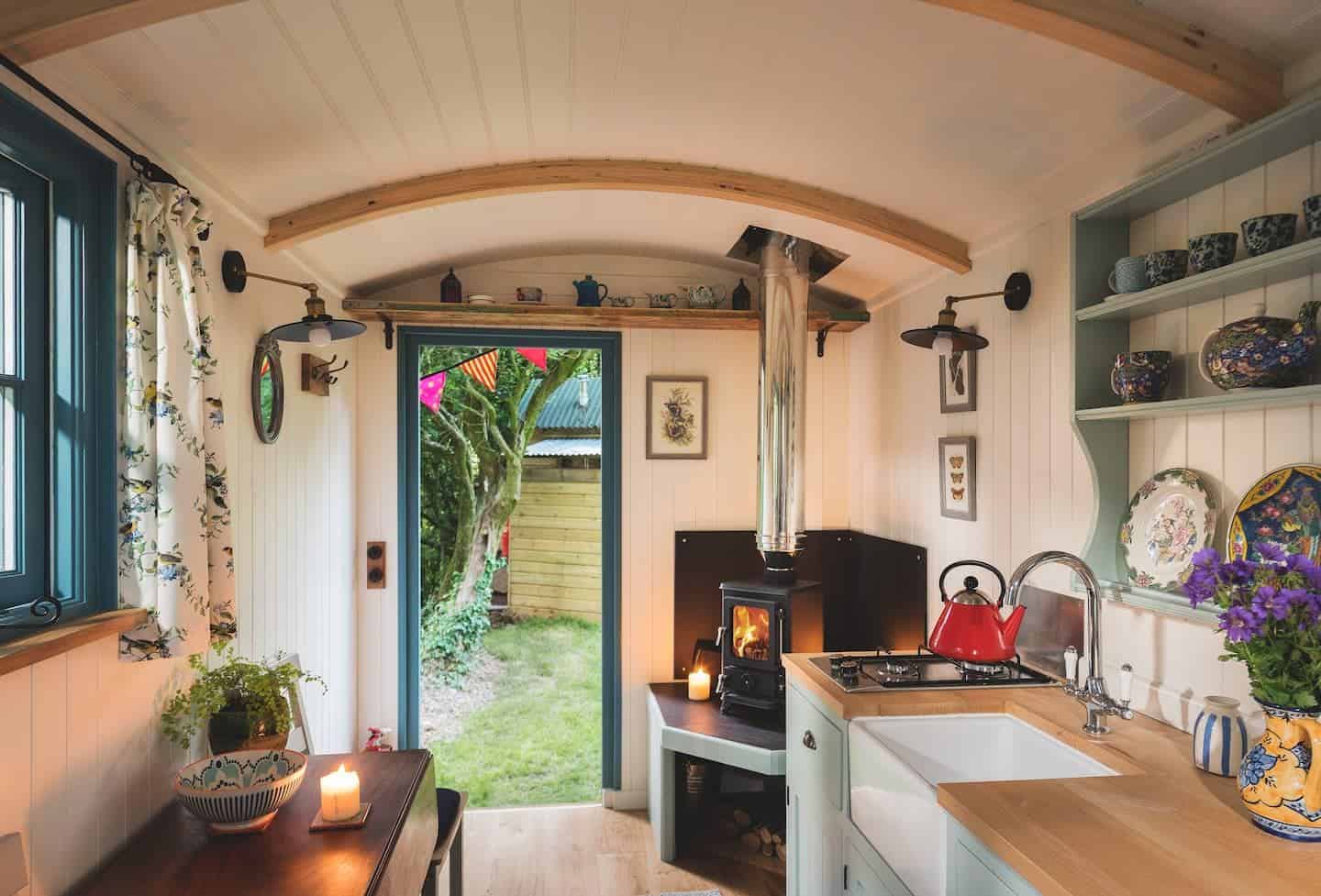 Hobbit Eco Fits all small spaces!
You can still incorporate all of the same stove options which are currently available! The Eco Design Hobbit stove is now available to order. Choose between the standard Hobbit Eco for more rural areas, or the Hobbit Eco SE if you're installing your stove in a smoke controlled zone within the UK.
The Hobbit Eco tiny stove comes in a matte black colour as standard, however, our stove is sure to compliment any style of décor or interior design, as we offer a broad range of additional stove options as well as the unique ability to customise your stove with your own choice of colours.
The Hobbit's excellent, enhanced performance combined with its traditional, yet elegant styling, and its superb value for money, has led to our little stove finding its home in a wide range of amazing small spaces and tiny homes.
Our small stove has provided light and warmth to canal boats, treehouses, yurts, bell tents, glamping pods, campervan conversions, horse boxes, shepherds' huts, garden rooms, summer houses, luxury cabins and retreats, workshops, caravans, vardo wagons and more! We've also designed a range of different flue kits which make it easy to install our small stoves in almost any of these spaces, and most of our high quality flue parts are manufactured by Midtherm.
About our small Hobbit ECO Stoves
What is Ecodesign?

When do the new Eco Design regulations come into effect for the UK?

What's the difference between DEFRA and Ecodesign?

Why should I get an ECO Design stove?

Will existing installations be affected and how will this impact me?

How much does the Hobbit stove cost?
General information about our Small Hobbit ECO Stoves
What's the difference between the standard Hobbit stove and the Hobbit SE?

What are the dimensions of the Hobbit stove?

Is the Hobbit stove EN approved?

Do I need a DEFRA approved Hobbit SE or the standard model?

How much does the Hobbit stove weigh?

What size flue does the Hobbit stove take?

Can you boil a kettle on the top of a Hobbit Stove?

How tall is the Hobbit stove with the stand option?

Do you supply the flue components needed to install a Hobbit stove?

How far away do combustible materials need to be situated from my wood burning stove?

Can I install the Hobbit stove using an existing chimney?

Does the Hobbit and Little Range have a guarantee?

How much hearth do I need for my small wood burning stove?