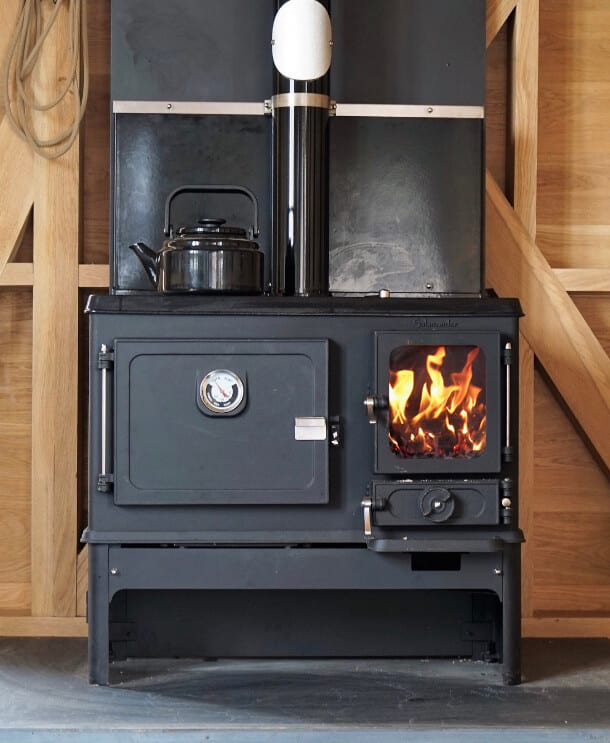 The Little Range
£1495.00 (standard price)
The Little Range Cook Stove delivers all of the same great features as the Hobbit, with the added benefits of a larger stainless steel cooktop and a good-sized oven. Our Little Range has a 4.4kW output, it's DEFRA approved, and it comes with a complimentary 7 year warranty when you register your stove with us.
Please note that flue parts are not included with The Little Range, and there is currently a 12-16 week lead time.
Please select from the following options available to customise your stove:
You can visit our stove extras area to find out more about each option.
Multi-fuel cook stove compatible with wood, coal or eco logs

High quality cast iron construction

DEFRA approved

Complimentary 7 year warranty when you

register your Little Range Cook Stove with us

Every Little Range is hand-finished, fettled and inspected at our Devon workshop

85% efficiency

A+ energy rated

4.4kW output of efficient, clean burning heat

The compact size of The Little Range makes it ideal for supplying warmth, hot water and the ability to cook in household fireplaces or other small spaces

Removable and easy to clean stainless steel hotplate, providing 221 square inches of cooking space

880 cubic inches of oven space

Oven control lever and inset temperature gauge

Glass window with Airwash

Capable of producing the entire off-grid hot water supply for a tiny home or off-grid cabin

Manufactured and tested to the same high standards as our Hobbit stove

Includes a top enamelled outer, allowing for easy cleaning

Includes a cast iron stand and a chrome oven tray

Suitable as a free-standing appliance or it can be installed in a fireplace
After 18 months of rigorous product design and prototyping, we have developed what we think is the best small wood cook stove that you can find! The Little Range Cook Stove functions as a larger version of our Hobbit stove, with the added benefits of a much larger stainless steel cooktop and a good-sized oven.
Taking inspiration from the vast heritage of both UK and US cookstoves of the past, our Little Range combines traditional style with a modern, clean burning system – resulting in an efficient cook stove with plenty of charm and character. Our cook stove offers all of the same great features of a larger solid fuel range, but this is delivered in a smaller, perfectly formed and more compact design. Like a mini Aga or a tiny Rayburn, our solid fuel cooking range comes in a 'Hobbit-sized' package. Cook stoves with top ovens are not really great at cooking anything despite their name, which is why cookstoves and ranges like the Aga, Rayburn and the Esse Iron Heart have become successful and well loved focal points of countless homes. However, due to their large size they can't always find a home in small spaces! The Little Range is also a fantastic option for a medium sized fireplace where you want more than just heat, such as a farmhouse kitchen inglenook. Fitting a Little Range in one of these places will give you added cooking and heating potential, as well as a beautiful focal point for your room.
The Little Range provides ample space for a wide range of cooking, with 880 cubic inches of oven space and 221 square inches of hotplate. The top of our small cook stove is basically one big stainless steel hotplate for cooking! It has a stainless steel inset which can be easily removed for cleaning, and the wide range of cooking temperatures available across the surface of the hotplate makes it very versatile, allowing for a number of items to be cooked at varying speeds, all at the same time!
If required, it can produce the entire hot water supply for a tiny home or off-grid cabin. This can be done by adding the back boiler option or a side boiler, which will sit inside the firebox of the stove on the right hand-side. The hot water that is produced can then be thermo-syphoned to a stainless steel chamber to produce hot water on tap! We've also designed a wide range of different flue kits which make it easy to install our small stoves in almost type of small space, and almost all of our high quality flue parts are manufactured by Midtherm.
Rather than installing an ordinary stove in your fireplace you could have a little wood cook stove and turn the space into a tiny kitchen! Keeping warm and cooking up a storm, you will be living the 'good life' beside your Little Range! Make sure you also take a look at our online wood stove cookbook! Here, we've provided you with a huge range of recipes, tips and ideas that will inspire you to really make the most of your tiny cook stove!
Technical Specifications
Option
Specification
Heat output
4.4kW
Efficiency
85%
Dimensions
Flue outlet
100mm (4″)
Height (from floor to stovetop)
630mm
Width
715mm
Depth (excluding stove doors and splashback)
400mm
Max log size (will take a larger log but this is the optimum size for stacking)
200mm (8″)
Window Dimensions
180mm x 155mm
Stainless Steel Hotplate Dimensions
Width
667mm
Depth
216mm
Oven Internal Dimensions
Height
220mm
Width
300mm
Depth
220mm
Distance to combustible materials
Side
400mm
Rear
450mm