The Yurt At Leighton Hall
Our small wood burning stove has been installed in this beautiful yurt, which is perched on the Leighton Hall Estate in Shropshire!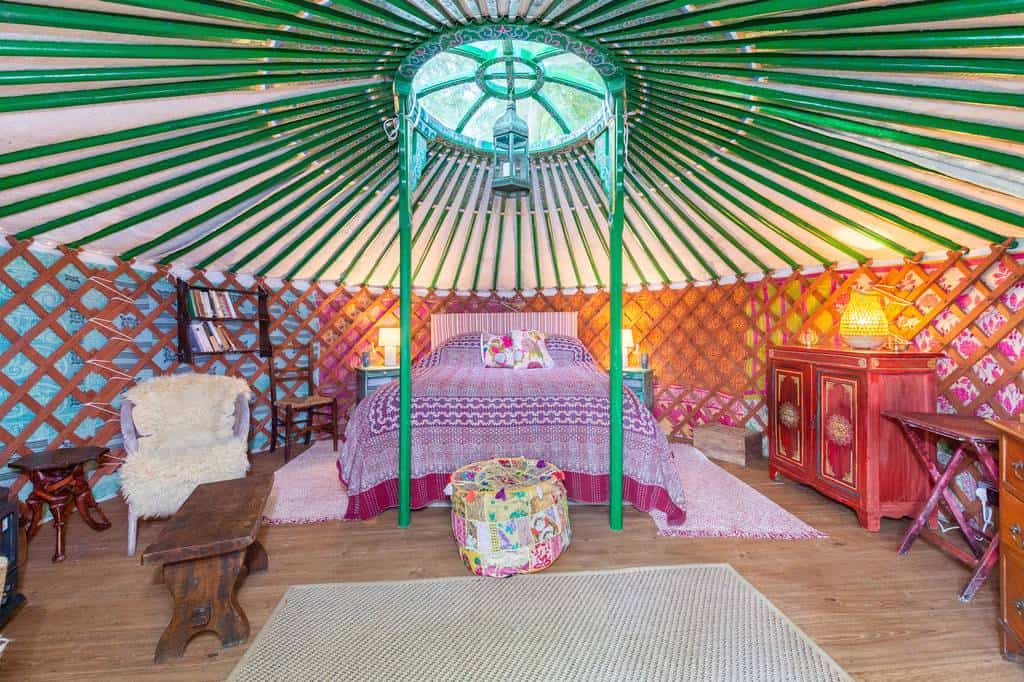 This incredible hand-painted Mongolian yurt sits at the very end of an arboretum in the grounds of Leighton Hall, a grade 1 listed property that was built between 1850 and 1856! The yurt has been decorated with the utmost care and attention to detail, and it boasts some breathtaking views across the surrounding parkland and the Shropshire Hills.
This fabulous little bolthole is tucked away in its own secluded spot, which makes it a fantastic getaway! There's also an abundance of wildlife in the local area, so you'll be in for a chance at spotting some fallow deer, foxes, badgers, otters, herons or kingfishers!
On a warm summer's day you can relax under the shade of the trees, and when the evening draws in you can enjoy a hot bath on the decking, overlooking the stunning countryside. You can even whip up a barbecue over the Kadai fire bowl and grill!
We were extremely pleased to see that our Hobbit stove was incorporated into the design of this spectacular rural retreat! Our small wood burning stove enables guests to stay warm and cosy, so you can enjoy your stay during any time of the year! Throughout the colder seasons, you can stroll across the fields to the village pub, which is just a five minute walk away, and our tiny wood stove will be ready and waiting to warm you up again when you return to the yurt.
This hideaway is the perfect place to switch off and unwind from the pressures of everyday life. You can start your day by lighting the Hobbit stove and reading a book or playing some board games on the kantha rugs, before wandering outside to watch the mist rising up through the valley! When night falls, you can watch the flames flickering away in our small stove, lay out on the king-size bed and enjoy some stargazing through the transparent roof cover of your cosy little den!
The yurt has some wonderful natural surroundings, there's some neighbouring longhorn cattle and multiple locations for some wild swimming, which are just a short walk along a river footpath. Nevertheless, this dreamy dwelling has plenty of luxurious touches! There's a gorgeous outbuilding adjacent to the yurt, which houses a kitchen that's complete with an oven and a hob, there's a bathroom with hot running water, soft towels and a heated towel rail, and there's even a lovely little dining area for when you want to eat indoors!
If you're looking to incorporate one of our Hobbit multi-fuel stoves into your yurt, then why not take a look through the range of installation kits that we've designed, so that you can find a flue kit to suit your needs. If you're at all unsure about what flue parts you will need, or how these components should be arranged, then please feel free to contact us, as we offer a bespoke flue consultancy service free of charge! You can also visit our authorised dealers page to easily arrange a site visit with your a recommended installer.
If you would like a small stove for your yurt which is a bit larger then our Hobbit stove, then make sure you check out our Little Range! The range is a 4.4kW multi-fuel stove, so it will kick out a bit more heat than our Hobbit stove. It also has a large stainless steel cooktop and a built in oven, which makes it perfect for some wood-fired cooking!
Both of our stoves can also be connected to a side boiler, so that you can power some hot water taps or a couple radiators. This makes our stoves the ideal choice for a more off-grid setting! You can find more details about our stoves and this type of set up under the technical data tab for the Little Range and the Hobbit stove, by visiting our help section, or by contacting us!
We've written a variety of articles, which will give you advice on cooking with your stove, installing one of our small wood burners into a range of different small spaces, and there's some about off-grid living in general. There's also our free cookbook that you can flick through and download as well!
Make sure you visit the listing for this amazing yurt on Canopy and Stars to find out more and to book your stay today!