Florry The Lorry
Small home, big adventure!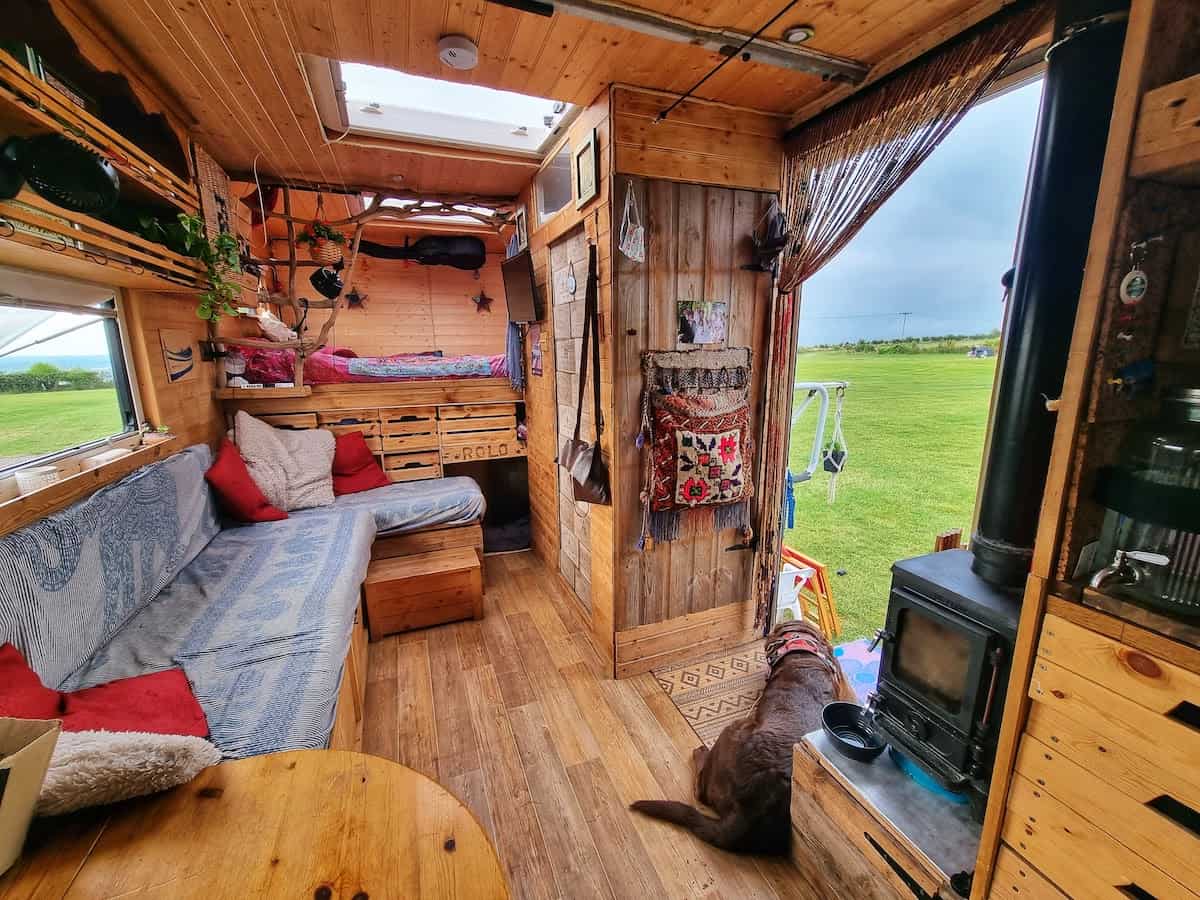 "We often get asked what our favourite thing is in the lorry, and without hesitation, we both say our little Hobbit stove – a beautiful Salamander wood burner that keeps us warm during winter. We couldn't do without it. During the colder months she's lovely, and she not only keeps us warm! We also love watching her flames flicker away, and we love sitting in front of her with a hot chocolate in hand."
Florry The Lorry is a 7.5 ton removals van that has been lovingly converted by Cat and Chris. They had recently been working crazy hours to maintain their house in London, and Chris' job in IT became very demanding and highly pressured. As the price of everything increased each year, and with their work/life balance tipping heavily towards the working end, it simply wasn't a healthy lifestyle, and Chris was left feeling physically and mentally exhausted.
Before they decided to live in Florry The Lorry, Cat and Chris had been travelling in motorhomes on and off for over 10 years! They had often talked about doing longer trips, and even discussed the possibility of changing their lives completely and living in a motorhome full-time. The realisation that they could do this came from a scuba diving holiday in Menorca 3 years ago, when they found out that one of the instructors actually lived in her converted 7.5 ton lorry!
This got them seriously thinking, so they began planning how they could build their own home – one that they could live in and travel across Europe in together. In November 2017, they became the proud owners of a 2012 DAF LF45, which was transformed into Florry over the next 2 years.
Doing the build itself turned out to be the scary part as they had never done anything hands-on like this before, but after a lot of blood, sweat and tears, they did it! The effort was well worth it, and they've now been living in Florry for nearly 3 years. Cat and Chris have been living their dream of visiting beautiful places, whilst still being able to see their family and go diving. It's not always perfect, but it's a lot less stressful than living in London and the life they knew beforehand!
The stunning interior of the lorry is reminiscent of a log cabin nestled away in the forest, and there's an adorable little area for Rolo the dog to sleep just under their bed. The van is laden with beautiful furnishings, and our small wood burning stove kicks out plenty of heat to keep them nice and warm during any colder months – even when their campervan is covered in snow!
The cabin is flooded with natural light, thanks to the two skylights that have been installed in the ceiling, and this makes the cabin feel even more spacious and inviting. The different shades of wood also give the cabin a lot more depth, whilst acting as a natural interior that flows effortlessly throughout their living space.
If you want to find out more about their lorry conversion, then make sure you check out their Facebook, Instagram, and their website! Their story is also going to be featured in an upcoming book – Van Lifers: Beautiful Conversions For Life On The Road – which is edited by Alex Waite, so keep a lookout for its release!