Hedgehope Shepherd's Hut
Hedgehope is yet another beautiful shepherd's hut that's hosted by Jamie and Nicola, who run Huts In The Hills. It sleeps two people, and the hut enjoys some incredible views across the vast Northumbrian countryside.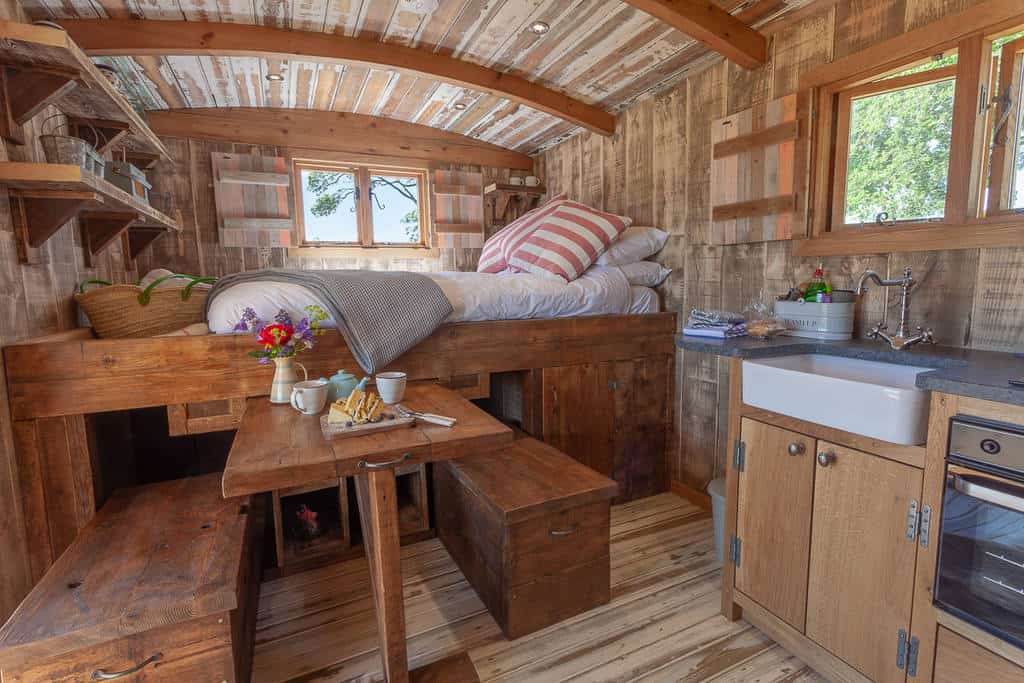 There's no escaping the absolutely breath-taking views that this shepherd's hut has to offer, and you can even enjoy them from the comfort of a warm bath on the sheltered terrace! As night falls, the view only gets better. Hedgehope sits within Northumberland's Dark Sky Reserve, where it benefits from some of the best views of the Milky Way!
When it starts to get a bit chilly, you can hop back inside the hut and make a hot drink or play some board games, whilst enjoying the rolling flames of our Hobbit small wood burning stove. The wholesome warmth that's kicked out by our tiny wood burner enables guests to enjoy a warm and cosy stay at any time of year!
Every detail of this stunning little shepherd's hut has been well-thought-out, from the range of different finishes to the wood, to the variety of objects and furnishings that decorate this endearing little space. The thick natural slate that's been used for the fireplace matches the stove and flue perfectly, and the rustic blue paint for the exterior is absolutely gorgeous!
After the sun has risen, you can enjoy a range of places that this heavenly location has to offer. Hedgehope sits at the foot of the Cheviot Hills, where you can set off along a number of different footpaths, such as the Sandstone Way or The Pennine Way National Trail. There's some shops in Powburn, which is just a 10-minute drive away from the farm, and there's also some lovely pubs and restaurants a bit further on.
Our small wood burning stove will always be waiting for you, so that you can get warm and cosy again in no time at all! Alternatively, you could just lounge in front of the fire all evening and tuck into the basket of goodies that Jamie and Nicola leave for you!
If you're wondering how you might be able to install your own Hobbit stove into a shepherd's hut, then it's worth taking a look at the two different installation kits that we've designed for shepherds' huts. Our shepherd's hut flue kits are tailored to suit most installations, but if you think your installation might need to work a bit differently, then please feel free to contact us to discuss your requirements, as we offer a bespoke flue consultancy service free of charge!
Make sure you checkout the listing on The Huts In The Hills' website to read more about this stunning little shepherd's hut and to book your stay today!