Rushford Shepherd's Hut
A beautiful hand-made shepherd's hut in the heart of Dartmoor National Park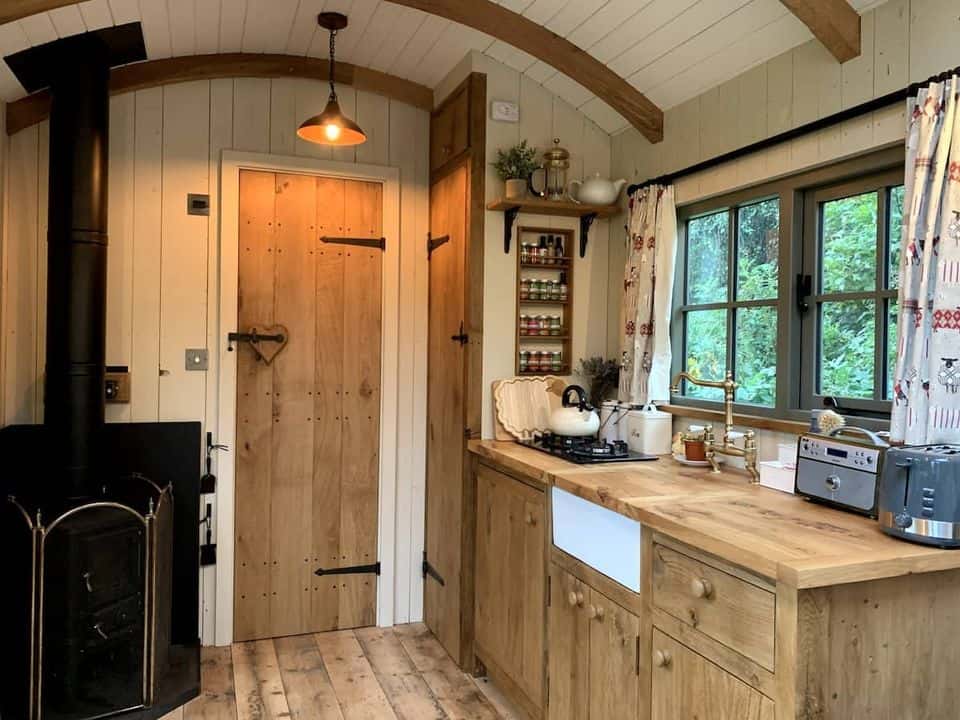 This charming hand-crafted shepherd's hut is located in the heart of Dartmoor National Park, within walking distance to Chagford. The hut is nestled in a corner of the field, amongst wildflowers and fruit trees. It has an outside fire pit, a BBQ, hammock and even a vegetable/herb garden!
The owners have installed our small Hobbit multi-fuel stove, which enables you to stay in the hut all year round, thanks to the warmth and cosiness that our tiny wood burner kicks out! Our Hobbit stove is one of the smallest cast iron wood burners you can buy, and its compact size makes it perfect for shepherds' huts and other small spaces.
Inside the hut there's a king-size bed with a skylight just above it – perfect for some late night stargazing whilst you're snuggled up in the warm! The hut is complete with an en suite bathroom, a composting toilet, and a hot shower. The river Teign also runs along the bottom of the field, which provides the perfect spot for a picnic or a swim on a hot summer's day. There's even a dinghy that you can use in the river, and there's a rope swing too! The double stable doors look out onto the field and some beautiful surrounding hills, and the hut also has its own private nature garden!
Rushford shepherd's hut is kitted out with a gas hob, fridge-freezer, a stovetop kettle and a toaster. If you've already got the fire lit, then you can use its warmth to make some toast or some gooey marshmallows, completely hands-free, if you have one of our T1000 stovetop toasting forks!
This delightful shepherd's hut is hosted by Rachel, so make sure you visit their website to book your stay today!