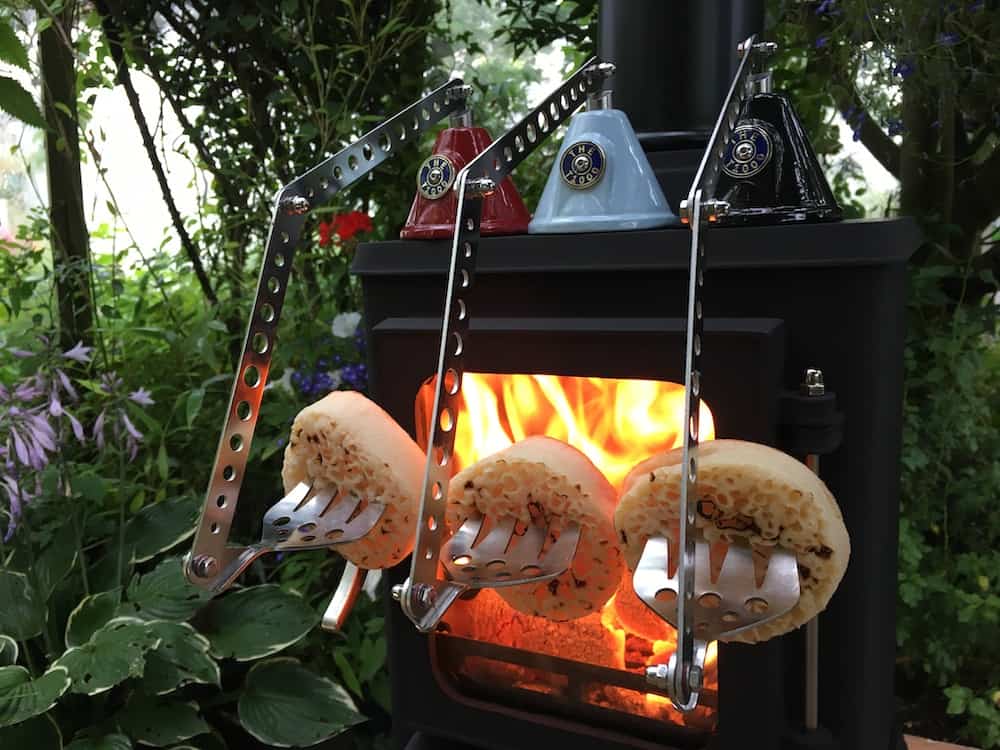 The T1000 Small Stove Toasting Fork
£39.95 inc.VAT
Works perfectly on almost any stovetop or hearth, in front of a campfire, or even a chiminea!
High quality, fully adjustable 316 grade stainless steel arm, which is cool to the touch.
Enamelled cast iron base with T1000 badge.
Folds up into a compact, more portable unit.
Please note: Red T1000's are currently out of stock. Only Black and Blue T1000's are currently available.
The original articulated hands-free stovetop and campfire toasting fork! The T1000 is a modern, precision-engineered toasting fork with a sleek enamelled base. It can sit securely on any stovetop or hearth and it can be firmly adjusted to a wide range of positions, enabling you to toast your bread, crumpets, waffles, muffins, sausages or pasties until your heart's content!
The T1000 has an extendable arm which is made from high quality 316 grade stainless steel, and its laser cut circular holes help it to stay cool to the touch and easy to adjust. This allows for the accurate positioning of your toastable object above your fire or small stove! The T1000 offers effortless toasting, so you will no longer experience any stressful gripping of an old fashioned toasting fork whilst you cook your hands and face! The T1000 can be neatly folded away after use, and it's the must-have stovetop and campfire accessory for 2021! The T1000 toasting fork works great on The Hobbit or Little Range Cook Stove, but it can be used with almost any other tiny wood stove that you might have!
In the Summer it can also be used for some hands-free campfire cooking, or you can even stand it on the floor to toast your food in front of a chiminea! What could be better than toasting 4 marshmallows at once… and doing it hands-free!? The T1000 makes the perfect gift or accessory for any small stove fanatic or wood-fired cooking aficionado, and it's hand-finished in the UK!
Directions for use
Set the arm joints to the correct tension using the tool provided.
Position the arms and fork so that the item to be warmed or toasted will be the required distance away from your heat source.
Remove the T1000 and place the item on the fork and then reposition the T1000 in the original position.
Rotate the item as and when required.
Each articulation of the T1000 has been designed to be fixed at a critical tension. The tension set to allow for easy manual movement and positioning of the T1000's articulated arm and fork head, whilst being also taught enough to hold the weight of the item being toasted. An additional tensioning spanner is included with your T1000 if you wish to adjust this tension at any time.
Happy toasting! 🙂