Supertramped Co.
Ashley builds some absolutely incredible tiny homes on wheels, which are all custom-made to order!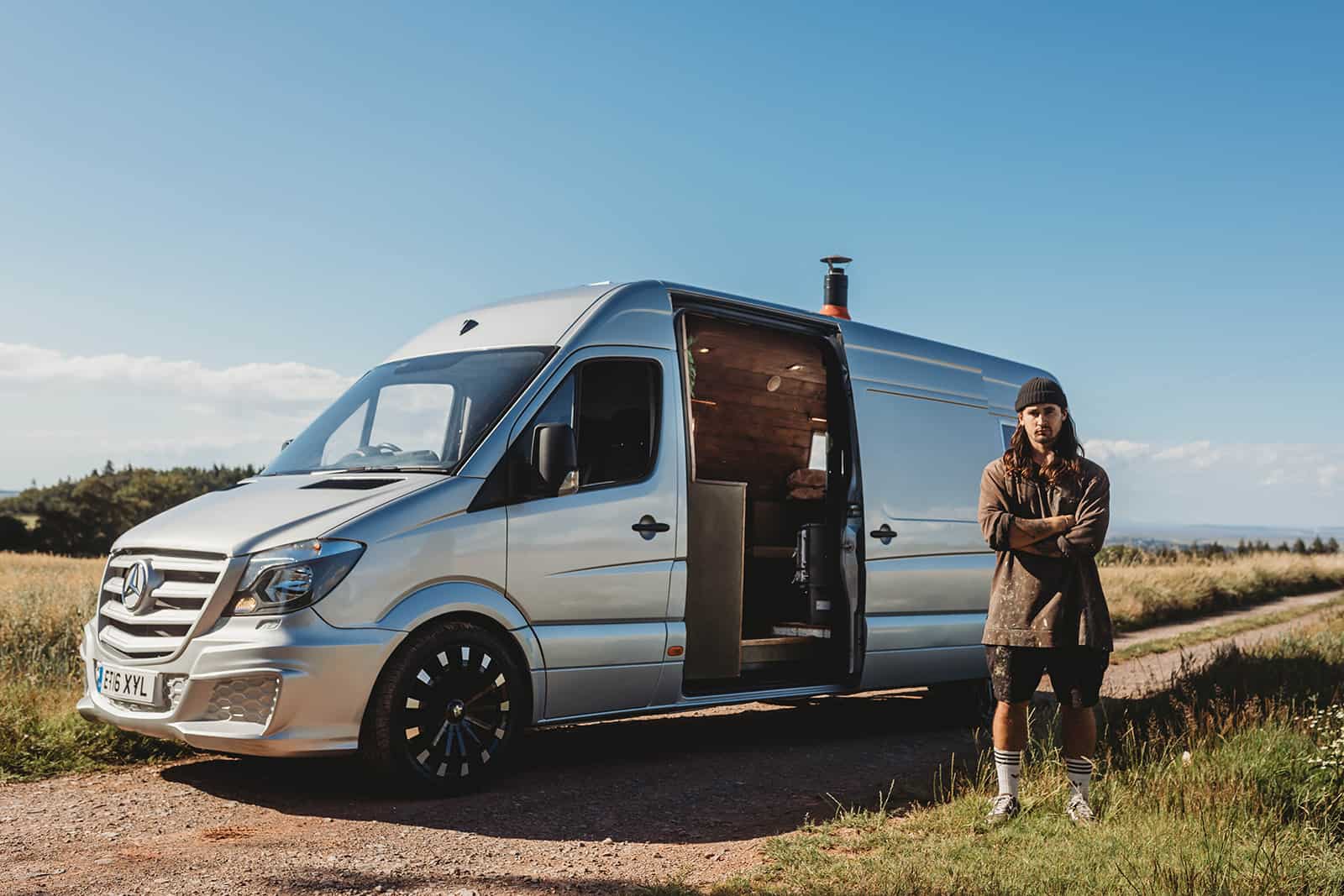 Supertramped Co. began back in 2015, when Ashley was just 24 years old! After becoming a self-employed plumber and deciding to follow in his father's footsteps, Ashley celebrated by taking a couple months off work to spend some time in the French Alps.
In France, he met a freestyle skier who travelled around in his converted bus, called The Chanchita. This revealed a completely different way of living to Ashley, and it sparked his interest in tiny homes and a more nomadic way of life.
When he got back to the UK, Ashley ended up buying Bruce – a Mercedes-Benz 709. Using the knowledge and skills that he acquired from his experience on building sites, Bruce was fully renovated over the course of a year.
After sharing the finished renovation on Facebook, Ashley was flooded with praise, and people started asking him to build their own tiny homes. This led to the creation of Supertramped Co!
Our Hobbit stove has been installed into a number of Supertramped conversions, including Faith, Rumi, and Vera. Having our small wood burning stove installed into these campervans ensures that the owners and their guests will stay toasty warm, whenever they decide to embark on an adventure!
Having a small wood stove installed in your campervan means that you can dash off to the beach or venture out into the woods in spring, summer, autumn, or winter! You can sleep tight beneath the stars knowing that you'll stay warm and cosy in the evening and all through the night.
Our Emerald Green Hobbit stove with Almond doors has been installed in Rumi, which is named after a 13th century Persian poet. Ashley's client requested a campervan that was light, earthy and organic, and we think he certainly nailed the brief!
This fairytale home has been clad with some incredible British Western Red Cedar. The fireplace surrounding our small wood burning stove has been decorated with some beautiful vintage tiles, and the brass details add a rustic touch to the interior of the cabin. There's even a hand-made stained glass door, and a metre wide Velux skylight right above the pull-out double bed!
On the other hand, Vera came into the workshop as a standard panel van, a Peugeot Boxer L3H2. This was one of Ashley's first big campervan builds, and he had pretty much free reign over the project! Vera was built as a campervan that people could hire out for staycations, so it was decided that the van should have an easy-to-use layout, along with a rustic, homely feel to it.
"The main feature of Vera is the log burner from Salamander Stoves. This will keep all future occupants nice and toasty on those cold winter nights."
In this vehicle, our Hobbit stove has been painted in Mojave Red. Vera has a fixed double bed, but there's also an additional single bed that can be easily folded away, making it perfect for family camping trips.
This particular campervan has the ability to go completely off-grid! Vera boasts three different power supplies – mains hookup, solar, and split charge. A Forcali boiler combined with a 150 litre water tank allows for plenty of hot water on demand, and the campervan is even complete with an outdoor shower!
Faith is a more recent conversion by Ashley – a Mercedes Benz Sprinter that was commissioned as a father-and-daughter adventure mobile! This vehicle is likewise clad with beautiful solid wood, and the double doors at the rear of the van open out to a magnificent view of your surroundings, wherever you decide to park up.
Make sure you check out the articles that Ashley has written here for Faith, Rumi, and Vera, where you can find a full breakdown of the impressive features and technical specifications of each van. This should give you plenty of inspiration for your own campervan project, and it will give you a good idea of what you'll need to get started if you're looking to dip your toes into the world of van life!
The Hobbit stove also has a pre-drilled hole at each corner of the base, which makes it incredibly easy to bolt down and to keep it securely in place. You can view this document here to see how this can be done.
When it comes to installing your small wood burning stove into your campervan, then make sure you also take a look through the wide range of installation kits that we've designed, as we've designed two different flue kits for vans and RV's!
If you're still unsure as to what flue parts you will need, or how they should be arranged, then please do not hesitate to contact us, as we offer a bespoke flue consultancy service free of charge!
If you simply drop us an email with some pictures and measurements of your vehicle, then we will be able to advise you on how your stove should be installed and what flue parts you will need.
You can also enter your postcode into our dealers page to find your nearest recommended installer, and if you're looking to install the Hobbit stove yourself, then we've also put together a helpful article and a video, which will take you through each step of the installation!
Why not get in touch with Ashley and visit the Supertramped Co. website if you would like your campervan to be converted into the cabin of your dreams!