Tiles Told
Bespoke illustrated tiles - perfect for fireplaces and other interior applications!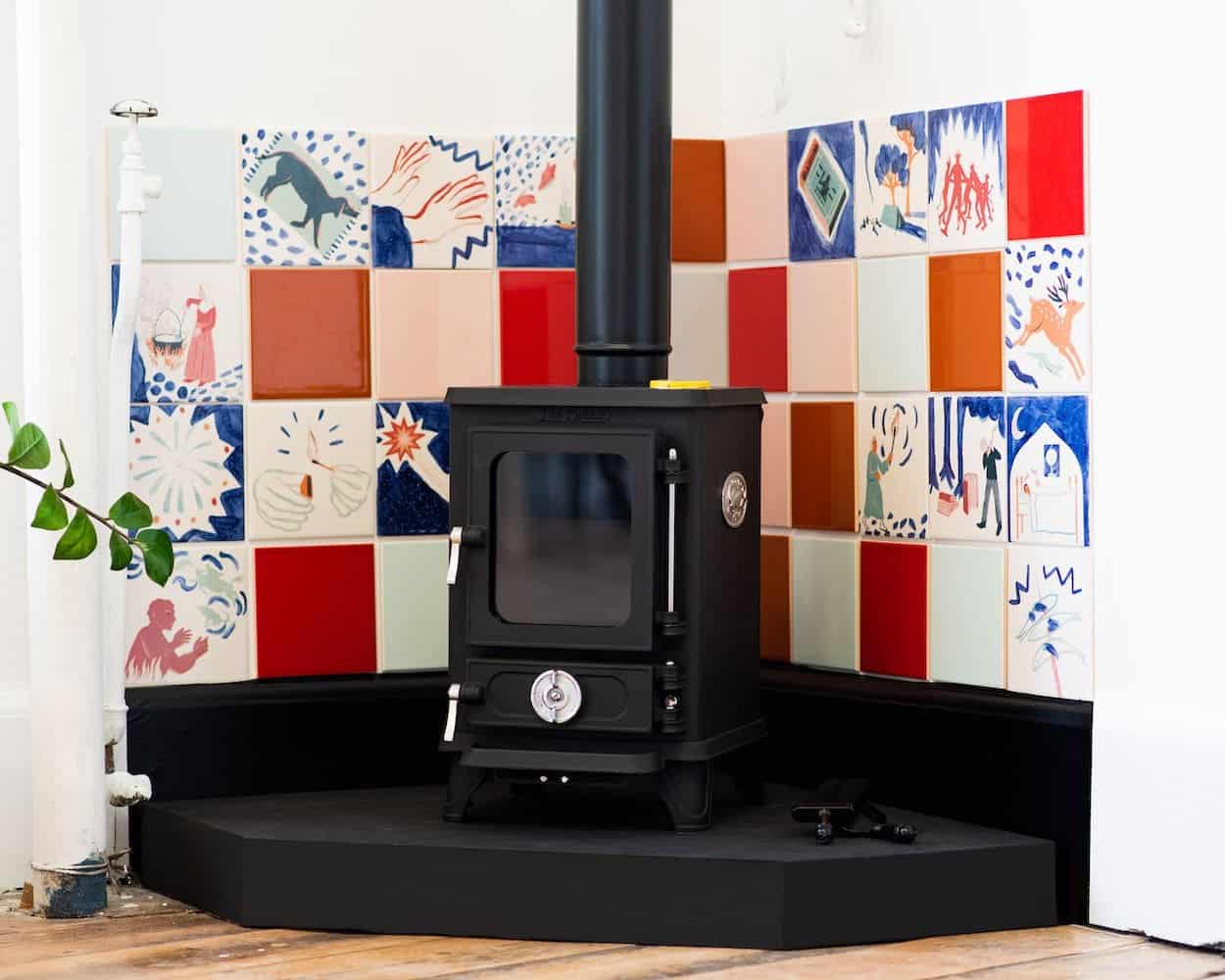 Tiles Told is an ongoing collaboration between co-founders Bridie Cheeseman and Gem Mordle. Together, they create beautiful bespoke tiles from their studio in Bournemouth, on the edge of the Dorset coast.
The tiles are illustrated by Bridie, who uses bright colours and playful characters to create intriguing and immersive landscapes and narratives. Bridie's work often explores themes of oddity, history, humour and storytelling, and she's also a visiting tutor at the Arts University Bournemouth.
On the other hand, Gem is responsible for sourcing the tiles. Her knowledge on ceramics is shown by her own project – Home Thrown Studio – where she creates expressive, high quality, handmade ceramic goods. Gem's work draws on simplicity, and organic shapes and textures influenced by Scandinavian and Japanese design. Each of her pieces are hand-built or thrown on a wheel. The finished works are fun and irregular, and they're distinguishable by her signature touch of cobalt oxide mark-making.
Bridie and Gem's finished tiles are perfect for interiors, murals and a host of other applications! Our Hobbit stove was recently featured in one of their exhibitions at Bobby's Bournemouth, with their lovely tiles being used to create a gorgeous fireplace for our small wood burning stove! Here, our Hobbit stove is pictured with a decorative cast iron hat, silver Salamander badges, and a chrome airflow wheel.
Our tiny multi-fuel stove has been specifically designed for small Victorian and Edwardian fireplaces, which often have tiled or cast iron fire surrounds. Our small wood burning stove can fit neatly into a variety of tight spaces, and you can take a look at the dimensions of our Hobbit stove, along with our fireplace distances document, to see if you could fit one of our small wood stoves into your chosen space.
Although we do not carry out any fittings ourselves, you can enter your postcode into our authorised dealers page to find your nearest recommended installer. We have also designed two household fireplace flue kits to make the installation process easier – we offer a chimney lining kit and an existing chimney kit, with the latter being suited to chimneys where a liner has already been fitted.
If you're thinking of installing our small stove into a more alternative setting, such as a shepherd's hut, a campervan, a garden room, summer house or a tiny home, then make sure you take a look through the rest of our small stove installation kits! You can also view our range of case studies for some extra inspiration with how you might be able to incorporate our small wood stove into the design of your project.
Bridie and Gem's talents compliment each other brilliantly. Bold, detailed narratives flow effortlessly across a series of beautifully crafted tiles, inviting you to cast your gaze along a storyboard of expressive and eye-catching images that come together to form one harmonious collection. Tiles Told has become the perfect outlet for their collaborative creativity, and the pair provide a unique, bespoke ceramic experience for each of their clients.
If you are interested in purchasing a bespoke tiled fireplace, then make sure you visit the Tiles Told website, and get in touch with Bridie and Gem to discuss your ideas! Make sure you also follow Tiles Told, Bridie Cheeseman and Home Thrown Studio on Instagram!