Cutler Anderson Architects
James Cutler has designed Bill Gates' 66,000-square foot home and a 139-million-dollar Portland federal building! It's needless to say that we were incredibly pleased to discover that he chose to incorporate our small stove into the design of his personal cabin!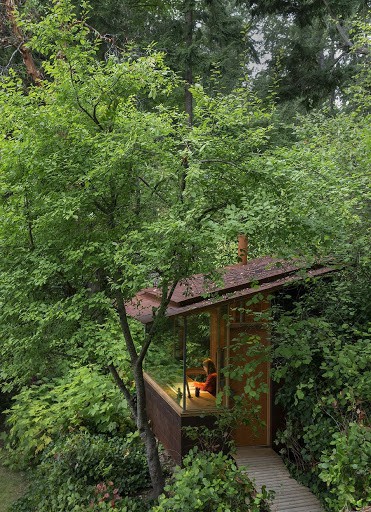 Here, our small wood burning stove is featured in a tiny cabin designed and built in 2016 by an architect and his 12-year-old daughter – Jim and Hannah Cutler – on Bainbridge Island in Puget Sound, Washington state. The 80-square-foot small cabin functions as both a design studio and a bunkhouse, and it has even been honoured by the American Institute of Architects in their 2018 Small Projects Awards!
This family-oriented project took 8 months to complete, and it was constructed on the foundation of a former tool shed, standing less than 30 feet away from the family home. Nestled within evergreen Salal shrubs and connected to the house by a raised walkway of cedar planks, this small cabin provides not only an inviting space for Jim's evening work, but also a cosy little den for Hannah's sleepovers with her friends.
The cabin is framed with rough-sawn Douglas fir, which Jim and Hannah sourced from a nearby sawmill. Cor-Ten steel sheets provide a modern, yet rustic exterior to the tiny dwelling.
The only time that Jim and Hannah required assistance with their project was with the installation of the 10-foot-wide expanse of insulated glass, which provides a stunning view over the garden and the water's edge. The tiny cabin houses a bed that's lined with luxurious Woolrich linens, and pillows designed by Jim's wife – Beth Wheeler – add yet another personal touch, making the whole project a family-driven achievement.
Although the small cabin is heavily insulated and enjoys significant natural light from the sun's rays, the extra warmth that's emanated from the crackling fire of our tiny wood burner is what truly brings the space alive, and it enables this space to be used during cooler days and throughout winter.
If you're wondering how you could incorporate our Hobbit stove into the design of your project, then make sure you take a look through the wide range of installation kits that we've designed. Our flue kits cover a variety of different structures, but please feel free to contact us if you have any questions!
Photography by Art Grice.