Dôl Swynol Glamping
A modern, well-equipped cabin that's brimming with colour and character!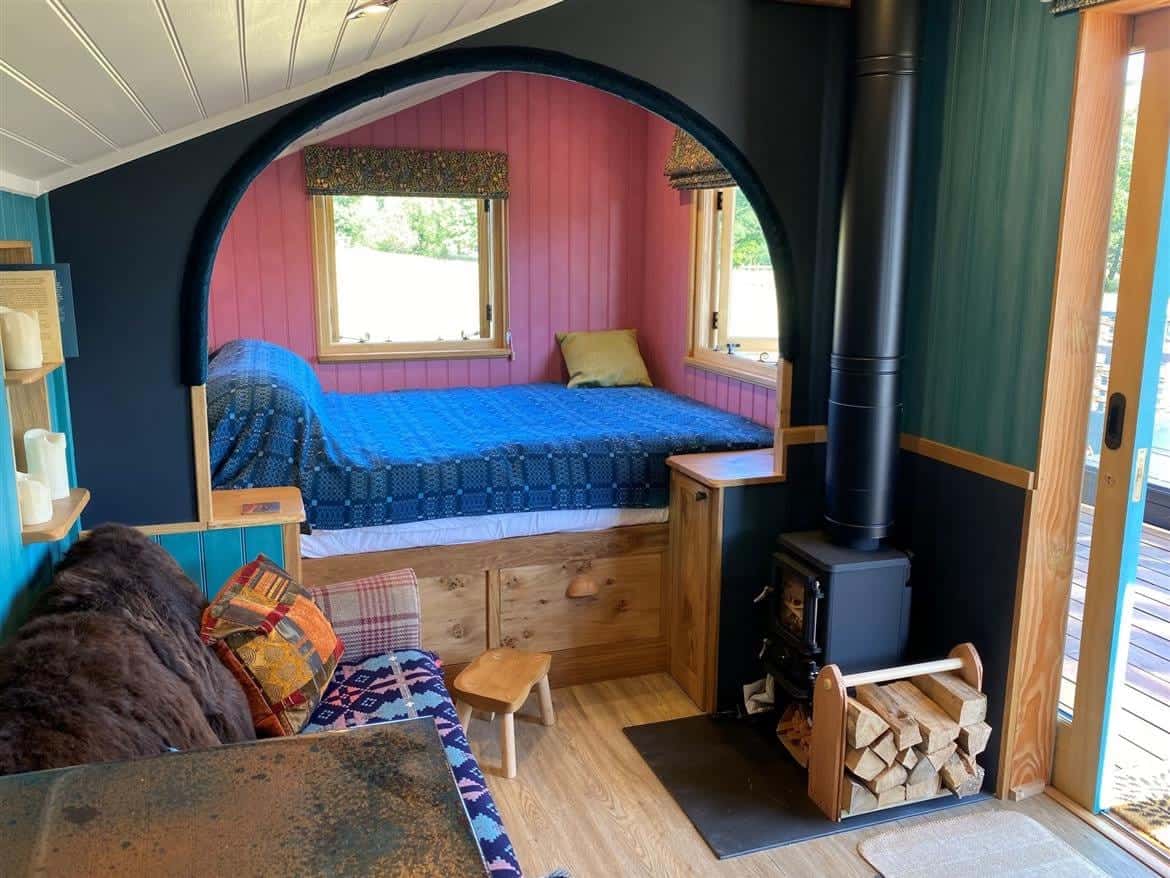 Dôl Swynol is a lovingly hand-built cabin that's nestled in a quiet corner of a large, peaceful field. Its Welsh name translates to "charming meadow", which is really rather fitting! This adorable bolthole lies on the edge of a historic village in the county of Ceredigion, Wales, which is just 8 miles away from Aberystwyth.
You can easily venture into the bustling seaside town during your stay, but there's plenty of activities to enjoy that are just a stone's throw away from the meadow. Spend warm summer days wandering through the cabin's very own orchard, which is bursting with wildflowers, or take a leisurely stroll alongside the trickling stream that gently flows through the field. There's also a network of paths and bridleways closeby, as well as a friendly local pub and a 13th century medieval church!
After a relaxing walk or cycle, you can arrive back at the cabin and lay against a fluffy sheepskin rug in front of our small wood burning stove, where you can truly unwind. Our Hobbit stove is guaranteed to keep you warm and cosy, no matter what time of year you decide to book your stay!
Even if you visit the cabin during the depths of winter, you can still have complete peace of mind knowing that you can snuggle up in Welsh woollen blankets in front of the fire, listening to the rain whilst it lashes down. If you fancy a breath of fresh air, then there's a covered veranda where you can enjoy the outdoors, whatever the weather throws at you.
If you're wondering how you could incorporate one of our Hobbit stoves into the design of your cabin, studio, or other small space, then make sure you check out our other case studies for some inspiration!
We have also designed a wide range of installation kits, and each kit is tailored to a specific type of structure. If you think your space differs to the ones shown, or if you're not sure what flue parts you will need for your installation, then please do not hesitate to contact us! We offer a bespoke flue consultancy service free of charge, so if you drop us an email with some photos and measurements of your structure, then we will see how one of our small wood burning stoves can be integrated into your project!
If you're looking to install one of our small wood stoves into a more unique structure, or one where the fitting process might be more challenging, then please enter your postcode into our authorised dealers page to find your nearest recommended installer. You can also visit our help section to find more useful documents and information.
In this cabin, our small wood burning stove has been installed with our stand option. This raises the stove off of the floor a bit more, which improves your view of the fire when you're relaxing on the sofa, and means you don't have to bend down as much when you go to refuel the fire. Our stand option also creates a useful space directly below the stove, where you can store logs, kindling, firelighters and the like.
Make sure you also visit the listing for Dôl Swynol to find out more and to book your stay today!