Hesleyside Huts Holly
A romantic chapel on wheels tucked away within the Hesleyside Estate, Holly is a quirky glamping retreat that combines a secluded location with plenty of luxuries!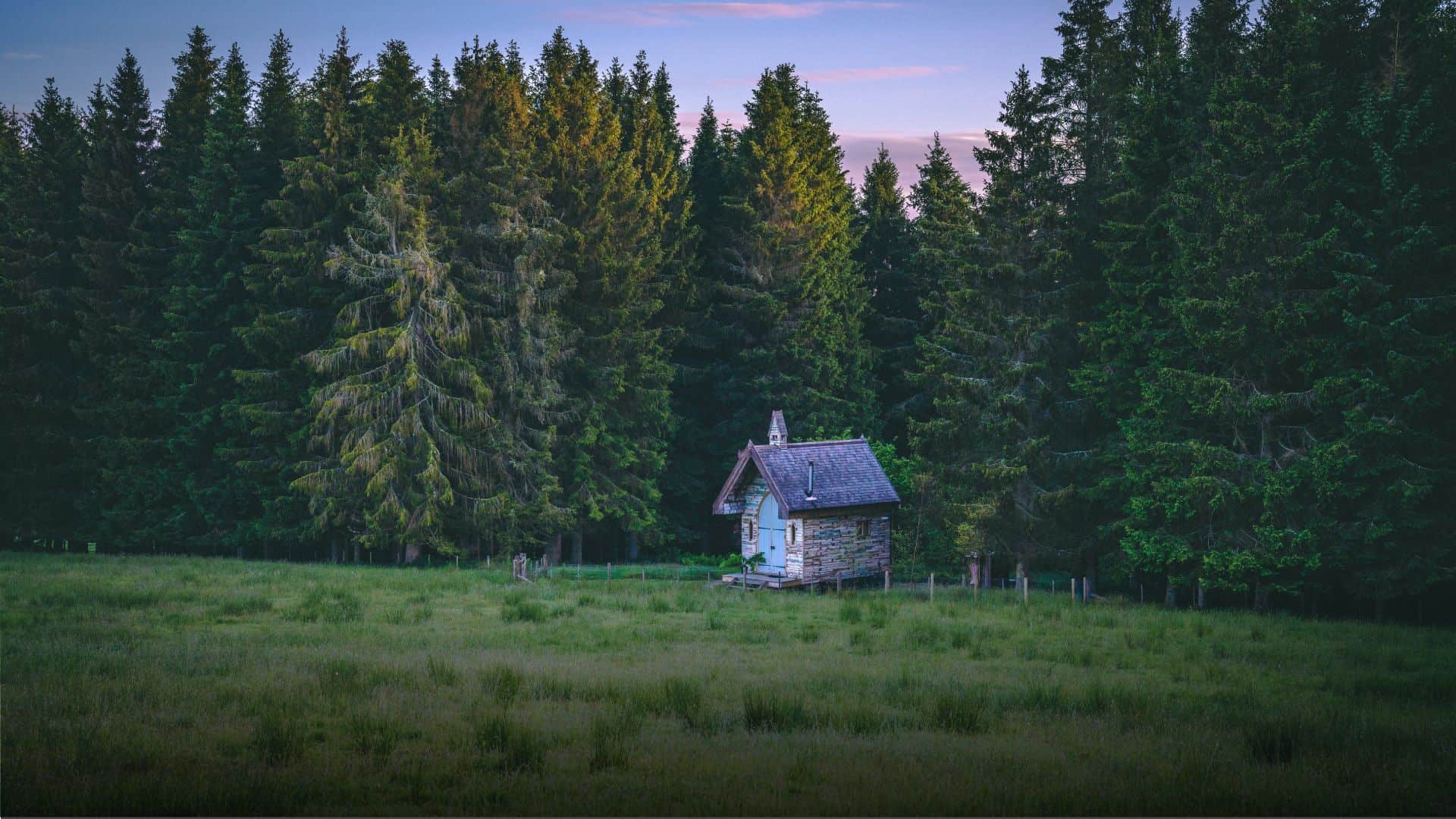 This enchanting little cabin in the woods has been built in the style of a small chapel, and it's reminiscent of something out of Hansel and Gretel! The hut utilises cladding from an old Victorian school, and its large reclaimed church doors make it a truly unique little hideaway! 
Holly sits within the 4,000 acre Hesleyside Estate, which makes it the perfect place to escape to if you fancy a well-deserved break from the pressures of everyday life. The estate is also located within Northumberland's Dark Skies Reserve. When night falls, you can enjoy some of the best views in the country of the Milky Way galaxy! Plus, a telescope and stargazing kit comes already provided.
This secluded little hut sleeps up to 2 people, and it even has a king-size bed tucked away upstairs on a mezzanine floor! Our small wood burning stove has been incorporated into the design of the cabin, so you're guaranteed to stay warm and cosy during your visit!
The Hobbit stove is a fantastic option for small glamping spaces, as it enables this beautiful little hut to be enjoyed all-year-round! Our Hobbit stove also offers a great combination of traditional and modern design, which makes it well-suited to a wide range of interiors. Here, our tiny wood burner has been surrounded with some lovely tiles, so that the fireplace stands out even more!
The hut is also complete with a magnificent, freestanding, copper roll-top bath, a stash of fluffy towels, and fine Egyptian cotton bedding for the ultimate camping experience! There's a fire pit with cooking equipment too, so you can enjoy the outdoors late into the night. Throughout the day, there's miles of magical woodland trails for you to explore, or you can just lounge about on the veranda instead!
Make sure you head over to the Hesleyside Huts website to check out the range of accommodation that they have to offer, and you can click here to book your stay at Holly!
If you have a tiny home on wheels, or another similar structure, then you can take a look through our installation kits to see how you could incorporate one of our small wood burning stoves into the design of your space! We've designed two different flue kits for tiny homes. If you think your installation might need to work differently, or if you're at all unsure as to what flue parts you might need for your setup, then feel free to contact us, as we offer a bespoke flue consultancy service free of charge!
Our tiny wood burner has also been used in some other cabins on the Hesleyside Estate, you can checkout our Bramble case study and our Rowan case study to find out more!