Hesleyside Huts Bramble
Hesleyside Hall has been the ancestral home of the Border Reiver Charlton family for over 750 years! It's now home to Anna and William Charlton and their 3 children.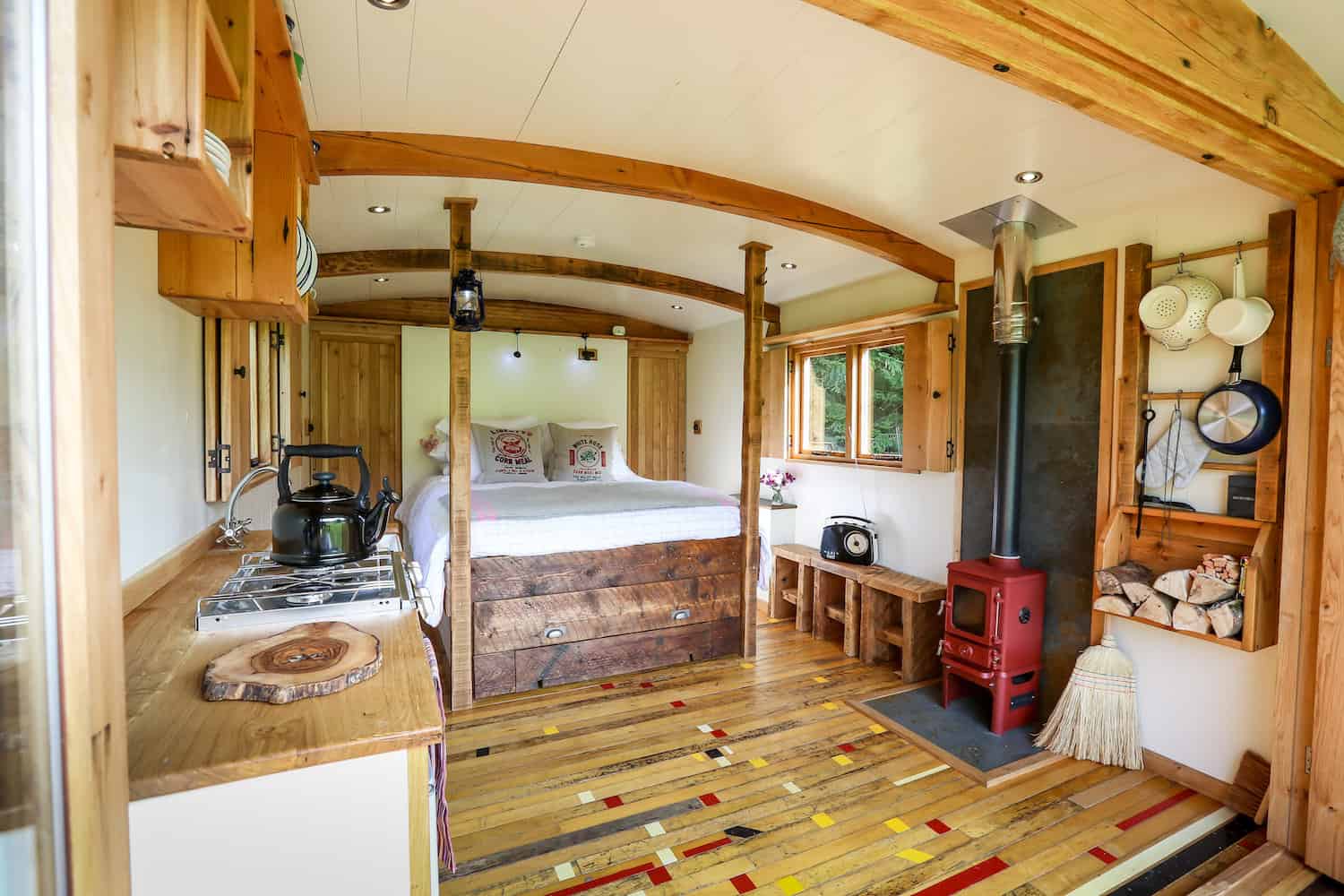 Hesleyside Huts has 3 beautiful shepherds' huts and 2 stunning little cabins that you can stay in, which are surrounded by ancient woodland and the North Tyne river. Each form of accommodation sits within the Hesleyside Estate, which covers 4,000 acres of magnificent land that's steeped in history. The land is also part of Northumberland National Park, and it rests right beneath the renowned Dark Skies Reserve, where you can enjoy the best views in the country of the Milky Way galaxy!
One of the cabins – a Roulotte called Bramble – has been kitted out with our tiny Hobbit wood burner. Our small wood stove kicks out plenty of heat to keep the cabin warm and cosy throughout the colder months, and it also enables guests to stay in this beautiful little glamping space all-year-round! After some late-night stargazing, you can retreat back inside the hut to huddle up in front of the fire to stay warm, and nothing beats the cosy glow of a fire whilst the flames flicker away.
Here, our small wood burning stove has been painted in Mojave Red to match the reclaimed oak exterior of the cabin. Customising your tiny wood burner with different coloured stove paint allows you to really add some character to your small wood stove, and makes it your very own! This particular Hobbit stove also sits on top of our stand option. This raises the wood burner off the floor, giving you a better view of your fire and enabling your stove to be refuelled more easily.
We hand-spray each and every order for a coloured stove. You can select what colours you would like your small wood stove to be painted by choosing from our range of colours in the drop-down menus on the product page for the Hobbit stove or the Hobbit SE. You can pick what options you would like your stove to be fitted with by ticking the relevant checkboxes, and more information about our small stove options can be found here. We've also written an article that goes into more detail, and it takes you through the different steps you can take when it comes to customising your small wood burning stove.
Plus, we've also designed a number of different flue kits, so that you can easily install your Hobbit stove or Little Range into a wide variety of different structures! You can click here to check them out, and if you're at all unsure about your flue setup, then we also offer a bespoke flue consultancy service free of charge. We have designed flue kits for log cabins, sheds, summer houses, shepherds' huts, vans, horse boxes and many other structures and vehicles!
Bramble also offers a four-poster king-size bed, an en-suite shower, and it sleeps up to 5 guests! Each and every detail of the cabins has been thought out, as Anna has individually designed the interior of the huts to offer a luxury glamping experience in a quaint, compact little package.
Make sure you visit the Hesleyside Huts website to find out more, and to book your stay today! Our tiny wood burner has also been used in some other cabins on the Hesleyside Estate, you can checkout our Holly case study and our Rowan case study to find out more!