Hesleyside Huts Rowan
A stunning cabin on the edge of an ancient woodland, Rowan is inspired by the log cabins that you'd find in the North American wilderness!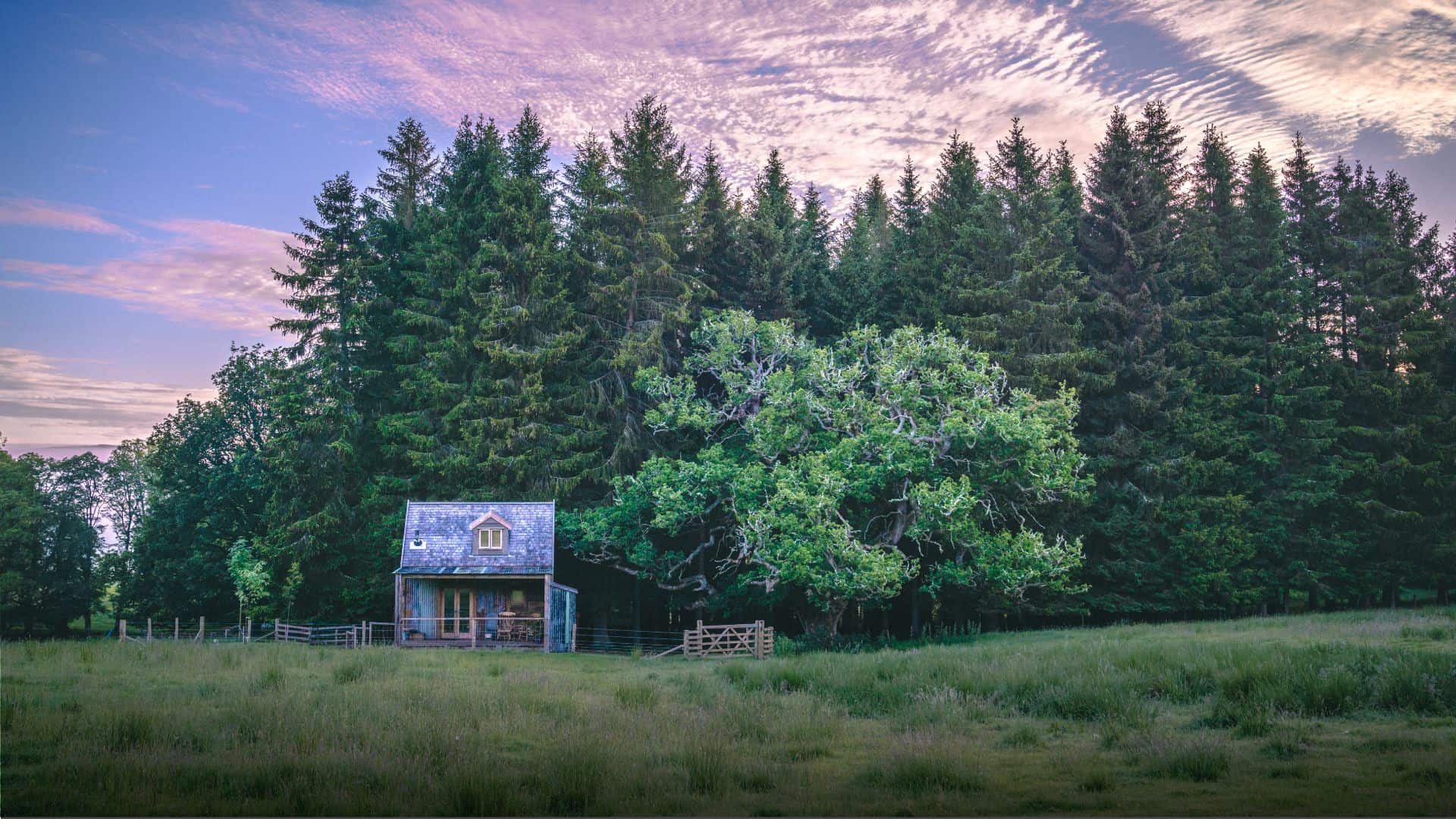 This amazing little cabin has been handcrafted from reclaimed oak, and it has an outdoor bath and a spacious veranda. Our Hobbit small wood burning stove has been incorporated into the design of this cabin so that guests can stay warm and cosy at any time of year! This is a fantastic way to extend your holiday season, as guests can enjoy this space all-year-round!
Despite its humble log cabin exterior, Rowan is packed full of luxuries. There's a king-size bed with a ridiculously comfortable mattress, an en-suite shower room with a flushing loo, sink, and power shower, and if that wasn't enough, you can snuggle up in fine Egyptian cotton bedding! The cabin has plenty of soft fluffy towels, there's complimentary toiletries, and there's also a fridge for storing any food or extra snacks you might decide to take with you.
In the outdoor area, you'll find a good-sized fire pit and a range of utensils so that you get stuck into some wood-fired cooking in the evenings! After dinner, it's worth grabbing some blankets and making the most of the outdoors, as the cabin sits within Northumberland's Dark Skies Reserve.
This means that you can enjoy some of the best views of the starry night sky in all of the country! If you start to get a bit chilly, then you can hop back inside and warm up in front of our Hobbit tiny wood burner with a blanket and a hot drink.
Rowan is situated within the 4,000 acre Hesleyside Estate, so there's plenty of scenic paths and trails for you to explore during the day. The cabin rests on the edge of an ancient woodland, and it's also within Northumberland National Park, so there's plenty of places for you to enjoy a picnic or a family day out!
Make sure you head over to the Hesleyside Huts website to check out the range of accommodation that they have to offer, and you can click here to book your stay at Rowan!
If you have a cabin, or another similar structure, then take a look through our installation kits to see how you could incorporate one of our small wood burning stoves into the design of your space! We've designed two different log cabin flue kits. If you think your installation might need to work differently, or if you're at all unsure as to what flue parts you might need for your setup, then feel free to contact us, as we offer a bespoke flue consultancy service free of charge!
Our tiny wood burner has also been used in some other cabins on the Hesleyside Estate, you can checkout our Bramble case study and our Holly case study to find out more!