Pip's Home
Country-living in an 18th century cottage. Inspired by nature.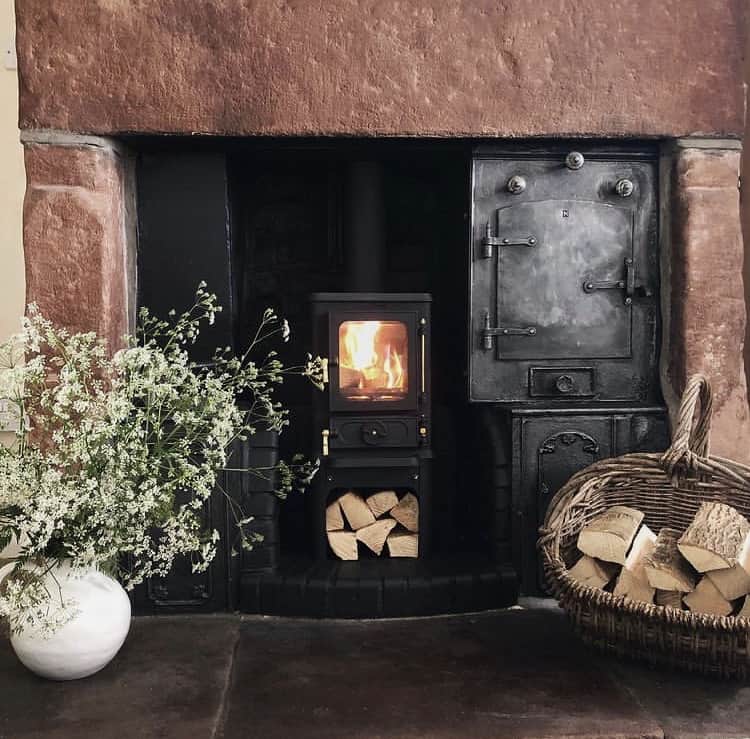 Phillipa posts lots of beautiful content on her Instagram page @pipshome, where she shares updates on her family's 18th century cottage renovation, and their slow-living days.
With a bit of work, they transformed their 300-year-old fireplace into a stunning, safe, and cosy space to relax. They even commissioned a local blacksmith to make a new oven door, which blends in amazingly well with the rest of the fireplace! You can see the before-and-after pictures below.
We are incredibly proud that they decided to install a Hobbit stove to help restore this beautiful old fireplace to its former glory. They also chose our stand option to raise our small wood burning stove off of the hearth a bit more. Pip's small wood burning has even been equipped with a set of brass fittings, to give it a more traditional look.
Our stove stand improves the proportions of this gorgeous fireplace, but it also creates a nifty little space beneath the stove, which is perfect for storing logs! The logs pictured were supplied by Harrington Woodfuel Co., who supply sustainable and high quality firewood, firelighters and charcoal.
If you're wondering how you might be able to install a Hobbit stove into your small fireplace, then make sure you take a look at the fireplace distances document in our help section.
Your small wood burning stove will also need to sit on a non-combustible hearth that's at least 12mm thick. This can be made out of slate or glass, for example. You will need to have at least 225mm of space from the front of the stove to the front of the hearth.
If you're still unsure, then just drop us an email with some photos and measurements of your fireplace, and we will be able tell you whether or not you could fit a Hobbit stove into your fireplace. Please feel free to also contact us with any questions you might have!
The standard Hobbit stove can only run off of a 6″ diameter chimney liner, whereas the DEFRA approved Hobbit SE and Little Range Cook Stove can be used with a 5″ or a 6″ diameter chimney liner. Therefore, you might need to use the DEFRA approved model of our stoves if you have a particularly narrow chimney!
If there's anything that we can't help you with, then simply book a site visit with one of our recommended installers. You can find your nearest recommended installer by entering your postcode into our authorised dealers page.
Make sure you also check out Pip's website, where she posts lots of interesting articles about interior design and motherhood lifestyle!