Blue Forest
Our small wood burning stove provides plenty of warmth and comfort inside this extraordinary structure, which has been designed by the team over at Blue Forest!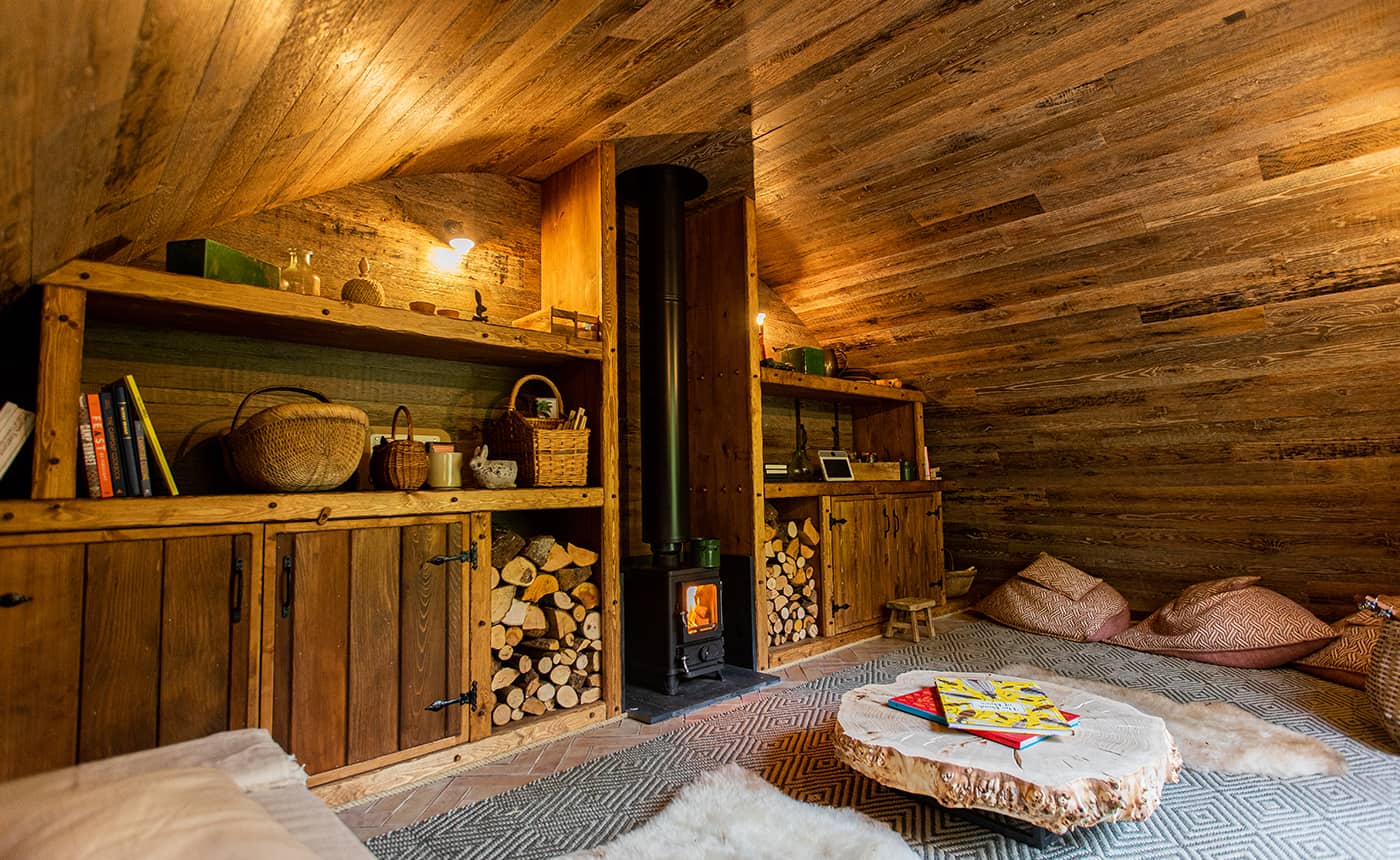 This earthy, inviting dwelling is complete with modern touches to create a striking yet humble abode, that has been forged in harmony with the sloping landscape and the surrounding natural woodland. Our Hobbit stove sits at the heart of this woodland retreat, adding to the grounded atmosphere and keeping guests warm and cosy throughout their stay. Our small wood burning stove also enables this magnificent hideaway to be enjoyed all-year-round!
After stepping inside this magical escape, you'll be greeted with a warm and welcoming interior, with reclaimed-style flooring and walls radiating rustic charm. The Blue Forest team have paid an astounding level of attention to detail. There's a whimsical little door and a built-in log store at the face of the property, and these features don't go unnoticed, despite the grand circular entrance, the adorable little windows, and an incredible archway that's been framed with a thick band of rope. 
Our small stove is accompanied by a beautiful log store at either side, and there's an intimate yet attractive seating arrangement, right in front of the fireplace. There's also an outdoor fire pit and dining area that can be enjoyed throughout long summer evenings, and you can toast marshmallows or enjoy a hot chocolate late into the night during any colder seasons.
If you're wondering how you might be able to incorporate one of our small wood burning stoves into the design of your structure, then make sure you take a good look through the wide range of installation kits that we've designed, to see how you could get a Hobbit stove installed into your chosen space.
If you're at all unsure about what flue parts you might need, then please feel free to contact us, as we offer a bespoke flue consultancy service free of charge!
Make sure you head over to the Blue Forest website to explore the endless range of breathtaking places that they've designed! You can also read their story to find out more about how their outdoor childhood went on to inspire the unique and exciting treehouses that they've masterminded to this day!