Brockloch Treehouse
Brockloch Eco Retreat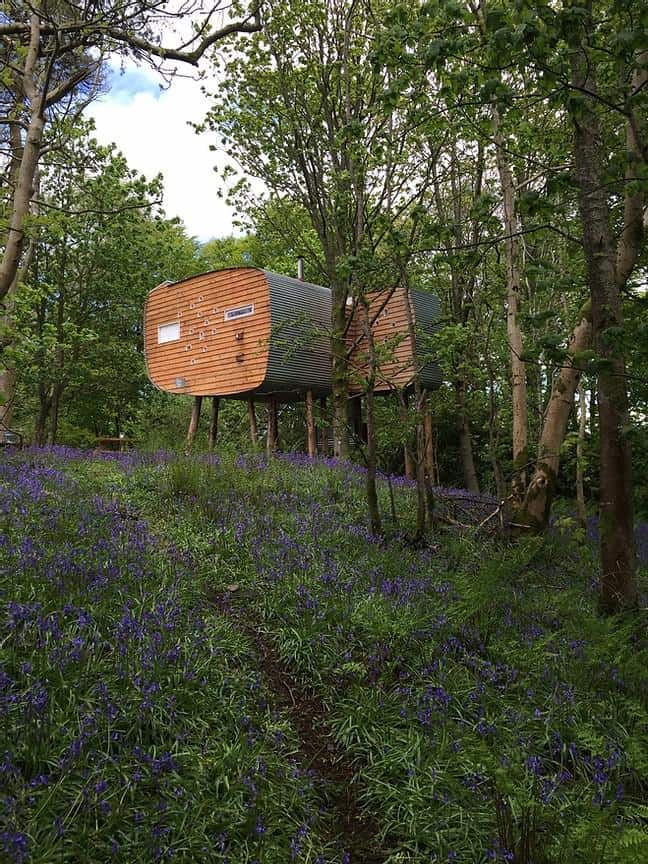 This extraordinary off-grid treehouse was designed by Sam Booth, the founder of a Scottish-based company called Echo Living, who specialise in the design and construction of sustainable tiny homes. The property was commissioned by Brockloch Eco Retreats, and you can book this treehouse cabin as a place to stay on the edge of their 190 acre farm in South West Scotland! This spectacular off-grid woodland retreat is nestled amongst the trees and sits gently above a beautiful meadow of bluebells, and it was even featured on Channel 4's 'George Clarke's Amazing Spaces' in December 2014!
We were incredibly proud to have our small wood burning stove incorporated into the design of this magical treetop dwelling. Our little wood burner enables guests to stay warm and cosy throughout the harsh Scottish Winter, and the dancing flames of a natural fire provide an otherworldly feeling to the cabin, especially when it's filled with the soft glow of candlelight. Here, an almond coloured finish has also been applied to our tiny wood burner, which allows it to seamlessly match the cabin's interior design. Although our small stove looks great in a wide range of interiors, we also offer you the ability to customise your stove with a range of additional options and colours which you can explore here!
The treehouse was designed as a cosy, romantic hideaway for 2 people, and this has certainly been achieved with the property's secluded, intimate location and the kaleidoscope of tiny windows that present visitors with over 50 miniature framed views of the surrounding woodland and landscape. This adorable woodland dwelling also has 2 large skylights, so you can huddle up in front of a warm, crackling fire in our little wood burner whilst you lay in bed and gaze up at the treetops and the starry night sky! There's even a skylight above the bathtub, so you can also enjoy any stargazing in the bath if you fancy it! We particularly like the light-hearted and playful touch that the dangling steel bucket provides, which is filled with stones and functions as an innovative counterweight for the shutter!
The cabin is off-grid and it's powered by solar panels as well as our small wood burning stove, which can also be added to the cabin's list of eco credentials. Our mini wood burner uses a renewable energy source and actually improves the sustainability of your property, which you can read more about here! To add to this, the cabin was ingeniously designed to conform with the planning regulations of a caravan! The pods meet the same dimensions and building criteria which are required for a caravan, whereas the larch pole platform was submitted as a separate planning application.
In addition to being featured in George Clarke's programme, this stunning little treehouse was awarded with a Commendation in the Dumfries & Galloway Design Awards. Plus, it's made an appearance in several newspaper articles and it's also been voted as one of the best places to stay in Europe.
Sam Booth and the rest of the team at Echo Living have completed some seriously impressive tiny home projects, so make sure you contact them if you need a tiny home designed for you! You can also visit the Brockloch Eco Retreat website here to book your own escape at this magical off-grid woodland retreat!
If you already have a cabin (or a more out-there form of dwelling) that you're looking to install a small wood burning stove in, then make sure you visit our page of stove installation kits. We offer a flue kit package which is specifically designed for small cabins, and if you can't find what you're looking for then we also offer a free bespoke flue consultancy service, so please do not hesitate to get in contact with us if you're at all unsure about what flue components you might require or how they should be arranged!
Photography by Echo Living and Brockloch Eco Retreats.