Brownscombe Roundhouse
A gorgeous roundhouse that's tucked away in a stunning rural setting.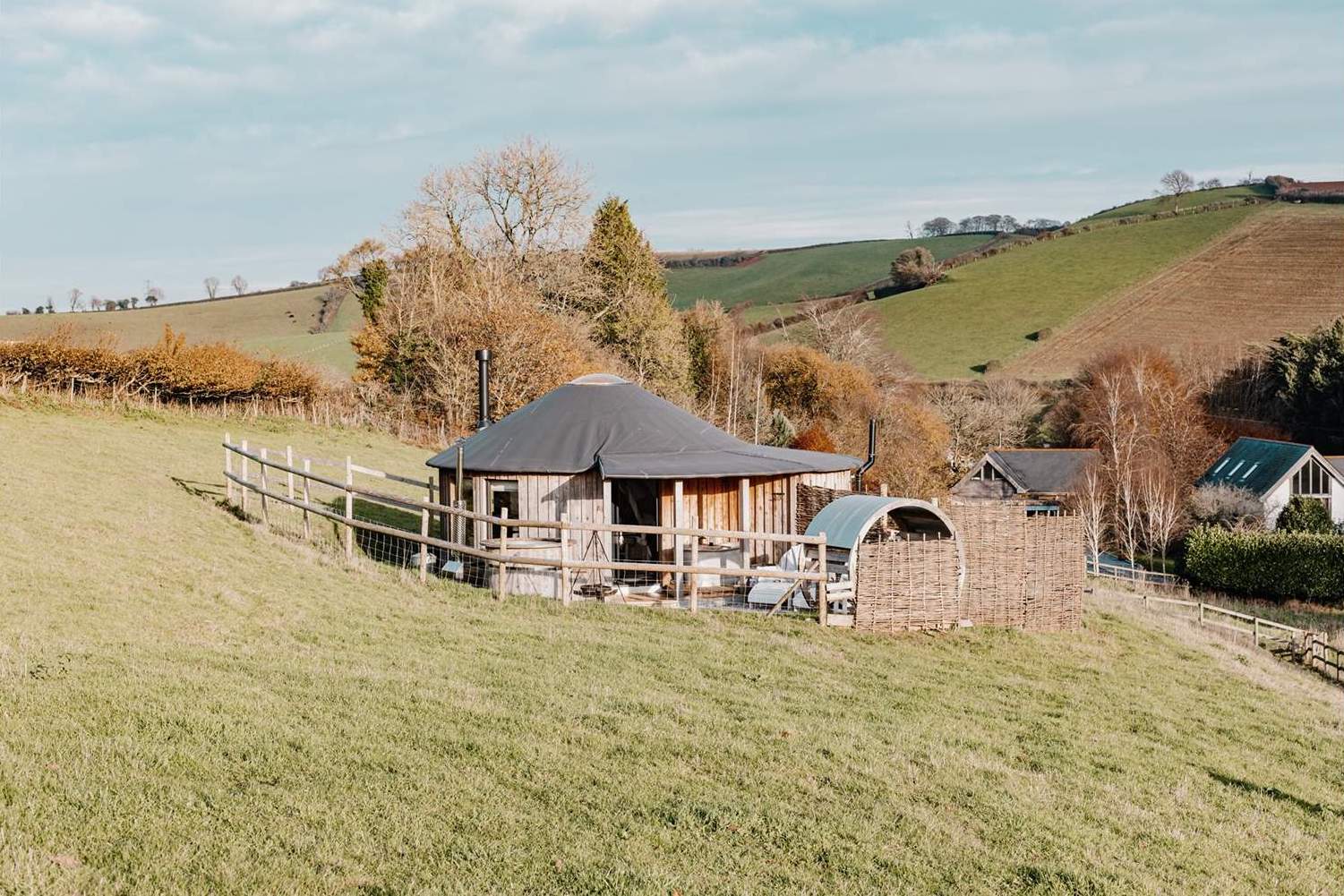 Brownscombe Roundhouse is a beautiful rural retreat that's nestled in a sweeping valley, which is just a short drive away from the bustling market town of Totnes.
After climbing the path and stepping inside the hut, you will be greeted by our small wood burning stove, which acts as the perfect focal point within this lovely glamping spot. The Hobbit stove adds a very homely touch to this space, and it enables the roundhouse to be enjoyed all-year-round. 
Our small wood burning stove kicks out a wonderful heat that will keep you comfortable in the depths of winter, or it can be used to take the edge off of a cool summer's evening. Here, the Hobbit stove has been fitted with our stand option. This stove extra raises our small wood burning stove off of the floor, which makes it easier when you go to refuel the appliance. It also gives you a much better view of the flames as they crackle and flicker away!
The roundhouse has a stylish yet simplistic interior, and the large windows offer some incredible views of its attractive setting. This beautiful bolthole also has its own wood-fired hot tub, so you can end your day with a relaxing soak beneath the starry night sky! If there's a bout of bad weather, then you can still enjoy a hot dip in the outdoor bath, which is conveniently tucked under cover. There's also an ensuite shower and there's even an outdoor shower too!
A king-sized four poster bed is sure to provide with you with one of the best night's sleep you've ever had, and there's a separate children's bedroom, which makes this hideaway perfect for couples and families alike.
A well-equipped kitchen will provide you with a comfortable start to your day, whether you're looking to cook up a breakfast or have a quick cup of tea or coffee before hopping outside to explore the local area.
The owner of the retreat also has a lovely little shop that's onsite – Brownscombe Larder – where you can conveniently grab any daily essentials that you might need for your stay. Barbecue hampers and delicious hot casseroles can be booked before your stay, and there's a wide range of locally crafted gifts that you can purchase for your friends and family!
Pizza nights are served at the barn and there's table-tennis and table-football facilities at the lodge. There's even an onsite beauty therapist for a relaxing massage, a manicure, and various other spa treatments! The owners have really tried to ensure there's something for everyone, but please note that these services are only available during peak seasons.
Visit the listing for Brownscombe Roundhouse on Unique Hideaways to find out more and to book your stay! Whilst you're on their website, make sure you check out their collection of glamping sites and luxury camping locations that are dotted across the country!