Cheviot Shepherd's Hut
The most remote and exclusive shepherd's hut that you can stay in at Prendwick Farm, Cheviot is named after the surrounding hills in the beautiful Northumbrian countryside.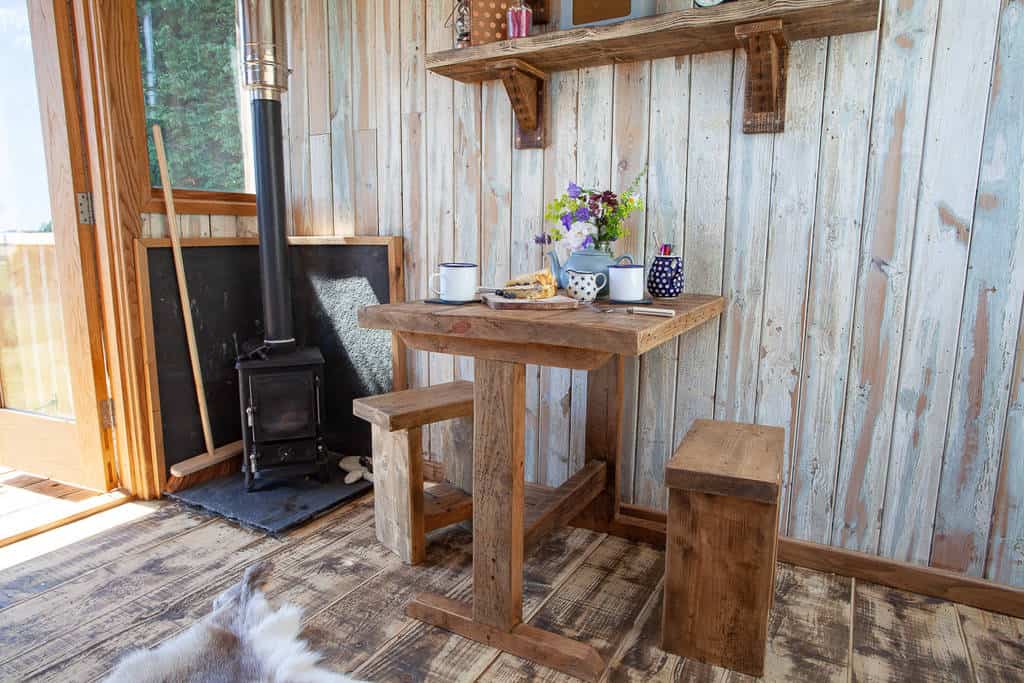 This incredible shepherd's hut is hosted by Huts In The Hills, which is run by Nicola and Jamie. The hut is luxurious inside and out, and it sleeps two adults and two children! There's a huge window right above the king-size bed that offers some stunning views of the night sky. The hut also sits within Northumberland's Dark Sky Reserve, making it one of the best places in the country for stargazing! 
There's a large terrace with a shaded/sheltered area so that you can enjoy the outdoors whatever the weather. On a beautiful sunny day, you can sit outside and soak up the panoramic views of the countryside – there's even a firepit area and a stunning two-person bathtub! A playful climbing wall next to the bunk beds is enough to persuade any child that bedtime is something to look forward to, and there's a gorgeous solid oak table that seats up to four people.
Our small wood burner – the Hobbit stove – has been installed in this beautiful shepherd's hut so that guests can stay here at any time of the year! Our small wood burning stove ensures guests stay warm and cosy all-year-round, whether you need to warm up after a chilly walk, or if you just want to lounge in front of the fire and read a book or play some board games. 
After waking up to birdsong and enjoying the picturesque views of the countryside, why not make a picnic and get exploring outdoors! Just over the hills you can find the Linhope Spout waterfall, which is certainly worth a visit! The River Breamish also runs through this area if you want to dip your toes in the water and stop for some lunch. Nicola and Jamie are based on the farm as well, so you're free to ask them for any recommendations when it comes to shops or places to visit during your stay.
When you return back to the hut, our tiny wood burner will be there to keep you warm and cosy again throughout the rest of the day. There's nothing more welcoming then seeing the hut lit up by the light of the fire, and you can take some time to relax whilst the flames crackle away.
If you're wondering how you might be able to install your own Hobbit stove in a shepherd's hut, then it's worth taking a look at the two different installation kits that we've designed for shepherds' huts. Our shepherd's hut flue kits are tailored to suit most installations, but if you think your installation might need to work a bit differently, then please feel free to contact us to discuss your requirements, as we offer a bespoke flue consultancy service free of charge!
Make sure you checkout the listing on The Huts In The Hills' website to read more about this stunning little shepherd's hut and to book your stay today!