Elsie May
A gorgeous little shepherd's hut that's tucked away in a secluded spot, just inland from the coasts of North Devon.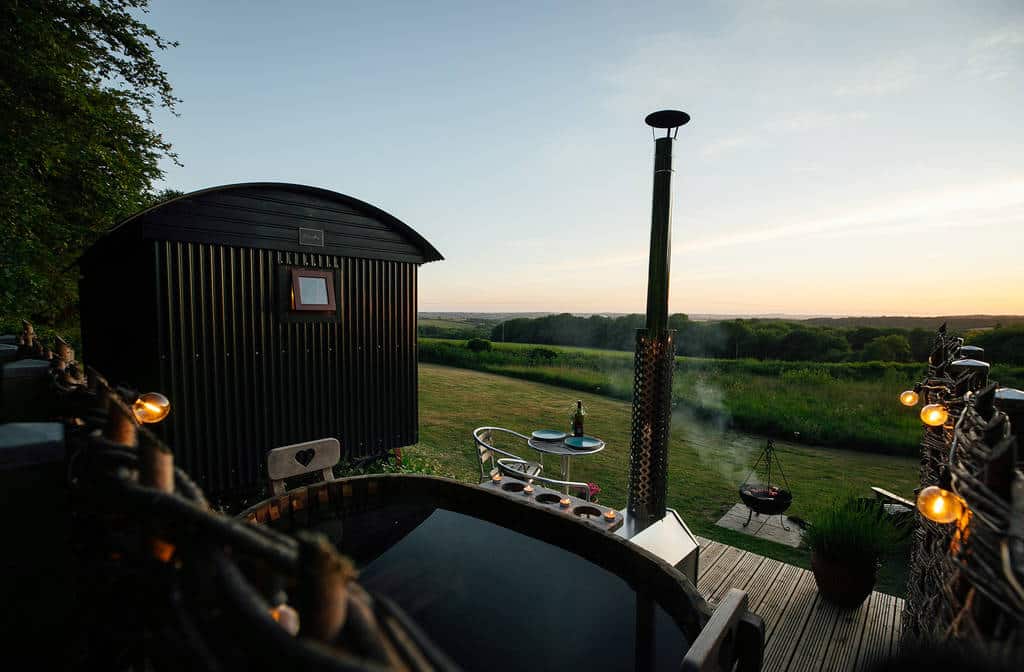 Elsie May has half an acre of private land that you can enjoy all to yourself, and there's another 4 acres of wildflower meadows that you're free to explore with other guests! Life doesn't get much better than sitting back on the wooden sun loungers and basking in the warmth of the sun's rays. If it gets a bit hot, you can hop in the hammock and lay in the dappled sunlight beneath the trees.
The hut even has its own pond, which draws in a variety of local wildlife. You can kick back and fully relax in this completely undisturbed hideaway, whilst keeping an eye out for the resident foxes, deer, voles and weasels! Why not start your day by waking up to the chorus of birdsong, before diving into a hamper that's been lovingly prepared by the owners David and Lynda. You're guaranteed to get a good night's sleep in the large comfy bed that sleeps 2, and there's even a modern en suite bathroom, gas hobs, and a table that neatly slides away.
The shepherd's hut also has a wood-fired hot tub surrounded by festoon lights, which is the perfect place to sit and admire the panoramic views of the rolling Devon hills and the starry night sky. After you've jumped out of the tub and braved the brisk walk back into the hut, you can light a fire in our Hobbit stove to get warm and cosy again. There's nothing more comforting than listening to the crackling of the logs as you watch the flames flicker away, and our tiny stove is sure to keep you toasty warm, no matter what time of year you decide to book your stay!
Here, the Hobbit stove has been fitted with our stand option. This makes our small wood burning stove just that bit taller, which gives you a better view of the fire and makes it easier to refuel. There's also a neat little space to store logs right beneath the stove, so you'll never have to move very far! A lovely set of deep blue tiles line the walls around it, which makes gazing at the fireplace even more of a joy.
There's also an outdoor fire pit, that's complete with a tripod and a grill! This is perfect for long summer evenings, when you can enjoy some wood-fired cooking and al fresco dining on your own private patch of land. If you hadn't noticed it in the photos, there's also a covered decking area, which looks and feels more like a treehouse! Here, you can enjoy some spectacular views through the treetops, nestled away in your own secret little den.
If you manage to pull yourself away from this incredible safe haven, then there's plenty of quiet villages, country gardens and local pubs that are ready and waiting for you to visit. If you're feeling more adventurous, then you can set off on the Tarka trail cycle path, or traverse the vast expanses of Dartmoor and Exmoor. There's also a huge range of coastal paths that you can take, which are all easily accessible from Elsie May.
If you're interested in incorporating our small wood burning stove into the design of your own shepherd's hut, then take a good look at the product page for our Hobbit stove. There's plenty of information that you can find here about our small stove, as well as the range of additional options and colours that you can add to your tiny wood burner! 
If you're wondering how you might be able to get the Hobbit stove installed, then check out our shepherd's hut flue kits, and visit our authorised dealers page to get a breakdown of the list of installers that we'd recommend who are based near you.
We've designed a wide range of installation kits that are tailored to suit a variety of different structures. If you're at all unsure about what flue parts you might need, then do not hesitate to get in touch with us, as we offer a bespoke flue consultancy service free of charge!
If you're really tight on space in your shepherd's hut, then we have you covered! You can add heat shields to your Hobbit stove too, and this will greatly reduce the distances that you will need to comply with for your fireplace. To see just how much space you can save, take a quick look at this document here.
Make sure you also head over to the listing for Elsie May on Canopy and Stars to book your stay today!