Ash Farm Leonora
A rustic shepherd's hut tucked away on Ash Farm, in Dorset.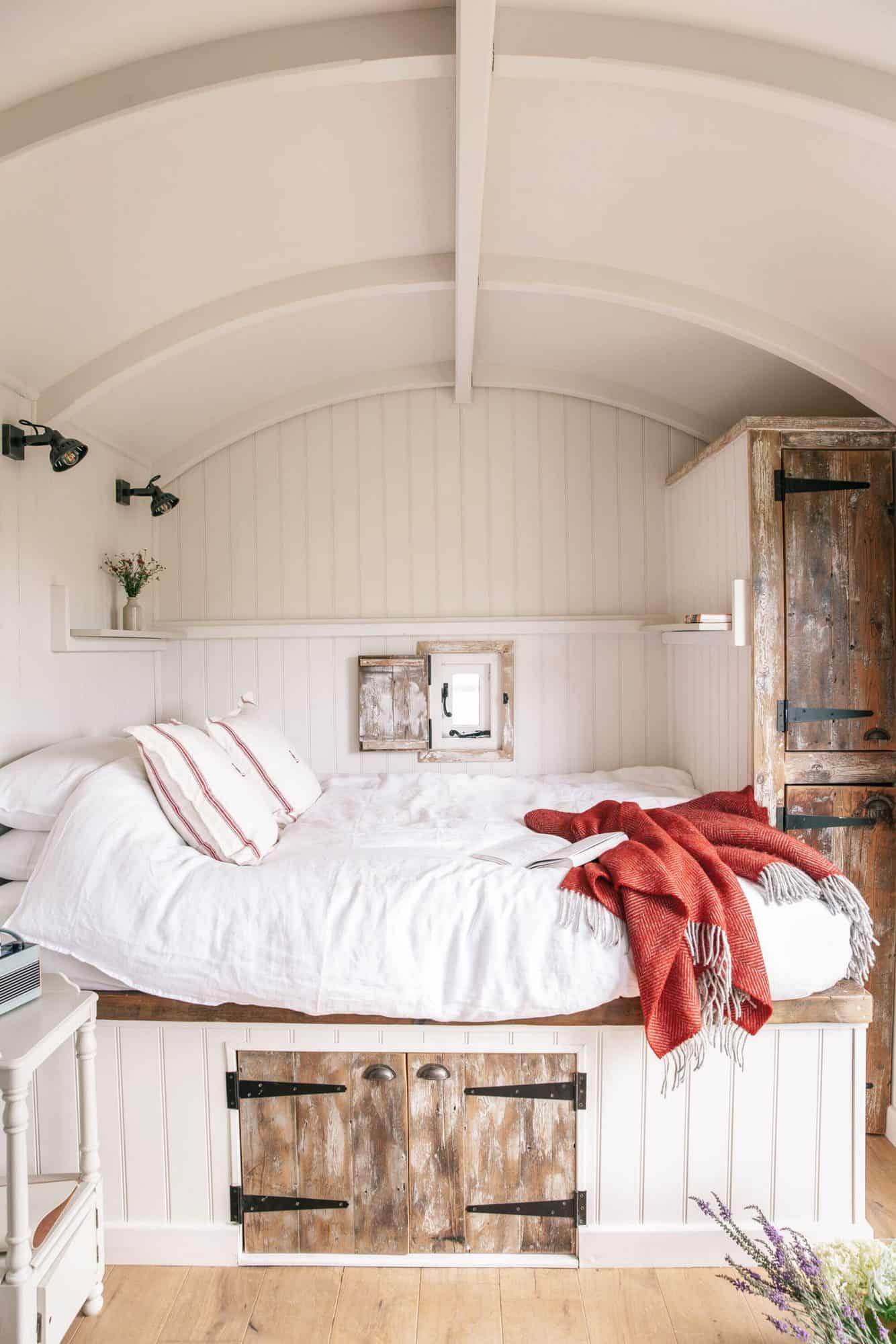 This beautiful little shepherd's hut sits on a secluded spot of land on Ash Farm. The owners – Adam and Ali – have been organic farmers for over 30 years! The hut has a stunning rustic interior, which is lined with shabby chic cabinetry and woodwork. Leonora has its own private hot tub and outdoor space, and there's also a fire pit, which is perfect for some wood-fired cooking and al fresco dining during the long summer evenings!
Inside the hut, our Hobbit stove adds plenty of charm and character to this gorgeous little hideaway! Our small wood burning stove offers a great blend of traditional and more contemporary styling, which makes it perfect for a wide variety of interior designs.
The Hobbit stove also kicks out a good amount of heat, enabling this rural retreat to be enjoyed all-year-round! You'll have no problem staying warm and cosy in the hut, whether you decide to visit in spring, summer, autumn or winter.
The farm has an on-site honesty shop, which is incredibly convenient when you need to stock up again on local supplies. If that wasn't good enough, you can also pick fresh herbs and vegetables from the gardens! Adam and Ali even have a herd of adorable red deer just next to the hut, creating quite the fairytale setting!
In the day, you can wander through idyllic bluebell woods, or take a day out to visit Shaftesbury, Bruton, Frome, or Durdle Door. There's also plenty of spots nearby for some kayaking or paddle boarding if you're feeling more adventurous!
Leonora and the farm itself are based in Cranborne Chase, which is the first Area of Outstanding Natural Beauty to have its entire region classified as an International Dark Sky Reserve! The hut also boasts a luxurious king-size bed and an en suite bathroom, making it the ideal place for a romantic escape.
If you're wondering how you might be able to incorporate our small wood burning stove into the design of your own shepherd's hut, then make sure you check out our shepherd's hut flue kits! Our installation kits have all of the flue parts that you'll need to get your tiny wood burner up and running.
Our flue kits have been tailored to suit the majority of shepherds' huts, but if you think that any of the flue parts might need changing, then please do not hesitate to contact us, as we offer a bespoke flue consultancy service free of charge!
We also offer a heat shield option that can be added to your Hobbit stove if you're particularly tight on space. You can view this document to see just how much this reduces the distances that you will need to comply with when it comes to installing one of our small wood burners.
Make sure you visit the listing for Leonora on Canopy and Stars to find out more and to book your stay today!
You can also click here to visit the Ash Farm website, and make sure you give them a follow on Instagram to stay up-to-date with everything that goes on at the farm!