Monkwood Shepherd's Hut
A luxury retreat nestled in the heart of the Worcestershire countryside.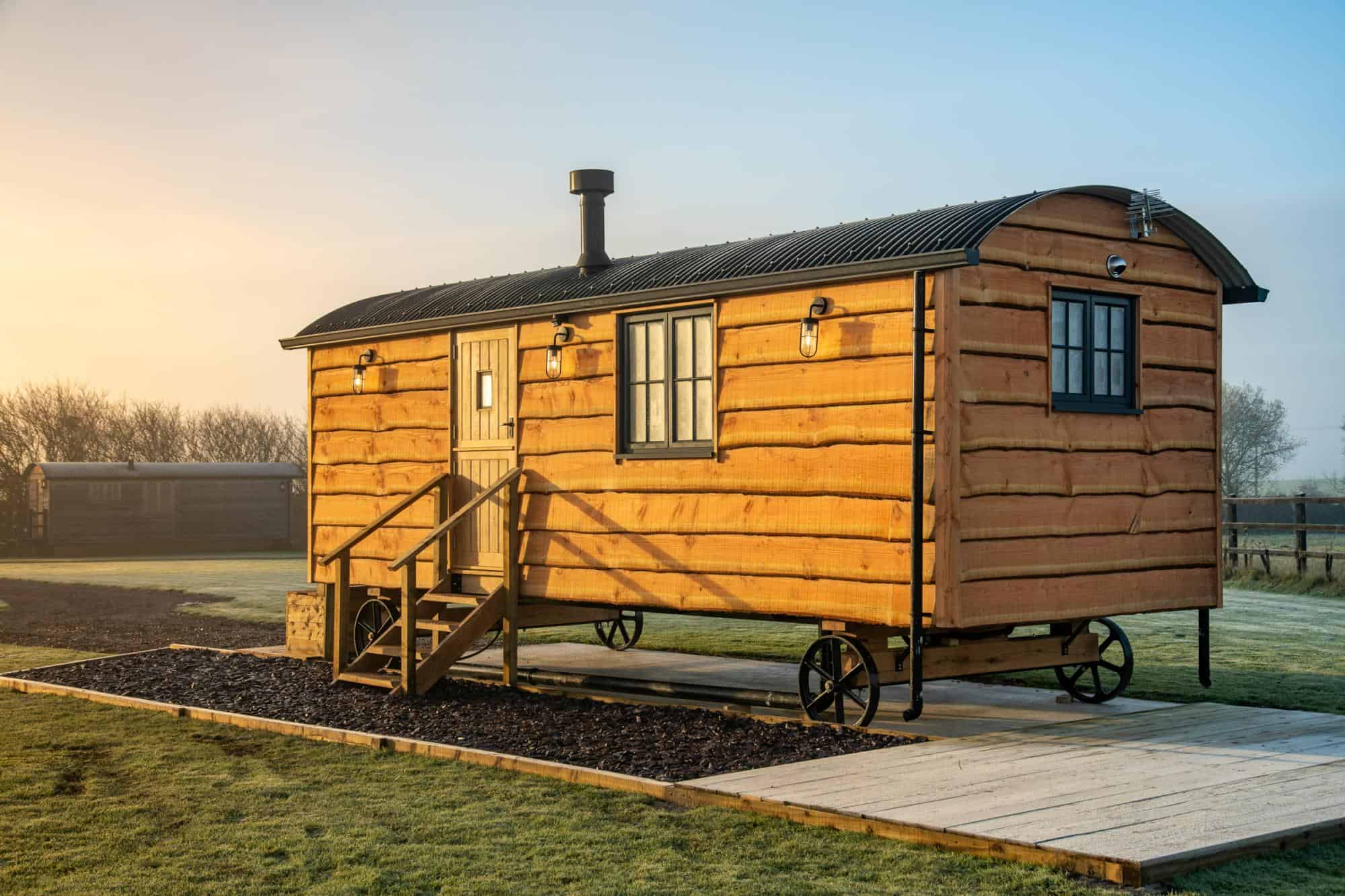 Monkwood Shepherd's Hut is the latest addition to Ockeridge Rural Retreats – a 9 acre equestrian site that offers a number of amazing glamping accommodations!
The hut has been lovingly crafted from natural douglas fir and oak, and it has lamb's wool insulation to create the cosiest, eco-friendly space! It also boasts some magnificent views of the surrounding countryside, and you can even watch the horses grazing in the nearby paddocks, right from your kitchen window!
The hut is incredibly spacious, measuring 9ft wide and 23ft long. The exposed oak beams add a truly rustic feel to the cabin, making it a home from home. Monkwood Shepherd's Hut is also complete with a range of modern furnishings that add a good deal of style and character to this rural retreat. Our small wood burning stove completes the picture, providing you with a wonderful view of a crackling fire which brings life to the very heart of this beautiful glamping spot!
The Hobbit stove makes a fantastic addition to the shepherd's hut, as it provides the perfect blend of traditional and more contemporary styling. This makes our small wood burning stove a superb choice for settings that have modern touches, but still have plenty of character! 
Despite its size, the Hobbit stove still kicks out a great deal of heat that's sure to transform almost any structure into a warm, welcoming den. Whether you decide to visit the hut in spring, summer, autumn or winter, you can have complete peace of mind in knowing that our small wood burner will be there to keep you warm and cosy during any time of the year!
Monkwood Shepherd's Hut has been specifically designed with couples in mind, and it's the perfect place to stay for a romantic escape. The hut has been named after Monkwood itself – a gorgeous ancient woodland close by, that's renowned for its colourful flowers and vibrant butterfly species!
The hut also has a luxurious king-size bed and an incredible roll top bath! If that wasn't enough, then there's a fully integrated kitchen with a quartz surface and a Belfast sink, which makes even the simplest day-to-day activities an absolute joy.
When it comes to days out, there's lots of local fisheries nearby if you're a keen angler, and the Malvern Hills are definitely a site worth visiting! This mountainous landscape is a designated Area of Outstanding Natural Beauty, which is great for mountain biking and hiking. There's also plenty of footpaths too if you fancy more of a stroll! Worcester city centre isn't too far away from the hut, and there are a variety of other attractions, such as Witley Court, and a number of local pubs.
If you're wondering how you might be able to incorporate our small wood burning stove into the design of your shepherd's hut, then make sure you check out our shepherd's hut installation kits!
We have designed two installation kits that have been specifically tailored to suit most types of shepherds' huts, and our flue kits have all of the parts that you'll need to get your Hobbit stove installed.
If you think that any of the parts in these flue kits might need changing to suit your particular hut, then please do not hesitate to contact us, as we offer a bespoke flue consultancy service free of charge! All you need to do is drop us an email with some photos and measurements of your hut, and we will be able to advise you on what parts you'll need and how they should all be arranged. We have also designed a wide range of other installation kits, that can be used to fit our Hobbit stove into a variety of different structures.
Make sure you visit the listing for Monkwood Shepherd's Hut on the Ockeridge Rural Retreats website to find out more and to book your stay!