Oak Retreat
Oak Retreat is a spacious shepherd's hut, which is located on a peaceful private farm in Eckington, Worcestershire.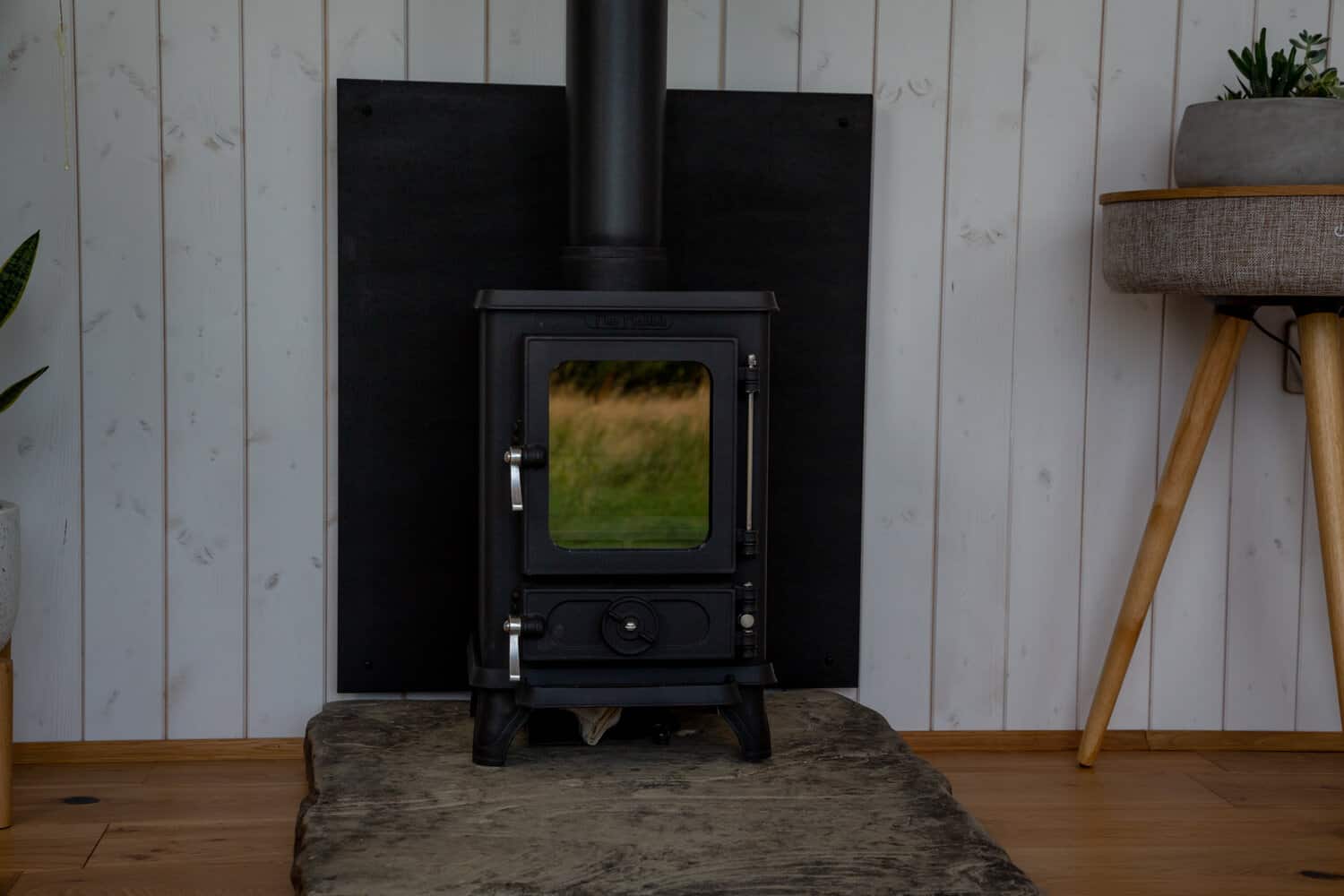 We were very pleased to see that our Hobbit small wood burning stove has been incorporated into the design of this gorgeous, unique little shepherd's hut! The hut enjoys views of Bredon Hill, and it also benefits from having access to a secluded private woodland. 
Despite its rural location, Oak Retreat also boasts free wifi, self-catering facilities and a king-size bed, as well as a wood-fired hot tub and a cast iron fire pit! The outside area is perfect for long summer evenings and barbecues, and our tiny wood burner keeps guests warm and cosy throughout the year.
"The log burner inside the hut keeps the shepherd's hut cosy and warm even on the coldest winter night."
The hut has been hand crafted from oak, and the marbled effect on the slate hearth is equally eye-catching and special. Every element of the hut has been well-considered, and they really come together to create a truly magical place to stay!
If you're wondering how you might be able to incorporate our Hobbit stove into the design of your shepherd's hut, then we've designed two different flue kits for shepherds' huts, which makes it even easier to install your small wood burner into this type of structure.
If you're at all unsure about what flue parts you might need, and how you might be able install our tiny wood stove, then please feel free to contact us, as we offer a bespoke flue consultancy service free of charge!
Our small wood burning stove will need to be sited at least 400mm away from any combustible surfaces, and 200mm away from non-combustible surfaces. However, if you're particularly tight on space, then these distances can be drastically reduced with our heat shield option!
The stove will also need to sit on a hearth. This needs to be a non-combustible material that's at least 12mm thick, and you will need to have at least 225mm of space from the front of the stove to the front of the hearth, in order to comply with regulations.
Make sure you head over to the Oak Retreat website to book your stay today! You can also checkout their Facebook and Instagram pages to stay up-to-date with what they get up to at the Farm.