Red Kite Lodge
A stunning pyramid-topped cabin, which was designed by Echo Living and featured in Channel 4's Impossible Builds!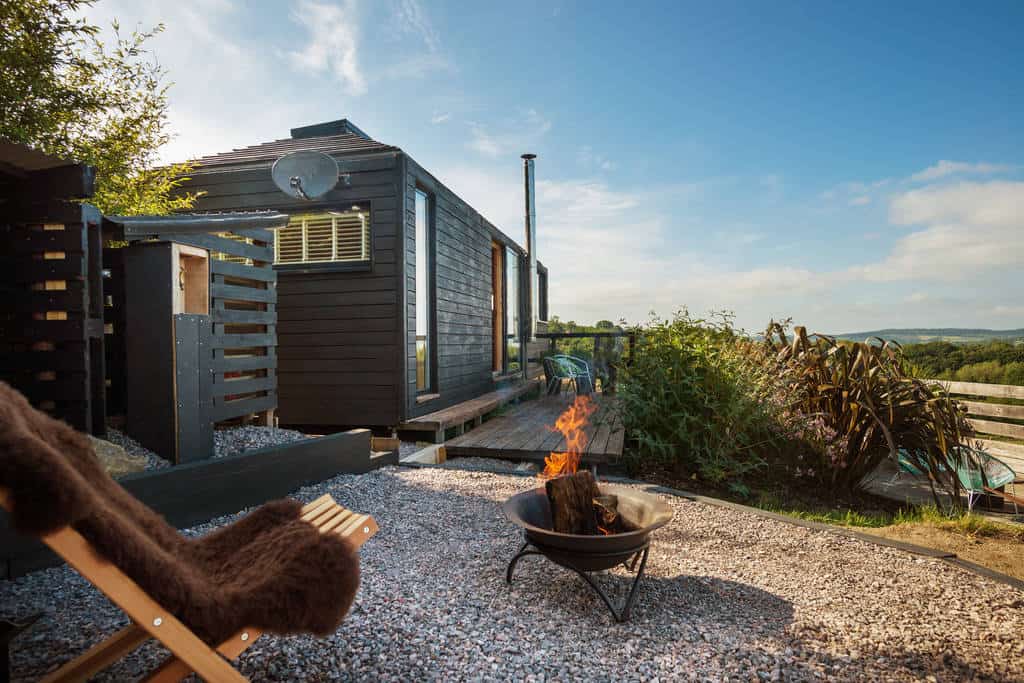 This incredible cabin is based in Dorset, and it has three different outdoor areas for guests to enjoy. There's a deck for some late-night stargazing, a covered seating area adorned with festoon lights (which is perfect if there's a spot of rain), and there's also a sun-trap terrace, just a few steps away from the cabin! The lodge sits within Cranborne Chase, which is the first Area of Outstanding Natural Beauty to have its entire region classified as an International Dark Sky Reserve!
The glass doors to the rear of the property open out onto some amazing panoramic views over the rolling Dorset hills. As you sip your morning coffee, you can watch the mist rising up through the valley, or look out onto the fields of cows and sheep that will be peering back up at you! There's even a fire pit, a wood-fired oven and a hot tub, so you can enjoy some al fresco dining or a soak in the tub on a long summer's evening!
When you're not basking in the sun during the warmer months, you can sit back and enjoy the warmth that's radiated by our small wood burning stove! Our Hobbit stove is perfect for the colder seasons, and it enables this unique retreat to be enjoyed all-year-round. Our small wood burner kicks out plenty of heat, but the cabin also has underfloor heating, so you're guaranteed to be warm and cosy whenever you decide to stay!
Here, our Hobbit stove has been equipped with our stand option. This adds a bit more height to our small stove, which makes it easier to refuel and gives you a better view of the fire. You can also store some extra logs in the space below, so that you always have fuel to hand! 
Our small wood burning stove has been configured with a rear exit, so there's still plenty of space on top of the stove for a stovetop kettle, cook pot, or a griddle pan. The flue pipes exit neatly out through the wall of the structure in a similar way to our wall exit kits. 
If you're looking to install a Hobbit stove in a similar way, then make sure you check out the wide range of flue kits that we've designed. If you're at all unsure about anything, then do not hesitate to contact us, as we offer a bespoke flue consultancy service free of charge!
The owners – Andy and Jane – have since built another property adjacent to this beautiful escape, but Red Kite Lodge was lovingly cared for as their home for five years, before they designed their dream house next door. The pyramid-style roof allows plenty of natural light to flood into the living area, and the wooden cladding and bright blue kitchen only add to the light and airy feel of this dreamy space!
Although this heavenly hideout offers plenty of luxuries that will entice you to stay put, the lodge is located within an Area of Outstanding Natural Beauty and it's also a Site of Special Scientific Interest, so it's definitely worth getting outside and exploring the local area!
There's trails that lead to Larmer Tree Gardens or Wardour Castle, and Frome isn't very far away either. We would definitely recommend checking out The Good Heart as a place to eat if you pop into this lovely little town! The Good Heart is a friendly and affordable pay-it-forward café that's centred around kindness, and Namdi is renowned for his delicious plant-based dumplings!
You can click here to take a look through the rest of the incredible work by Echo Living, and make sure you visit the listing for Red Kite Lodge on Canopy and Stars to book your stay today!