Vilberie
An incredible curved cabin, which has a stunning circular bathroom and a bathtub big enough for two!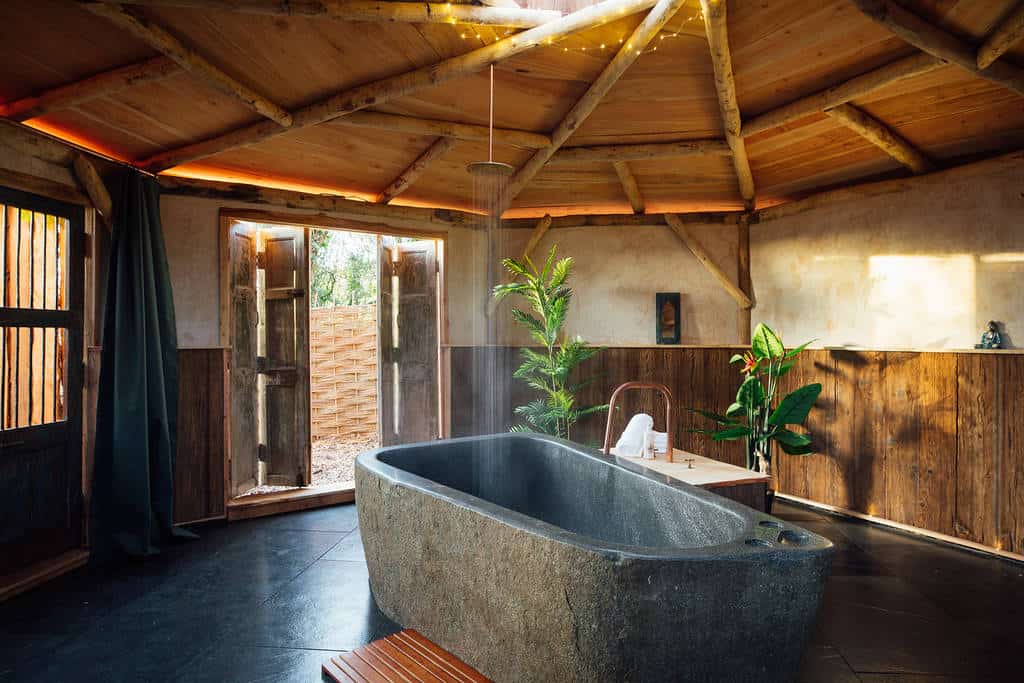 This gorgeous little cabin is tucked away on its own private spot, nestled amongst the trees in The Orchard at Fenny Castle. The cabin is hosted by the lovely Hannah and Christian, who have been planning and constructing their new glamping business venture since November 2016!
They originally planned on having one place for guests to stay, but this has morphed into an ambitious project, where they are now looking to create four different properties for guests to stay in! These are being built on their beautiful three acre site.
The grounds have been in the family for many years, and the main house, which is part-Tudor and part-Victorian, has been the family home for over forty years! Hannah and Christian began renovating back in 2014, and Vilberie is a prime example of how the years of hard work have paid off.
The cabin sleeps two people in a comfy king-size bed, which is hidden away in a cosy corner of the room. The bedroom has also been screened off with curtains, making it feel like a secret little den! The mismatch wooden cabinetry is complete with a range of luxuries, such as an induction hob and a Nespresso machine, so you'll never feel too far from home, despite the cabin's wild interior design and its rural setting.
Our Hobbit stove has been installed in the opposite corner, so you can watch the flames flickering away whilst you're tucked up in bed! Our small wood burner brings life to the very heart of this cabin, and it transforms it into a warm and cosy living space that can be enjoyed all-year-round. Here, our small wood burning stove has also been fitted with the stand option. This raises the stove off of the floor slightly, providing you with a better view of your fire, and creating a nifty space right beneath the stove for storing fuel.
The Hobbit stove is perfect for cabins and other small spaces, as our tiny wood burner is just the right size, and it kicks out plenty of heat. When it comes to installing our small stove, make sure you take a look through the wide range of flue kits that we've designed, and please feel free to contact us if you have any questions.
The cabin also stays toasty warm thanks to its open-plan design. After a chilly day spent exploring the Mendip Hills, Ebbor Gorge or Deer Leap, which are all just a short drive away, you can hop back inside the cabin and warm up in front of the Hobbit stove!
If you fancy a more relaxed stay, then you can wander around the grounds and admire the lake that's surrounded by weeping willows, watching the variety of fish, ducks and wildfowl as they pass by. The woods around the cabin actually used to be a cider orchard, which is where the cabin gets its name; Vilberie is a traditional, but rarely used Somerset apple.
The woods are now a beautiful arboretum, and the grounds attract a wide range of wildlife. During your stay, you might spot some deer, foxes and badgers exploring the area, and there's plenty of buzzards and kites soaring high up above the cabin! 
The surrounding area is also a great spot for walking and birdwatching, and there's three different RSPB reserves nearby at Shapwick Heath, Ham Wall and Westhay. If you visit in winter, then you might get to witness the breathtaking murmurations of starlings, and our Hobbit stove will be there to keep you warm and cosy throughout your stay!
No matter what time of year you decide to stay at Vilberie, the incredible circular bathroom will always be the star of the show. This amazing room has underfloor heating and an incredible solid granite bathtub that weighs two tonnes! There's enough space to sit side-by-side with your partner, and there's a shower directly above you, as well as a smart tv that's fiited to the wall.
When it seems things couldn't get any better, there's even a goat farm just next door! You can stroll through the country lanes to Wookey, where you can pet the friendly goats. There's also a vineyard to the north that produces cider and award-winning wine, and there's three pubs within walking distance from the cabin.
If you want to find out more about this dreamy space, then make sure you visit the listing for Vilberie on Canopy and Stars to book your stay today! Make sure you also follow The Orchard at Fenny on Instagram and Facebook, to stay up-to-date with all of the ongoing progress that Hannah and Christian are making with their new glamping wonderland!