Vanfolk Sprinter Conversion
Our Hobbit small wood burning stove has found its home in a second campervan conversion by Vanfolk!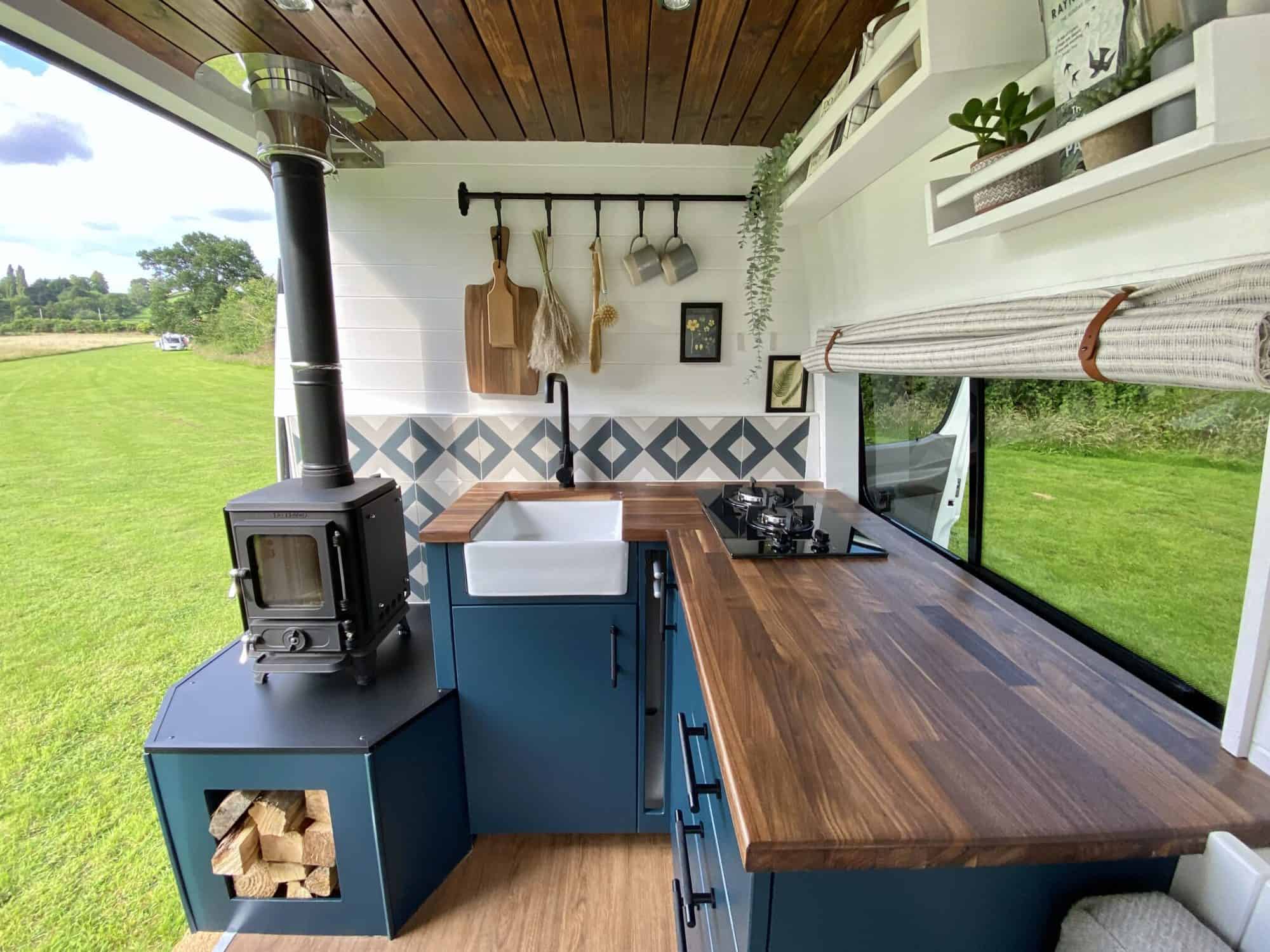 This beauty started out as a regular 2014 Mercedes Sprinter, but it's been lovingly converted by Em and Simon, who have transformed it into this stunning tiny home on wheels! The pair started converting vans during lockdown, and it soon became their full-time jobs! Em and Simon formed Vanfolk, a campervan conversion business that's based in Bristol. Their vans are available to hire, and they also sell them too! If you haven't seen their first van conversion, then make sure you check it out here!
They were quite nervous when it came to installing a small wood burner into a van for the first time, as they had some worries about whether the van would get too hot, or whether they would actually ever need to use it. However, it turned out to be the best thing they ever did! Em and Simon found that our small wood burning stove kicks out just the right amount of heat, and it's also great for drying out any moisture in the air.
Our tiny wood stove also makes it warm and cosy inside the van, and the stove has been sited on a platform with a nifty fuel store beneath it, so you'll always have logs to hand! The Hobbit stove even makes the van off-grid and winter-ready, so it can be enjoyed all-year-round! Whether you decide to visit the beach or travel across the moors, pull-up at the road-side or camp out under the night sky, our small wood burner will always be there to keep you warm and cosy on your adventures!
The interior of the van is filled with crisp white lines, which enhances the bold kitchen and the solid walnut detailing. The van offers plenty of storage along with the ultimate must-haves, and it even has a king-size bed thrown in too!
This Mercedes Sprinter has been converted with a huge amount of love and care – the cabinetry is all handmade from scratch, there's a ceramic baby Belfast sink, cosy reading lights, a solar energy bluetooth smart system, and loads more unique, exciting and well-considered features.
It's insulated with recycled wool, celotex boards and closed cell foam, so the van stays cool on warm days, but it still keeps the heat in at night. There's also plenty of ventilation to prevent any moisture forming.
If you're wondering how you might be able to incorporate one of our small wood burning stoves into the design of your campervan, then check out our van flue kits to see how you could get a Hobbit stove easily installed.
If you're at all unsure about what flue parts you might need, then please feel free to contact us, as we offer a bespoke flue consultancy service free of charge. We've also written an article on how to install a small wood stove into a vehicle, and we've made a video which will guide you through the process.
Make sure you check out the Vanfolk Facebook Page to stay up-to-date with all of their recent projects and campervan conversions!