Bespoke Flue For A Woodland Retreat
George Clarke's Amazing Spaces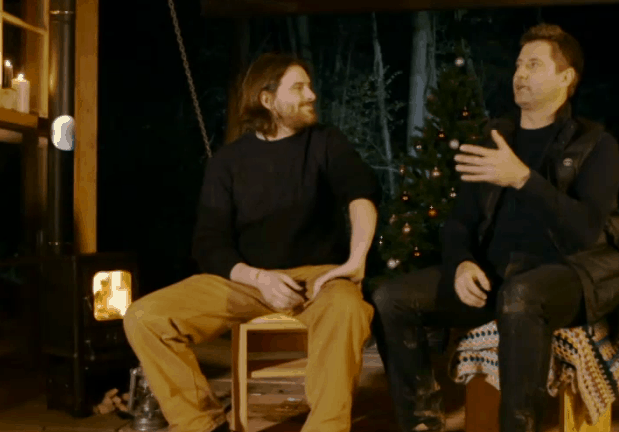 We were absolutely delighted to be contacted by William Hardie – head of design for Channel 4's show George Clarke's Amazing Spaces – who asked us to provide a Hobbit stove with a bespoke flue system for one of George Clarke's woodland retreats.
Here is a photo showing our tiny Hobbit stove successfully installed in the cabin. The Amazing Spaces team were a pleasure to work with, and we hope our small stove is serving them well!
This series culminated with a special Christmas edition of the show, which beautifully showcased our small wood burning stove glowing in the background whilst William and George discussed some of the projects that were shown earlier on in the series. A white Hobbit stove was also spotted in a treehouse project in Dumfries, which was featured in Episode 7 of the series.
Please feel free to contact us with some photos and dimensions of your own cabin, and we can then advise you on what flue parts you will need for your project and how your flue system should be arranged. We use the highest quality British-made flue from Midtherm, which comes with a 10 year guarantee. You can read more about our bespoke flue consultancy service here.
This particular project was a rather unique cabin situated in a woodland clearing, and it featured in series 4 of the show. We loved the innovative design of the building, which utilised a range of collapsible furniture and units that could be wound away. However, our job was to successfully install a Hobbit stove and flue system in a way which integrated it with the network of rolling walls, pulleys and levers that were integral to the design of the cabin.
After preparing a technical drawing for their team outlining our initial plans for the flue system, we discussed the proposed arrangement of the flue and the design of the cabin in more detail with William. We both agreed on including a larger offset for the flue system, which led to us incorporating a 500mm length of flue pipe between the offset elbows. Due to the enclosed nature of the location, we also suggested incorporating an AD cowl, or anti-downdraught cowl, as this would help to prevent any smoke blowing back into the cabin during any tempestuous weather.