Honeysuckle
A luxury shepherd's hut with stunning views out onto the sunset!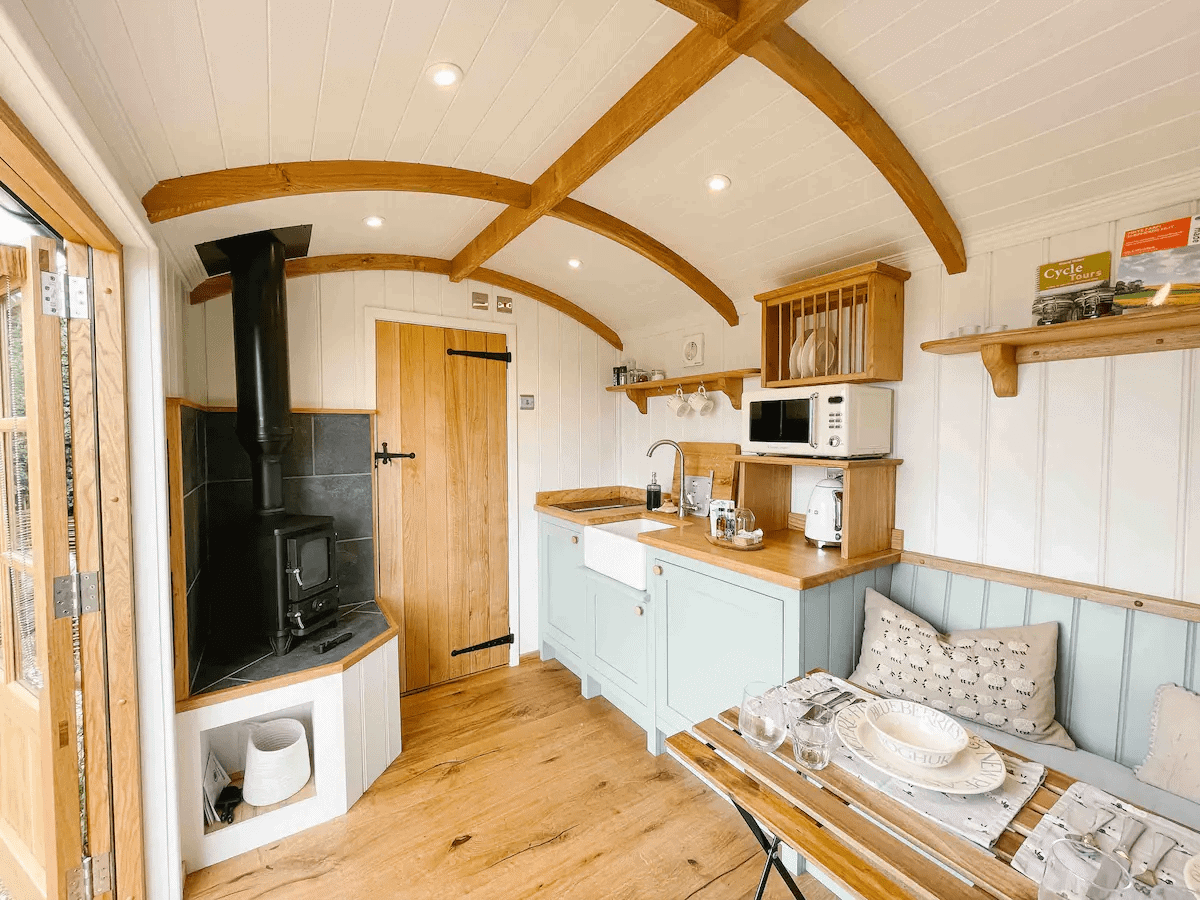 Honeysuckle shepherd's hut is tucked away on a working farm in Ewelme, which is run by Sue and her four flat coated retrievers! This secluded little spot is in the Chiltern Hills, an Area of Outstanding Natural Beauty that's in between Oxford and Reading. The site is also home to her adorable flock of Texel sheep, and a herd of Limousin cows!
The hut is nestled in its own private area of the farm, with a fenced garden that's complete with outdoor seating and a fire pit. This is the perfect place to relax on a long summer's evening, and as the night draws in and it starts to get a bit cooler, you can hop indoors to get warm and cosy again in front of our Hobbit stove!
Our small wood burning stove enables you to stay at Honeysuckle during spring, summer, autumn, or winter, as our tiny wood burner keeps this gorgeous space toasty warm all-year-round!
Inside the hut, you'll find a comfy double bed and a kitchen area that's equipped with a fridge, hob and a microwave. There's also a bench seat and a dining table, as well as a fully plumbed shower room! If you don't fancy venturing outside, then relaxing in the hut is still an absolute joy. You can light a fire in our Hobbit stove to get warm and cosy whilst you enjoy a glass of wine or a good board game.
Nothing beats watching the flames flicker away and listening to the logs crackle as they burn into the night. You can even admire the incredible views of the sunset from the comfort of your bed, thanks to the double French doors that open out onto some wonderful panoramic views!
If you're wondering how you might be able to incorporate our small wood burning stove into the design of your own shepherd's hut, then make sure you take a look at the two installation kits that we've specifically designed for these types of structures!
If you think any of the flue parts might need changing in order for the flue kit to suit your particular building, then please feel free to get in touch, as we offer a bespoke flue consultancy service free of charge.
You can drop us an email with some photos or drawings of your hut, along with some clear measurements, and we will then be able to able to advise you on what flue parts you'll need and how they can be arranged. You can also take a look through the wide range of other installation kits that we've designed, which can be used to install our Hobbit stove into a variety of different structures.
When it comes to installing our small wood burning stove into a shepherd's hut, it's worth checking out our corner installation document to get a good idea of how you can utilise this space. Adding heat shields to your Hobbit stove is also a great idea if you're installing your stove into an especially small space, as this stove option will dramatically reduce the distances that you will need to comply with.
Lastly, make sure you check out the listing for Honeysuckle on Airbnb to find out more and to book your stay today! Make sure you also give them a follow on Instagram too, so that you can stay up-to-date with everything that goes on at the farm!