Justin Shepherd's Hut
Justin is a beautiful shepherd's hut that sits on the bank of the Grantham Canal, a Site of Special Scientific Interest overlooking the Vale of Belvoir!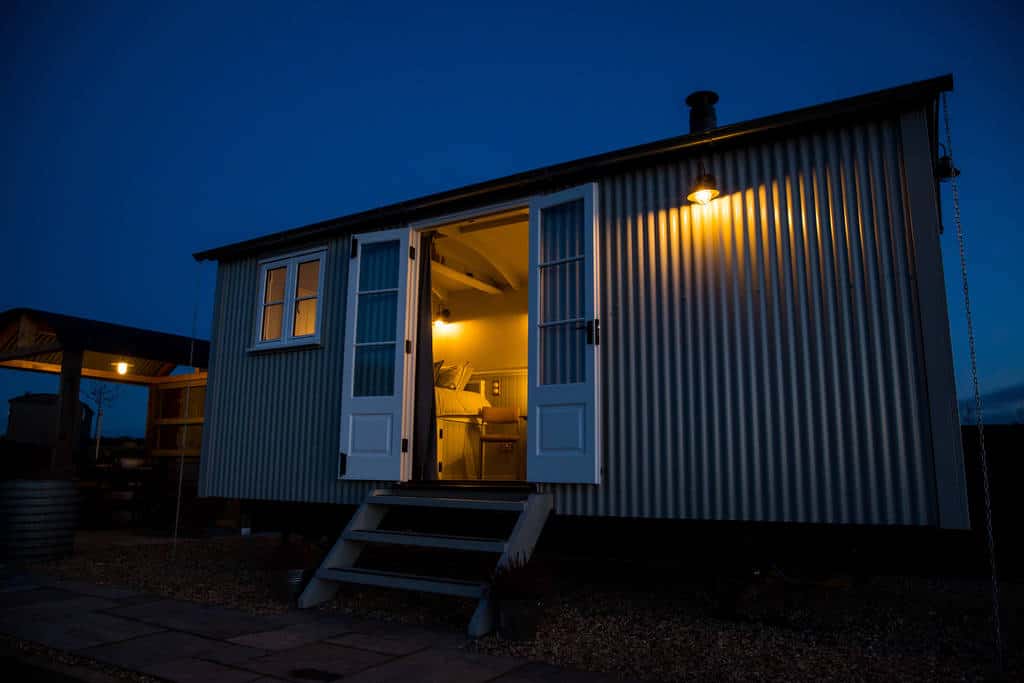 This wonderful little shepherd's hut combines luxurious touches with an environmental ethos. The hut has been made from tin, as well as various finds from around the farm, and the kitchen is lined with gorgeous reclaimed wooden work tops. Justin also benefits from underfloor heating, and the electricity at the cabin is powered by solar panels! 
Two people can easily get a good night's sleep in the king-size bed, and there's a single pull-out bed in case you have a little one staying with you. There are two other huts that guests can stay at on the site, but each cabin is tucked away on its own secluded plot. 
This amazing glamping business is run by Sarah, whose family have been farming land in Plungar for over 400 years! Sarah has some incredible knowledge of the area, so she'll have no problem recommending some great mountain biking trails, cafés, or local pubs.
After a chilly day out or a dip in the open-water swimming lake at Six Hills, you can return back to the hut, where our Hobbit stove will be ready and waiting to get you warm and cosy again! There really isn't a better way to relax than by reading a good book, playing a board game, or enjoying a glass of wine whilst you watch the flames flicker away in our small wood burning stove.
During the long summer evenings, you can make the most of the outdoor area that's just next to the hut. This is a great little place to enjoy some al fresco dining, or to take a dip in the wood-fired hot tub! After dashing back inside the hut, you can warm up again in front of the cosy glow of our small wood burner before the night draws in.
As you can see, it can get quite cold and snowy at the hut! Despite the compact size of our Hobbit stove, it still kicks out plenty of heat, so you're guaranteed to stay toasty warm whenever you decide to book your stay. Whether you decide to visit in spring, summer, autumn, or winter, our small wood burning stove enables this space to be enjoyed all-year-round.
If you're wondering how you might be able to incorporate our small wood burning stove into the design of your own shepherd's hut, then make sure you take a look at the two installation kits that we've designed specifically for shepherds' huts!
If you think any of the flue parts might need changing in order for the flue kit to suit your particular structure, then please feel free to contact us, as we offer a bespoke flue consultancy service free of charge.
You can drop us an email with some photos or drawings of your hut, along with some clear measurements, and we will then be able to able to advise you on what flue parts you'll need and how they can be arranged. You can also take a look through the wide range of other installation kits that we've designed, which can be used to install your Hobbit stove into a variety of different settings.
When it comes to installing our small wood burning stove into a shepherd's hut, it's worth checking out our corner installation document to get a good idea of how you can utilise this space. Adding heat shields to your Hobbit stove is also a great idea if you're installing your stove into an especially small space, as this stove option will dramatically reduce the distances that you will need to comply with.
Make sure you also visit the listing for Justin on Canopy and Stars to find out more and to book your stay today!