St. Agnes
St. Agnes is a Scandinavian-inspired tabernacle-turned-tiny-home, which sits on its own wild meadow at Spring Park, in Cornwall!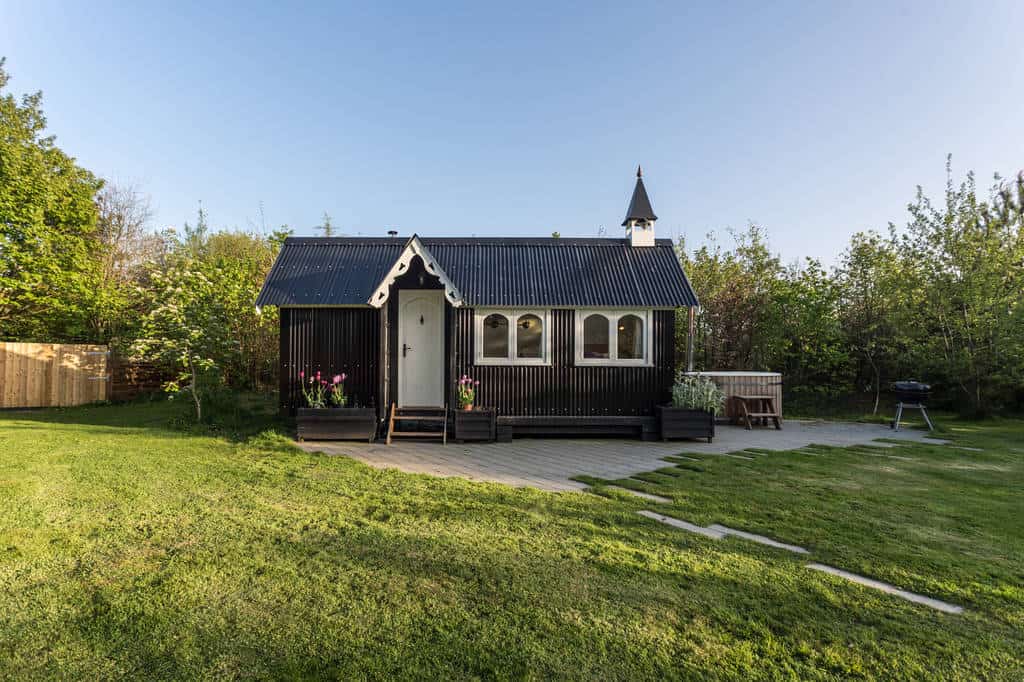 This quirky little cabin is the perfect place to stay if you're looking for a more alternative form of accommodation! St. Agnes sits on a secluded meadow, which can be accessed through an old church gate and down a private path. Upon your arrival, you'll be welcomed with fresh flowers and a lovely bottle of wine!
The owners – Kitty and Paddy – have considered every little detail when it comes to decorating this stunning glamping space. There's a beautiful stained glass window just above the bed, and the living area has been adorned with a variety of vintage finds that they've collected over the years. This gives the ecclesiastical dwelling an added dose of authenticity, whilst keeping the space looking stylish!
The pair have also used some gorgeous copper sheets around the kitchen and to shield the fireplace, which gives the cabin a lovely vintage touch. We were extremely pleased to see that our Hobbit stove sits at the heart of this incredible space, so you're guaranteed to be warm and cosy throughout your stay, whether you decide to visit St. Agnes in spring, summer, autumn or winter! Our small wood burning stove offers the perfect blend of traditional and more contemporary styling, which makes it ideal for modern small spaces and getaways that still have plenty of character and history.
Here, the Hobbit stove has been fitted with our stand option. This adds some extra height to our small wood burner, which provides you with a better view of your fire and makes the stove easier to refuel, as you won't have to bend down as far. It also creates a nifty little space right beneath the stove, so that you always have some fuel close by!
Our tiny wood burner has even been fitted with a magnetic stove thermometer, which is great for glamping spaces. The magnetic stove thermometer shows how hot your fire is burning, and it clearly indicates the optimum temperature range that the stove should be operating at. This is useful for providing guests with some extra guidance when it comes to using our small wood burning stove. 
During the warmer months, you can explore a number of local villages and markets that are close to St. Agnes, surf along the beaches off the north coast, or go hiking on Dartmoor! If you want a super relaxing stay, then you can just lounge around in the meadow or jump in the hot tub on the private deck. As the evening draws in, you can sit in front of the Hobbit stove and play a board game or enjoy a glass of wine as you watch the flames flicker away.
If you're wondering how you might be able to install a Hobbit stove into a similar space, then make sure you take a look through the wide range of installation kits that we've designed.
We also offer a bespoke flue consultancy service free of charge! If you just drop us an email with some clear photos, along with some key measurements and details of your structure, such as the floor-to-ceiling height and the roofing material, then we will be able to advise you on what flue parts you will need and how they should be arranged.
Make sure you also visit the listing for St. Agnes on Canopy and Stars to find out more and to book your stay today!