Ursabear Stargazing Cabin
Named after the Ursa Major constellation in the northern sky, which symbolises the Great Bear.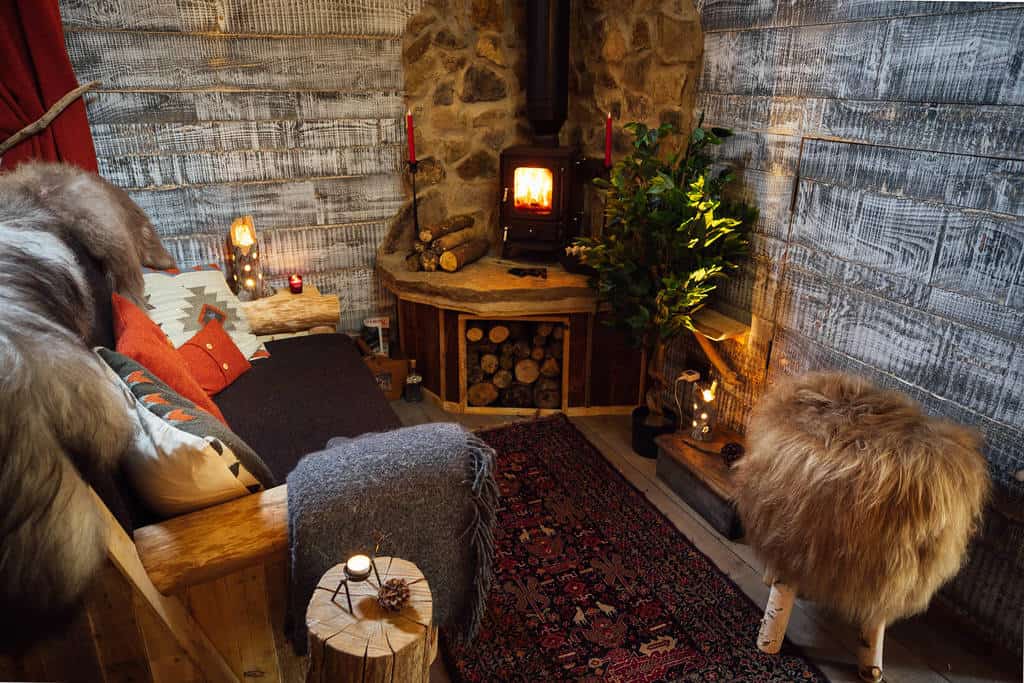 Our Hobbit small wood burning stove has been installed in this beautiful stargazing hut, which recently featured on George Clarke's Amazing Spaces on Channel 4! You can click here to follow the journey of how this enchanting cabin was hand-built by the owner, Val Reynolds, and Oli from @withbearhands!
This stunning log cabin sits on the edge of Exmoor National Park, which is actually the first designated Dark Sky Reserve in Europe! Our small wood burning stove attracts visitors all-year-round, as their guests are guaranteed to stay warm and cosy throughout the year.
Thanks to the inventive design of the cabin, you can still sit, eat and bathe outdoors even when it's raining! The outside areas resemble a whimsical fairy realm, whereas the interior of the cabin has a hugely inviting log-cabin-feel to it. Our Hobbit stove sits proudly between these two areas, providing this magical space with plenty of warmth and charm during your stay. Our small wood burner sits on a beautiful stone hearth, and there's also a nifty little storage area right beneath the stove so that you always have logs to hand!
📸 Photography by @owen_photographer_pembs. Make sure you checkout his work here!
The cabin is thoughtfully decorated with unique artwork and objects that the owner has collected on her travels. On a warm sunny evening, you can sit outside on the lovely oak barrel chairs around the firepit. There's also plenty of locations close-by for a walk in the day, or you could even go kayaking on Wimbleball Lake!
At night, you can make use of the giant telescope that's located on the decking of the cabin. If it gets a bit cold, you can hop back inside and look at the stars through the window that's directly above the bed, whilst the owls hoot you to sleep.
If you're wondering how you might be able to incorporate one of our stoves into the design of your cabin, then make sure you check out the two log cabin installation kits that we've designed! We also offer a bespoke flue consultancy service free of charge, so if you have any questions about how to install one of our stoves, then please feel free to contact us! You can also browse our range of case studies to see how other people have incorporated our tiny wood stove into the design of their project.
Lastly, make sure you head to the @ursabear_cabin Instagram account if you have any enquiries, and to book your stay today!