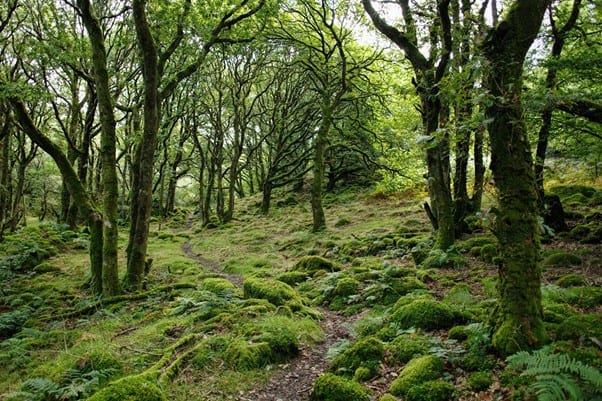 Are Wood Burning Stoves Environmentally Friendly?
Installing a small wood burning stove has become a popular choice amongst homeowners – along with providing your room with an attractive focal point, a wood burner breathes a new sense of warmth and comfort into your living space, and they can also reduce your energy bills! Although it might seem counter-intuitive at first, burning wood is also a carbon neutral way of heating your home.
A Natural Cycle: How is Burning Wood Carbon Neutral?
Trees absorb a significant amount of carbon dioxide during their lifetime, and this is released back into the atmosphere when they're burnt as wood. However, the carbon dioxide that gets released is then reabsorbed by other plants and trees, which store the CO2 and convert it back into oxygen for us to breathe. 
The amount of CO2 that's released from burning wood is balanced out by the overall amount of CO2 that trees absorb throughout their lifespan, meaning that the amount of carbon dioxide released into the atmosphere is effectively zero! Wood is the most environmentally friendly fuel that can be used in your small stove, and it's also a renewable source of energy. If we continue the natural cycle of planting more trees as they're harvested, then this will provide a sustainable source of carbon neutral fuel for the future.
By choosing to burn wood in your small stove, you are also heating your home in a much more sustainable way in comparison to purchasing energy from the central grid, which is largely generated by burning fossil fuels. If you can live off-grid by using your stove to supply you with hot water and using solar panels as a source of electricity, then this is even better! 
Fossil fuels are a finite source of fuel and contain carbon that has accumulated over millions of years. When fossil fuels are burnt they produce far more smoke and CO2 compared to wood, and this increases the total amount of carbon dioxide that's present in the atmosphere – making wood burners a much more sustainable alternative! 
The graph below has been produced by the Stove Industry Alliance (SIA) to show the amount of CO2 emissions that are released by different fuel sources. These statistics reflect the closed loop CO2 cycle, which is created by taking CO2 out of the atmosphere by growing trees at the same time that CO2 is released by burning the previous harvest. Due to this, the carbon factor for wood logs is significantly reduced to 0.008kg of carbon per KWh compared to 0.198kg for gas, 0.274kg for oil and 0.517kg for electricity.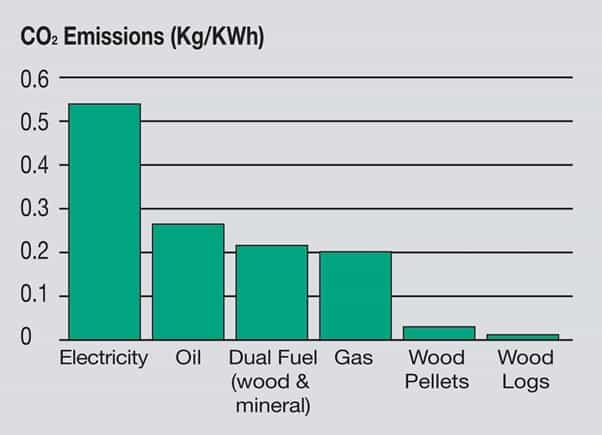 Fuel and Fire: How to Use Your Wood Burner Efficiently
Irrespective of the engineering behind your small stove, the efficient use of your little wood burner will also depend on how you operate your small stove, and what fuel you choose to use with it. If you want to heat your home efficiently whilst also protecting the environment from harmful particles, then even the best tiny wood stove will need your help!
In order for your miniature wood burner to have a carbon neutral output, you'll need to burn wood that comes from a local and sustainable source. This way, there will be no net increase in CO2 emissions which could be caused by excessive logging, or from having to transport your wood over long distances for it to be delivered to you! But don't worry, it's very easy to find a local and sustainable source of wood due to the fact that it's so expensive to ship! 
In addition to this, in your small wood burning stove you should only burn dry, seasoned wood that has a moisture content below 20%. This will help your stove to run more efficiently, as your wood will burn much more easily in the fire. If you use green wood or logs that are already wet, then the fire will need to burn off the excess moisture in the logs, which will cause more smoke and pollutants to be released into the environment. Using dry wood is much better for your wallet and the atmosphere, as your stove will heat up faster and the fire will burn hotter! This is shown in the diagram below, which has been produced by the SIA.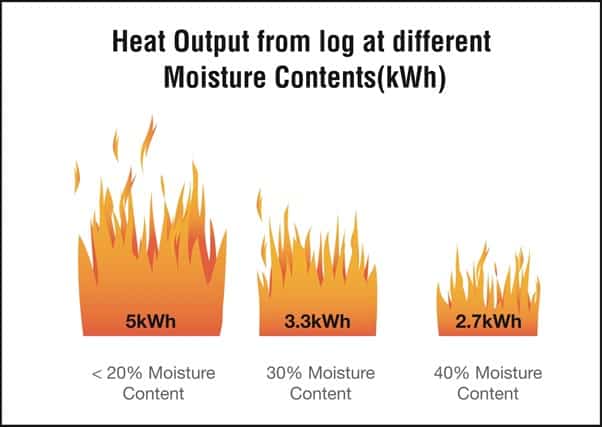 The best type of fuel that you can use in your small wood burning stove is briquettes. These are bricks that are often made of compacted sawdust – a byproduct which is generated by industrial processes, or from old waste wood from broken furniture etc. Most briquettes have a moisture content below 10%, meaning that they produce the most amount of heat with the least amount of CO2 and smoke! They're also much more cost effective than wood, because they produce more heat than standard logs and burn for up to 4 hours!
You can also do yourself and the environment a big favour by following some of our recommendations below. This will help to ensure that your stove runs as efficiently as possible!
Don't overfill your stove and avoid using logs which are too large for the firebox. Airflow is important for a good rate of combustion, and enough air needs to enter your stove so that flames are produced before the wood carbonises.

Try not to leave your small stove burning overnight – closing your tiny wood burner down and leaving it to burn overnight will starve your fuel of oxygen and will result in your wood burning inefficiently, which is bad for both your wallet and the environment! 

Never burn any waste, printed paper, cardboard packaging or wood that has been painted or treated in any kind of way – this will release harmful chemicals into the atmosphere!

Ensure that your chimney is the correct size in relation to your tiny stove – a good draw is essential for achieving the optimum rate of combustion.

If you have logs with a high moisture content you should store them in a dry, well ventilated place in order for them to dry out.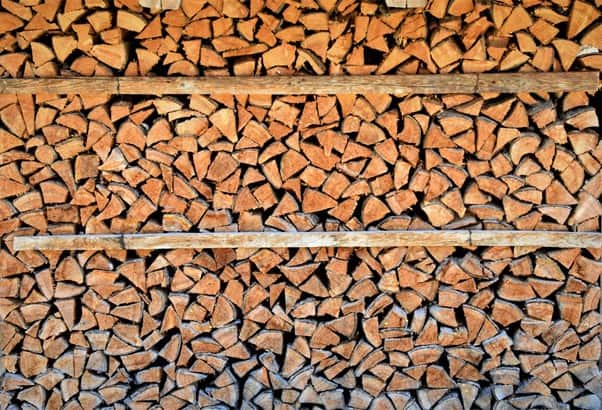 Reducing Pollution and Improvements for The Future: Particle Emissions and EcoDesign
On the other hand, burning wood in your stove also generates lots of tiny pieces of soot – fine particulate matter otherwise known as PM2.5. There's no escaping the fact that burning any source of fuel releases particles into the atmosphere that are harmful to our health and the environment. The smoke and pollution that's caused by wood fires has predominantly been considered an issue in large urban areas such as London, which has led to the introduction of the Clean Air Acts and smoke control areas. These zones are parts of the UK where you are not allowed to emit smoke from a chimney unless you're burning an authorised fuel, or unless you're using an exempt appliance such as The Hobbit SE! Although you are allowed to burn smokeless fuels in these areas, we would still advise you to burn wood instead, as this is a substantially more sustainable, efficient and cost effective fuel.
Air pollution in the UK has also resulted in the introduction of new legislation which aims to phase out the use of coal and wet wood as a source of fuel from February 2021, and all new stoves sold in the UK from January 2022 must be of an EcoDesign. EcoDesign stoves differ from their predecessors as they have to conform to a lower set of emissions. To add to this, these stoves also use secondary and tertiary air intakes to ensure that the fire is fuelled with plenty of oxygen so that it can burn at maximum efficiency. Therefore, an EcoDesign stove burns wood more completely and efficiently, producing the most amount of heat with the least amount of smoke and pollutants. Our stoves are EcoDesign ready and adhere to some of the strictest regulations regarding particle emissions. Plus, our stoves also meet EU safety, health and environmental requirements, which you can tell from the CE marking at the back of our Hobbit stove and Little Range Cook Stove. 
However, it's important to recognise the fact that most people in London have an open fire rather than a modern wood burning stove. Open fires are by far the most inefficient and polluting fire you can have, as they draw large amounts of air out of the room in order to fuel the fire. Therefore, although it might feel warm in front of your fire, open fires can make your house feel colder, as the warm air that gets drawn out from the room is replaced with colder air from further inside your house. Even cold outside air can be drawn into the property if you have any draughts! In contrast, by opting for a modern, EcoDesign and DEFRA approved wood burner such as our hobbit stove, you can actually reduce the amount of particulates that are released by an open fire by up to 90%!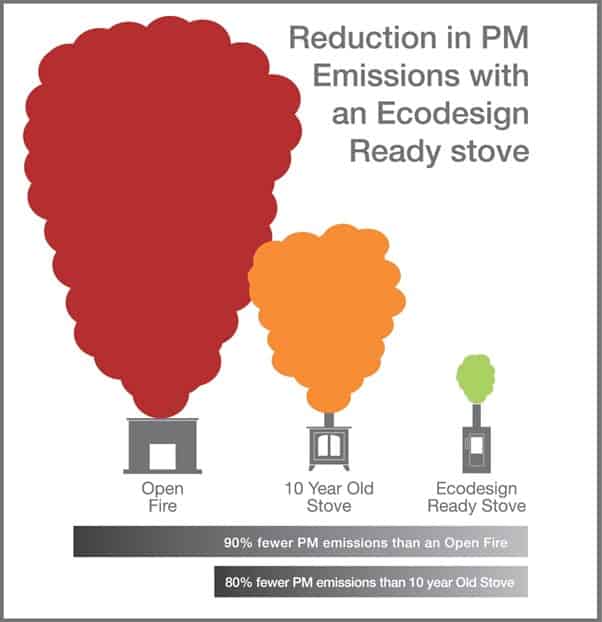 Overall, using a modern wood burning stove is a significant step towards reducing your environmental impact providing that it's used efficiently, and providing that you only burn dry wood from a local, sustainable source. A wood burning stove is both a stylish and sustainable way to heat your property, and due to the size of our small wood burner you can enjoy these benefits almost wherever you like! Significant improvements are constantly being made to stoves each year, such as the addition of pre-heated secondary and tertiary air, which result in a more efficient and better performing wood stove that continues to reduce smoke and pollutant levels.
The Woodland Trust, the UK's leading woodland conservation charity, encourages the planting of trees for wood fuel and state: Using wood fuel to produce heat can be an excellent low carbon alternative to coal, oil and gas, but it depends on having a local, sustainable supply. The carbon released when wood is burned is effectively recaptured by growing replacement trees.