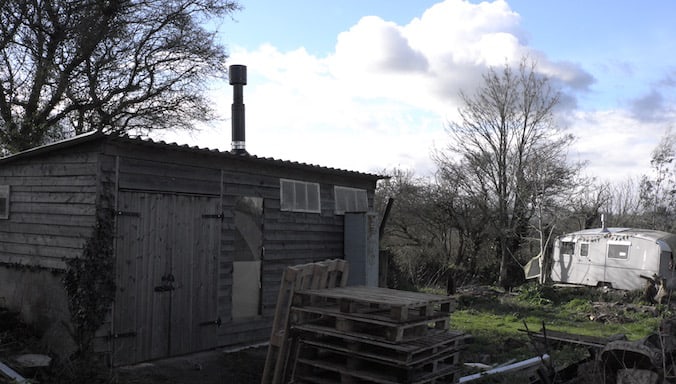 Off-Grid Living – 1. How to install a tiny wood stove in a shed
This article will show you how to install a small wood burning stove into a shed that has a corrugated metal roof. You can also watch the video below, which will take you through each and every step of the process!
For your installation, you will need to consider the following:
The tools required for the job
Your hearth/plinth for the stove to stand on (for our little Hobbit stove, you will need to use a non-combustible material that's at least 12mm thick)
Shielding (here, we decided to use some 25mm thick vermiculite boarding)
Your flue kit
The stove itself
Your safety – carbon monoxide alarms and ventilation
Tools Required
You will need a few tools for this job, these include:
A drill
Jigsaw
Spirit level
Screw driver
10mm drill
4mm drill
Cartridge gun
Knife
Marker pen
Extension lead
Step ladder
The Hearth
If your stove is independently certified to heat the hearth beneath it to no more than 100 degrees celsius (check your manufacturer's stove details), then the hearth regulations are very simple, as a constructional hearth is not required.
When it comes to installing your small wood stove into a shed, then the hearth needs to be at least 12mm thick, and it will need to be made out of a non-combustible material. For example, you could use a piece of glass, some slate, concrete, or patio tiles. Providing your hearth is at least 12mm thick, you can lay it onto a carpet or a wooden floor, for example, and your stove will sit nicely on top.
In this case, the hearth must be a minimum size of 840mm x 840mm. There must also be at least 150mm of hearth space at either side and towards the rear of the stove. You will also need to have 225mm of space in front of the stove door as a minimum (300mm if the stove is designed to burn with doors open). This is a safety measure in case a log or some embers roll out of the fire when you open the door to refuel your stove.
Do I need a hearth if I have a stone floor?
Yes! The hearth must provide a "visually apparent warning" (see Approved Document J 2.26).
This prevents you just simply placing your stove onto a solid floor such as a tiled kitchen floor for example without any discernable visible edge.
We used a glass plate. (It was undersized as only 700 x 600, but the stove is very small and with this size we were able to maintain the 150mm to each side and 225mm to the front).
The most important reason for the provision of a hearth is to guard against the potential resulting problems in the event of a hot ember falling out of the stove when the door is opened so the frontal hearth requirement is the most important one to adhere to.
Summary: 12mm thick non-combustible material, 225mm of space at the front, and 150mm of space at either side and the rear.
Shielding Combustible Surfaces
How close can the stove go to the wall of my shed?
In order to position the stove and/or flue closer to combustible materials then they can be shielded using insulative board.
Safe distance of 200mm when shielding combustibles with a 25mm thick board with a 15mm air gap behind.
Does the flue pipe need shielding?
Single wall flue pipe must be 3X diameter from combustibles. To a shielded combustible surface the safe distance can be reduced depending on the amount of shielding used.
Twin wall pipe must be 50mm from combustibles
Hardie-Backer board is a great product for using as shielding as is vermiculite board. A good online place to source your shielding is VITCAS.
FLUE KIT.
The flue kit installed in this instance is a mixture of single skin flue pipe and twin wall flue pipe. Made in the UK this is the highest quality British made flue money can buy. A combination of VITRELUX and HT-S it is a system designed to provide an effective draw on a system of approx. 3.6m high. The flue size increases from 100mm diameter to 125mm diameter and an A?D Swedish cowl have also been utilised to negate the relatively short flue height.

This 'SHED FLUE KIT' comprises of the following components;
1 x 1000mm with door MIDTHERM VITRELUX SINGLE WALL FLUE PIPE.
1 x 45 elbow MIDTHERM VITRELUX SINGLE WALL FLUE PIPE.
1 x 45 elbow with door MIDTHERM VITRELUX SINGLE WALL FLUE PIPE.
2 x stainless steel joint clips MIDTHERM VITRELUX SINGLE WALL FLUE PIPE.
1 x adaptor 100mm single wall flue to 125mm twin wall flue MIDTHERM HT-S TWIN WALL FLUE PIPE
1 x wall band support bracket MIDTHERM HT-S TWIN WALL FLUE PIPE
1 x 500 mm length of 15mm fire rope. MIDTHERM HT-S TWIN WALL FLUE PIPE
1 x 500 mm  MIDTHERM HT-S TWIN WALL FLUE PIPE (stainless finish)
1 x 500 mm  MIDTHERM HT-S TWIN WALL FLUE PIPE (black finish)
1 x Storm collar  MIDTHERM HT-S TWIN WALL FLUE PIPE (black finish)
1 x Swedish A/D cowl  MIDTHERM HT-S TWIN WALL FLUE PIPE (black finish)
1 x Silicone flashing
1 x Silicone flashing fixing kit
1 x cartridge heatproof adhesive
1 x cartridge heatproof silicone
1 x cartridge fire cement
The cost of this exact shed flue kit with the additional black powder coating is £585.
The stove.
Small stoves are the best choice for small spaces such as sheds. If you install a stove that is too large then you will never be able to run it properly and you will quickly soot up the flue. Choose a small stove that has a small footprint to maximise the small space you have. You may want to consider having an additional back boiler for supplying hot water or to run a small radiator if your shed has been partitioned and has separate internal areas.
The Hobbit stove with stand is what we suggest is the best 'shed stove' to install and will heat a 20′ x 10′ shed no problem.
Safety & Ventilation
Installing a CO and smoke alarm in the shed is essential for the safety of everyone inside especially if the shed is very air tight.
Good ventilation is also essential and installing an air vent is always a good idea to insure the stove has a good supply of air.
If you are intending to sleep in the shed then you must install the stove in accordance with the current regulations.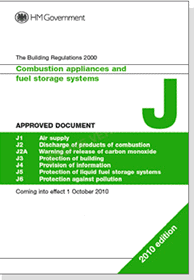 Approved Document J
Download the regulations for fitting stoves for free.
https://www.gov.uk/government/uploads/system/uploads/attachment_data/file/468872/ADJ_LOCKED.pdf
Another very helpful guide to assist you in understanding the requirements of Approved doc. J is BS 8511:2010. There is a helpful graphic which can be viewed at the link below.
http://www.soliftec.com/Boat%20Stoves%201-page.pdf
HOW TO INSTALL YOUR TINY WOODSTOVE.
STEP 1.
The hearth needs to be secured on some pads of carpet, adhesive or sand or a stiff mortar. Once the hearth has been positioned the stove can be positioned and the centre point for the flue found by using a plumb line or spirit level.
STEP 2.
Attach the shielding using the heat proof adhesive and a couple of screws to hold it in position until the adhesive cures.
Here is a guide to the typical shielding that will be required.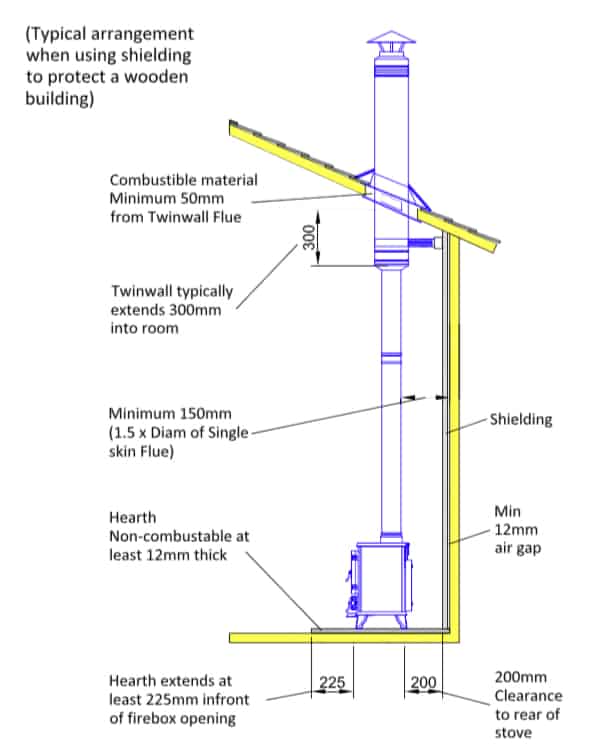 STEP 3.
Mark the edge of the hole and drill with a 10mm drill and then cut out the hole using a jigsaw.
STEP 4.
Attach the wall band support bracket in position ready to accept the fist 500mm length of twin wall flue pipe. Firstly attach the single to twin adaptor to this length. You can assemble the single skin flue parts and offer everything up to make sure you position the twin wall at the correct height.
STEP 5.
Cut the silicone flashing and then attach to the roof. Seal everything using the heatproof silicone. The upcoming video will help you identify all of thee places and details the installing of the silicone boot flashing.
STEP 6.
Attach second black 500mm length with the Swedish cowl already attached.
STEP 7.
Attach the storm collar
STEP 8.
Assemble the single wall parts and join each with a seal of fire cement and use a joint clip between each part also.
STEP 9.
Attach the trim plate or fill the visible void with the length of fire rope.
STEP 10.
Light your stove to test all is properly connected.
Watch the video for how to install a wood stove in a shed. 
This video shows you how to install a silicone flashing onto a metal corrugated roof