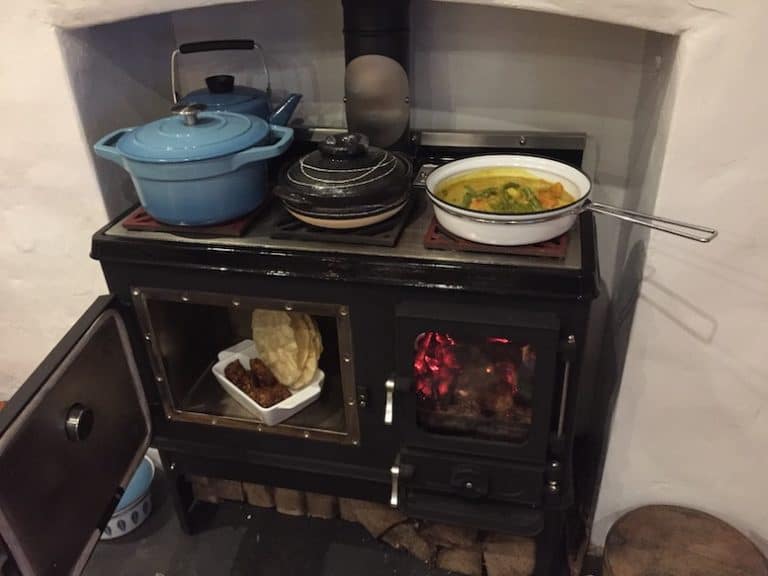 The Woodburner Kitchen cook book by Rosy Crosby
The Woodburner Kitchen cook book by Rosy Crosby
If you would like to extract much more from your wood stove experience then why not try cooking on your stove.
This little book of vegan recipes by Rosy Crosby have all been cooked using our new Little range stove. This is a fantastic little companion to your wood stove which will inspire you to start using your wood stoves potential for cooking as well as heating.
Once you start using your stove for cooking you won't want to stop. Plus it is great for the planet if you use the heat from your stove to cook your dinner rather than using your normal gas or electric hob.
The vast majority of the recipes in the book can also be cooked on our little Hobbit stove which has the removable stainless steel cook top option if required. This was developed primarily with an eye on my Little range stove and is not essential for stove top cooking but has proved popular. Not only can it be removed for cleaning but looks nice and shiny:)
Order your hardcopy of 'The Woodburner Kitchen' and receive a free Little range apron (worth £8.95) for only £6.95 + P&P
Curry from your wood stove!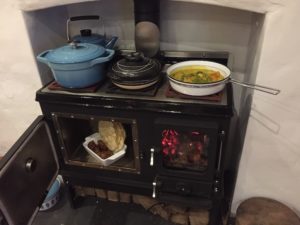 If your flue pipe exits from the top of the stove then you may be compromised a little with the available space but even small kettles and small pans can still be used. Better for stove top cooking is if you exit your stove from the rear and this liberates the whole top of your stove for cooking. A fundamental requirement for stove top cooking is that the stove hotplate top must reach a sufficient heat to boil a kettle. Some wood stoves with top ovens may benefit from the additional oven but they no longer possess a hotplate to boil a kettle which is very limiting.
Baking bread in your woodstove