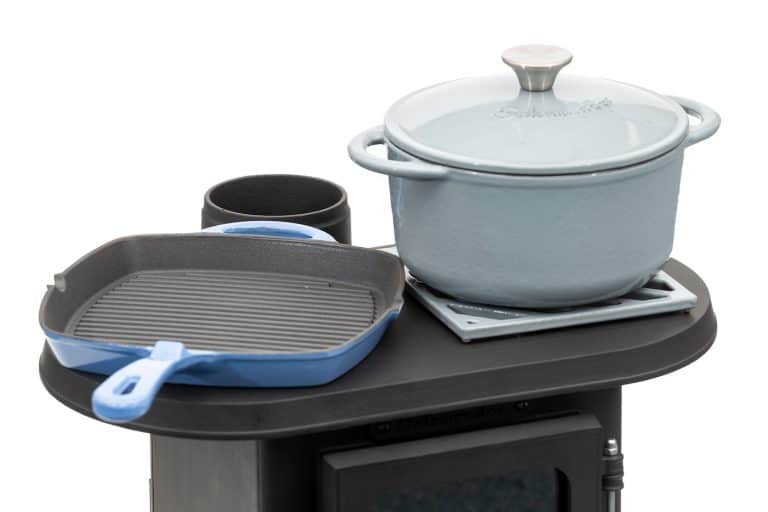 Cooking On Our Extended Hotplate
Cooking on our Extended Hotplate is an absolute joy! We have released this new stove option which is available now, in the stove extras area of our website. Our new Extended Hotplate has been specifically designed for both of our small wood burning stoves – it sits neatly on top of the standard Hobbit stove or the Hobbit SE. This option significantly increases the size of your stovetop, making it even easier to cook on your tiny wood burner.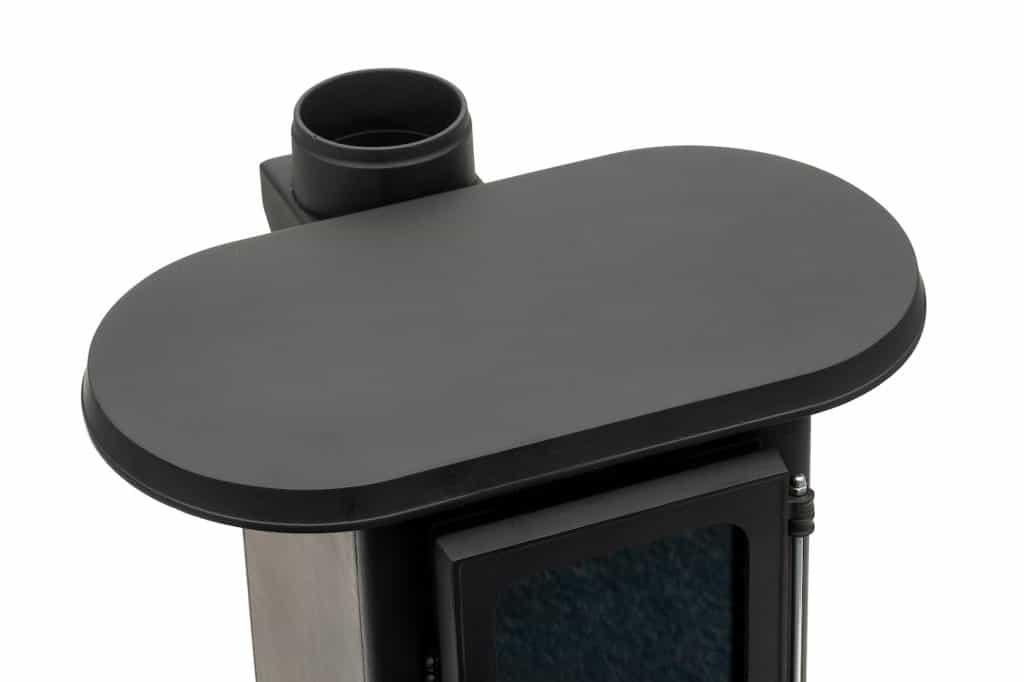 Exiting from the back of our small wood burning stove with a rear flue wedge will provide you with more space for cooking on your small wood stove.
The Extended Hotplate is a durable cast iron piece that adds 7kg of thermal mass to your Hobbit stove, whilst still being easily removable. You can choose to add the hotplate to your small stove as and when it's needed – simply place the hotplate on top of your tiny wood burner when you're ready to get stuck into some fire-powered off-grid cooking!
You will also benefit from more heat being radiated into the room, which will help you beat the energy price rises. As your small wood burning stove heats up, the hotplate will get very hot! Get the most out of your tiny wood burner by using the heat of your fire to boil some water in a beautiful Alessi stovetop kettle, and our Extended Hotplate can withstand any Le Creuset pan you decide to throw at it.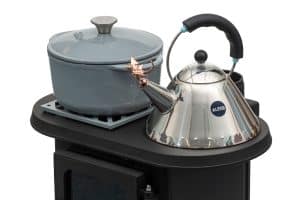 Cooking on our Extended Hotplate is easy, as it enables you to use a variety of cookware items all at the same time. Customising your small stove with this option will transform the cooking potential of your tiny wood burner, allowing you to add new elements to your dishes, and ultimately enabling you to cook a greater variety of meals. You can find plenty of inspiration in our free small stove cookbook.
Cooking on our Extended Hotplate will even provide you with some of the benefits of our stove cooking range. The hotplate option is particularly useful if you don't have the space required for our Little Range Cook Stove, for example, if you are looking to install a small stove into a vehicle or an RV, a tiny home on wheels, a horsebox conversion, a caravan, or a canal boat.
Take it to the next level by customising your stove with our black or grey cast iron enamelled cookware set, our cast iron enamel griddle pan, and our T1000 small stove toasting fork!
If you are wondering how you might be able to incorporate our small stove into the design of your project alongside this option, then our Extended Hotplate measures approximately 50cm in length, 27.5cm in width and 2.5cm in depth.
We also have a number of useful documents in our help section that will show you the dimensions of the Hobbit stove and the Hobbit SE, as well as a diagram that illustrates how much space each flue position takes up.
This option can be added to your small wood burning stove by selecting the relevant checkbox in the stove options section when you go to purchase your Hobbit stove or Hobbit SE. Alternatively, you can also find it in the stove extras area of our website, where it can be added to your shopping cart.
Any orders for our Extended Hotplate will be sent with next-day delivery. Cook your dinner and make a cup of tea in the knowledge that you won't be spending a penny on sky-high gas and electricity prices! If you have any questions about cooking on our Extended Hotplate, then please do not hesitate to contact us.