Renault Master Conversion
A stunning hand-crafted home on wheels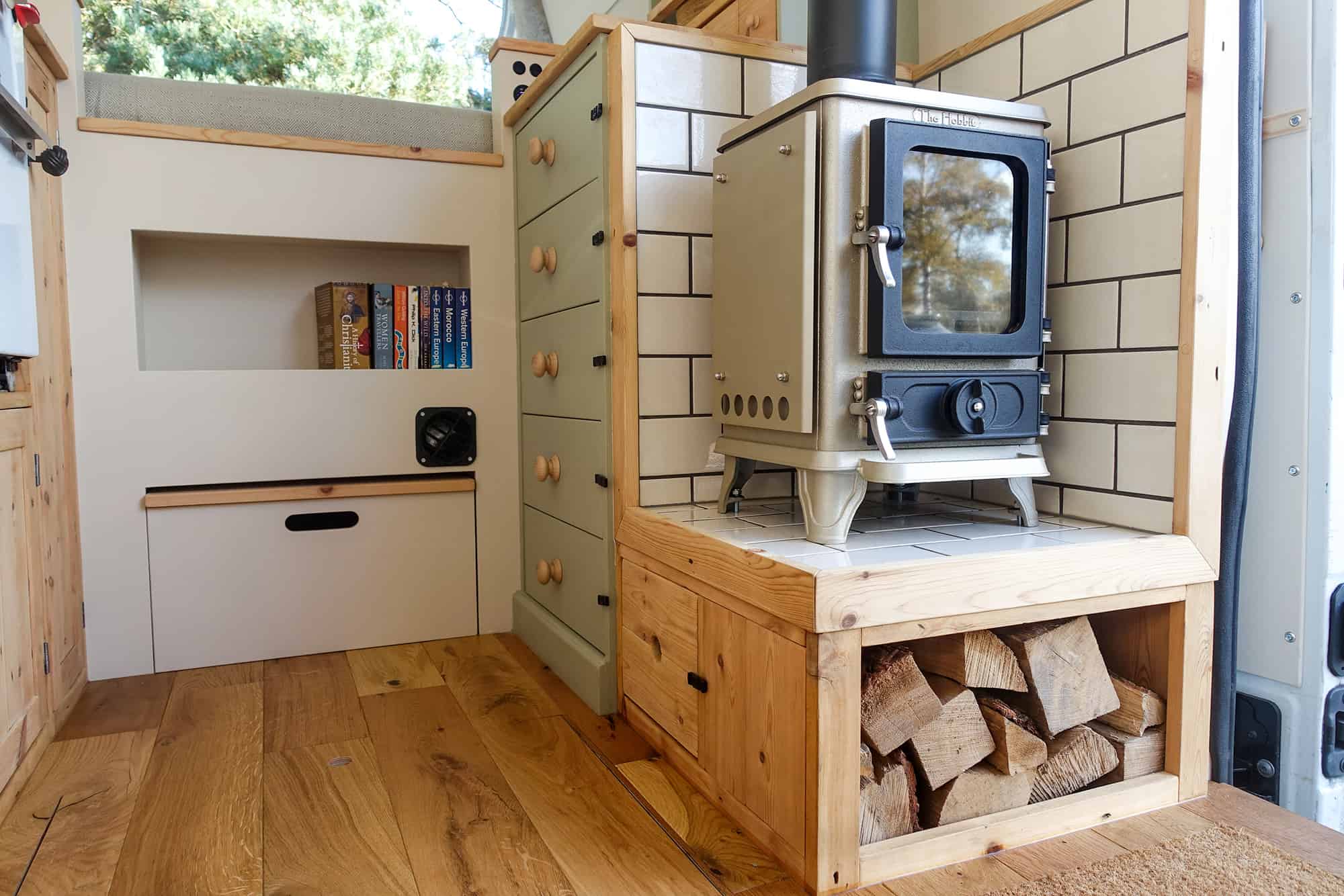 This amazing campervan conversion was completed by Wild Van, which is run by Dee & Simon – a couple of UK-based van dwellers who love to create hand-built campervan conversions. Their work ranges from micro-campers to larger, full-time live-in vans, and this particular campervan conversion was made for a couple called Mark and Catherine, who are garden design and landscaping experts. Their company is called Lucy Frank Garden Design, and you can check out their Instagram page here. Together, with Dee and Simon, they came up with a layout which is both spacious and stylish.
Our Hobbit stove sits at the heart of the campervan, keeping it warm and cosy. They also customised their Hobbit stove with the perfect choice of colours. The stove paint that they chose matches the wood work really well, and it goes brilliantly with the interior design of the cabin. Their choice of colours really makes our small wood burner look and feel like part of the campervan, and they've gone the extra mile by creating a neat little storage area, so that a pile of logs can be kept just beneath the stove.
Here, our Hobbit stove has been equipped with our small stove heat shield option, which enables you to fit your small wood stove into a much tighter space. This is perfect if you're going to be installing your small wood burning stove into a campervan, a shepherd's hut, a horse box or a canal boat, any situation really where space is at a premium! If you want to read more about this option, then we've also written an article about how much room you should have around your small wood burner, and you can also click here to see how you can customise your own small wood burning stove!
Installing a tiny wood stove into your campervan will enable you to work, sleep, travel or live in your campervan all year round. You can also cook on your stovetop very easily, especially if you add our stainless steel cooktop option to your stovetop. The stainless steel insert can be easily removed for cleaning, and it will also help to prevent your stovetop from getting greasy, or from becoming scratched over time from the abrasion of your pans.
If you fancy getting stuck into some wood-fired cooking, then we have a range of recipes in the cooking section of our blog. We've also put together a free cookbook, which will provide you with a huge variety of recipes that you can make on your Hobbit stove or Little Range! Make sure you also check out our cast iron enamelled cookware set, which is fantastic for a wide range of stovetop cooking. If it's raining outside then you can even huddle up inside your campervan and toast 4 marshmallows in front of the fire – completely hands-free – with our T1000 stovetop toasting fork!
The built-in awning enables you to sit outside in the fresh air, whatever the weather, and there's plenty of storage space for lots of board games! This camper also has an impressive electrical setup, so you'll have no problem if you just want to sit back and watch some films in the comfort of this cosy little den.
If you're at all unsure as to how you might be able to install one of our small wood burning stoves into your van, then we've designed two different flue kits for fitting a stove into a van! If you have any questions, then please feel free to contact us. We offer a bespoke flue consultancy service free of charge, so if you send us some photos of your van, along with some measurements, then we'll be able to advise you on what flue parts you'll need and how they should be arranged.
You can read more about this conversion on the Wild Van website, and you can click here to book your stay in this beautiful adventure-mobile with Quirky Campers!