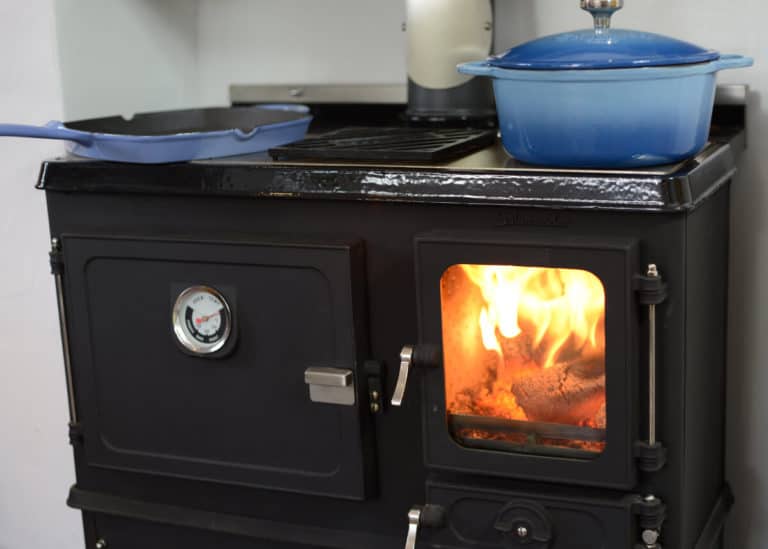 Can You Put A Small Wood Burning Stove In Your Kitchen?
Having a small wood burning stove installed in your kitchen is often a great idea! A tiny wood stove will breathe new life and warmth into this room, and our Hobbit stove or Little Range Cook Stove will make this space truly feel like home.
If your kitchen is used as a social space, then putting a small wood burning stove in your kitchen is perfect for keeping your family and friends warm and cosy throughout the evening. A small wood burner sits at the heart of the home, and our Hobbit stove or Little Range will provide the perfect focal point for your guests to gather round and keep warm as the evening draws in. Installing a small wood burning stove in your kitchen is also an attractive option if your kitchen is connected to an outside space. Plus, you can even toast some marshmallows on the open flames of your fire in the warmth and comfort of your own home!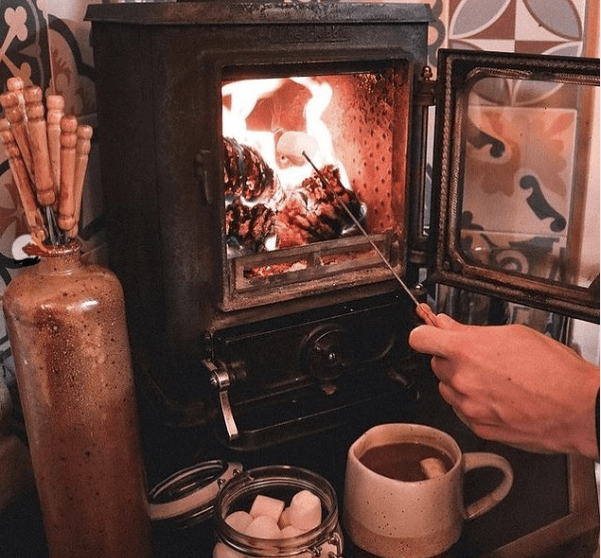 If you have a Hobbit stove with a built-in cooktop, or a Little Range Cook Stove, then you'll be able to cook a wide range of different recipes with the help of your small wood burner! Even if you choose a standard Hobbit stove, you can still make a hot cup of tea, coffee or a hot chocolate on your stovetop, as there's still enough space for you to use a kettle or a small saucepan/frying pan on the top of your small wood stove.
Installing A Small Wood Burning Stove In Your Kitchen – Things To Think About
Before you can sit back in front of your stove and watch the flames gently flicker away, there's a few things that you'll need to keep in mind before you decide to install a small wood stove into your kitchen.
Some of the things that you'll need to consider are:
The type of stove you'll need to purchase.
The placement of any extractor fans.
Whether your stove is going to be connected to a chimney, or if you're going to exit through your wall or ceiling with twin wall insulated flue pipes.
What Type of Small Wood Burner Do You Need To Install In Your Kitchen?
First of all, if you're wondering whether or not you can have a small wood burner in a kitchen, the answer is yes! You can install a small wood burning stove into many different kitchens, but you'll probably need to purchase a stove with an external air intake, such as our Hobbit stove with the direct air option. This stove option will connect your small wood stove to an outside air supply, which will be fed directly into the firebox of your tiny log burner. 
This stove option is essential if you have an extractor fan in your kitchen, because extractor fans create negative air pressure. In contrast, you will need to have positive air pressure in your flue pipes or chimney, so that the smoke and flue gases are drawn up and out of your chimney. This means that your stove will have to compete for air with your extractor fan. If your extractor fan is sucking all of the air out of your room, then this can lead to combustion problems – your fire will go out, and the ineffective draw can lead to smoke and harmful flue gases seeping out of the stove and into your kitchen. Therefore, a stove with a direct air intake is an absolute must if you're looking to put a small wood burner in your kitchen. 
If you want to be extra safe, then you could also install an air vent in between your stove and the extractor fan. However, the best solution would be to get a HETAS-registered installer to conduct a site visit, as they will be able to advise you on how your stove should be installed based on the layout and dimensions of your kitchen. It's also worth noting that if you live in a smoke controlled zone, then you will need to purchase a smoke exempt, DEFRA-approved stove, such as the Hobbit SE or Little Range. Smoke controlled zones tend to be more urbanised areas, but you can check if you live in one by contacting your local council.
Installing A Small Wood Burning Stove In Your Kitchen – Planning Your Flue System
When it comes to the installation of your small wood burning stove, you'll need to see if you can connect it to an existing chimney, or if you'll need to exit through the wall or roof of your property with twin wall insulated flue pipes.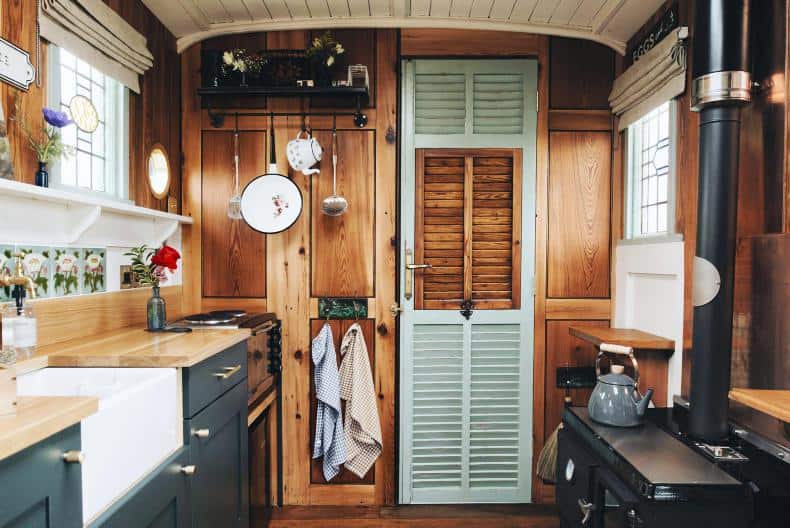 (Photography by Emma Stewart Photography)
Many period properties or more traditional houses have an existing fireplace which is full of character, and you might decide to restore the original fireplace to its former glory! If this is the case, then you can easily install your small wood burner with one of our household fireplace installation kits. You can choose between our chimney lining kit (which comes with a length of chimney liner), or our existing chimney kit, which is great if you already have a chimney liner in place which you're looking to use. If you're still not sure how your stove should be installed, then feel free to email us some photos of your fireplace, along with some measurements, and we'll be able to advise you on how your Hobbit stove or Little Range can be installed.
If you don't have an existing fireplace or chimney that your stove can be connected to, then it's worth taking a look at our wall exit kits. If these kits aren't going to be suitable for your installation, then you can also get in contact with us, as we offer a bespoke flue consultancy service free of charge, and we can supply a wide range of other flue parts from our manufacturer – Midtherm. All you have to do is send us an email with a photo of your kitchen, along with some dimensions, such as your floor to ceiling height, and we will be able to advise you on what flue components you will need for your installation. It's still worth booking a site visit with a local HETAS installer, as they will be able to fully assess your fireplace to see what parts you will need and how they will need to be fitted. You can find a local Salamander Stoves stockist or installer by visiting our dealers page.
The Benefits Of Having A Small Wood Burning Stove In Your Kitchen
Once you've got your installation sorted, you can begin to enjoy the wide range of benefits that your stove has to offer! The Little Range is capable of providing you with all of your cooking needs, but a Hobbit stove or Range can also supplement standard cooking appliances, such as a gas or electric hob.
If your stove is already lit, then you can use your stove to keep trays or plates warm, or you can keep a pan sizzling, simmering or boiling away on your stovetop if you haven't got enough space on your hob! You can also utilise the oven of the Range as an extra cooking space, or you can use it to keep food warm before serving. You can even make some wood-fired jacket potatoes by wrapping them in foil and placing them in a good bed of embers inside your firebox! The Little Range is also perfect for baking bread or cakes over lunch or dinner if your gas or electric oven is already in use. A small wood burning stove could be the perfect addition to your kitchen, and aside from cooking, your home will hugely benefit from the warmth and character that a small wood stove will bring to your home!
We've also made our own cook book to showcase the range of different recipes that you can make, and make sure you also check out the cooking section of our blog!