There are certain points to consider when fitting a stove in a van, RV or trailer.
I had this email enquiry asking a number of questions and thought it would be helpful to share the answers with a potentially wider audience of others contemplating installing a stove in a similar situation.
Hi,

We will install a stove in a 24' to 28' x 8'w (not sure of final length yet) tag trailer that will have insulated walls, roof and hopefully floor. We plan to use it for winter camping in Vermont @20 to -10 degrees. A few questions?
Q
First… do you have an American dealer? What would be the cost to get one here to zip 11801?
A
WE SHIP DIRECT TO OUR NORTH AMERICAN AND CANADIAN CUSTOMERS USING A UPS 5 DAY SERVICE. THE COST IS £220.
---
Q
How is the SE different? We might be using it on the road at rest areas so I suppose less smoke might be better?
A
THE SE AIR CONTROLS ARE CONFIGURED TO ALWAYS ALLOW A CERTAIN AMOUNT OF PRIMARY AND SECONDARY AIR INTO THE STOVE. THIS RESULTS IN CLEANER MORE EFFICIENT BURNING.
---
Q
We must have direct air so does you fitting being on the side affect overall performance of the stove? Does is require more cleaning to keep the airway clear of ash?
A
THE DIRECT AIR FITTING IS CONFIGURED TO ALLOW AIR INTO THE CHAMBER BELOW THE GRATE. PERIODIC INSPECTION TO ENSURE IT IS CLEAR IS ADVISABLE BUT WOULD NOT REQUIRE ANY ADDITIONAL CLEANING.
---
Q
Can the stove run 8 hrs overnight on charcoal or maybe even wood?
A
6.5 HRS IS MORE REALISTIC UNDER NORMAL CONDITIONS BUT MAYBE LONGER WITH MORE SKILL AND BETTER LOGS
---
Q
What is the minimum rear & side clearance is using fire board with a 2" gap?
A
9" (175MM)
---
Q
We would have 7' interior space then go through the roof to a vent… here is the tricky part… is there a roof vent system that does not stick up too much and can handle average 70mph wind?
I would never run the stove while travelling and I suppose I could have a ladder and climb up and attach something when we stop but it would be good if it could stay permanently installed.
A
WE CAN TAILOR A SYSTEM WITH A REMOVABLE TOP SECTION WHICH COULD BE LEFT ON OR NOT.
---
Q
I also believe the inside flu pipe does not need to be double insulated so you gain more heat form it but only insulated where is passes through the ceiling?
A
CERTAINLY A GOOD IDEA TO USE THE SINGLE SKIN PIPE INSIDE THE SPACE
---
Q
I did see this pict on your site.
A
THIS ONE WAS FITTED IN A MODERN TOURING CARAVAN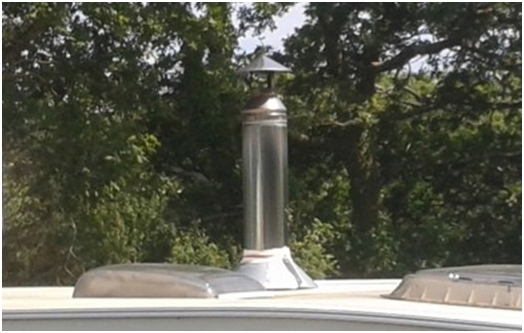 See our article on fitting a small stove into a caravan
See our other case studies showing fitting small stoves into small spaces
A small gallery of images of small stoves in a caravan