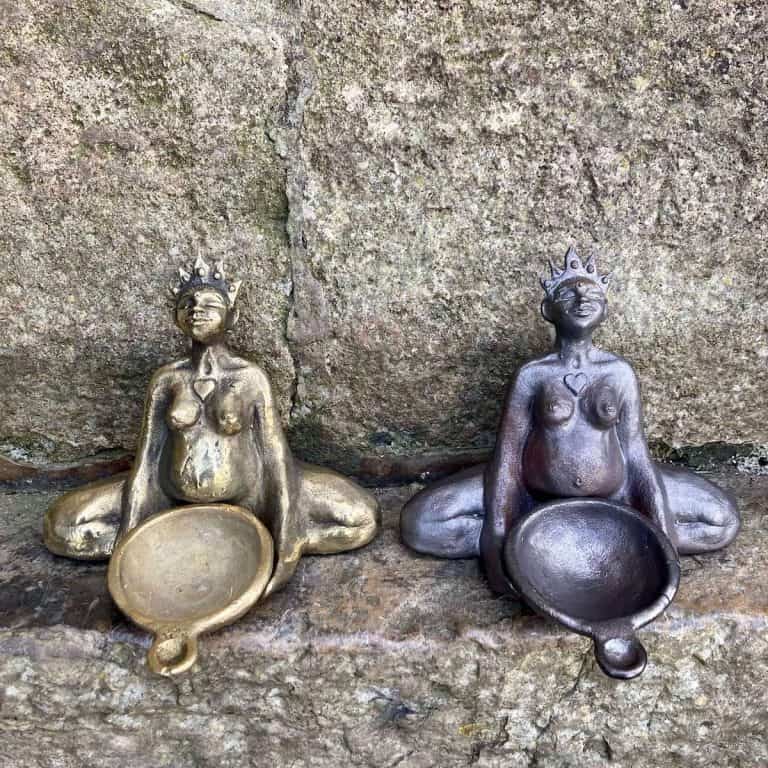 Our New Stovetop Goddess
Tati Dennehy is an incredibly talented artist, who has become a great friend of ours. Her studio is tucked away on a beautiful spot of land on the edge of Dartmoor National Park, which is just a short drive away from our Devon workshop. Her amazing sculptures are all hand-built with coils of clay, and her artwork celebrates the human body in its many forms, with a particular focus on our connection with nature.
Our new stovetop goddesses are a celebration of our friendship, where Tati's astounding level of creativity has intertwined with our manufacturing expertise to create a set of beautiful and functional works of art! They are available to purchase through our website here, and you can choose between a brass stovetop goddess, or one that's made from cast iron.
Tati's magnificent artwork has now been immortalised in these gorgeous ladies, which have been designed to transform your Hobbit stove or Little Range into a centre of well-being! Simply mix some water and a few drops of essential oils into the dish, before placing your goddess on top of your small wood burning stove. As the flames flicker away inside your tiny wood burner, the essential oils will begin to evaporate, leaving you with a beautifully-scented room!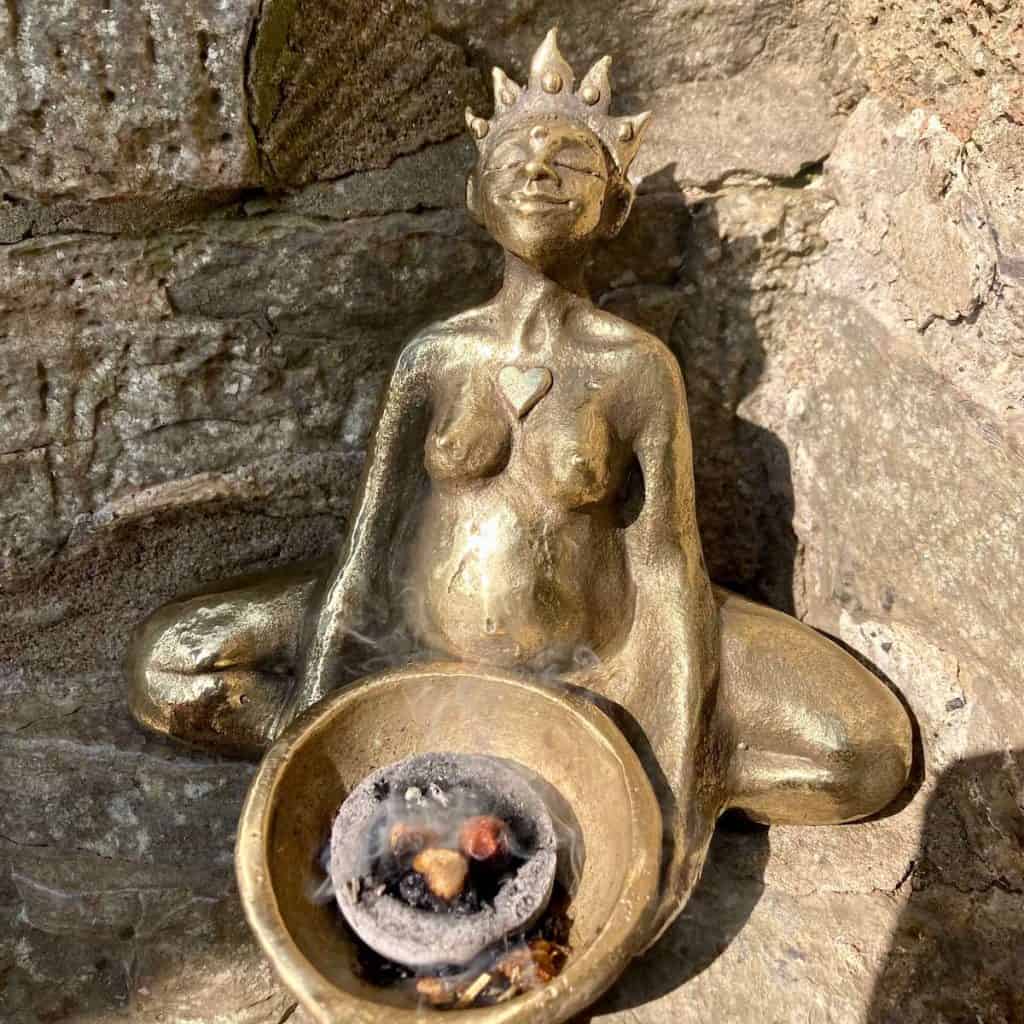 Here you can see her pictured on top of Glastonbury Tor, holding some beautiful hand-blended incense from Star Child. She looks fabulous out in the garden, and you can also use the dish as an incense holder, or as a space for a wax melt or tea light! 
Aside from the functionality of these truly special pieces, their content expression is enough to evoke a calm, uplifted feeling of happiness and joy! Tati has managed to create a design that radiates serenity, whilst simultaneously displaying an unapologetic reverence for the female body. The goddesses are grounded, humble yet powerful, and with a beautifully modest sense of pride.
Each stovetop goddess loves being cared for, so please do not leave her unattended on the top of your wood burner! Please note that when being used on the stovetop, the dish is only suitable for essential oils and water, or wax melts. If you would like to light a candle or some incense before placing it in the dish, then please refrain from doing this whilst the figure is on top of your Hobbit stove or Little Range. If you do leave her outside in the garden, then please know that she may oxidise over time.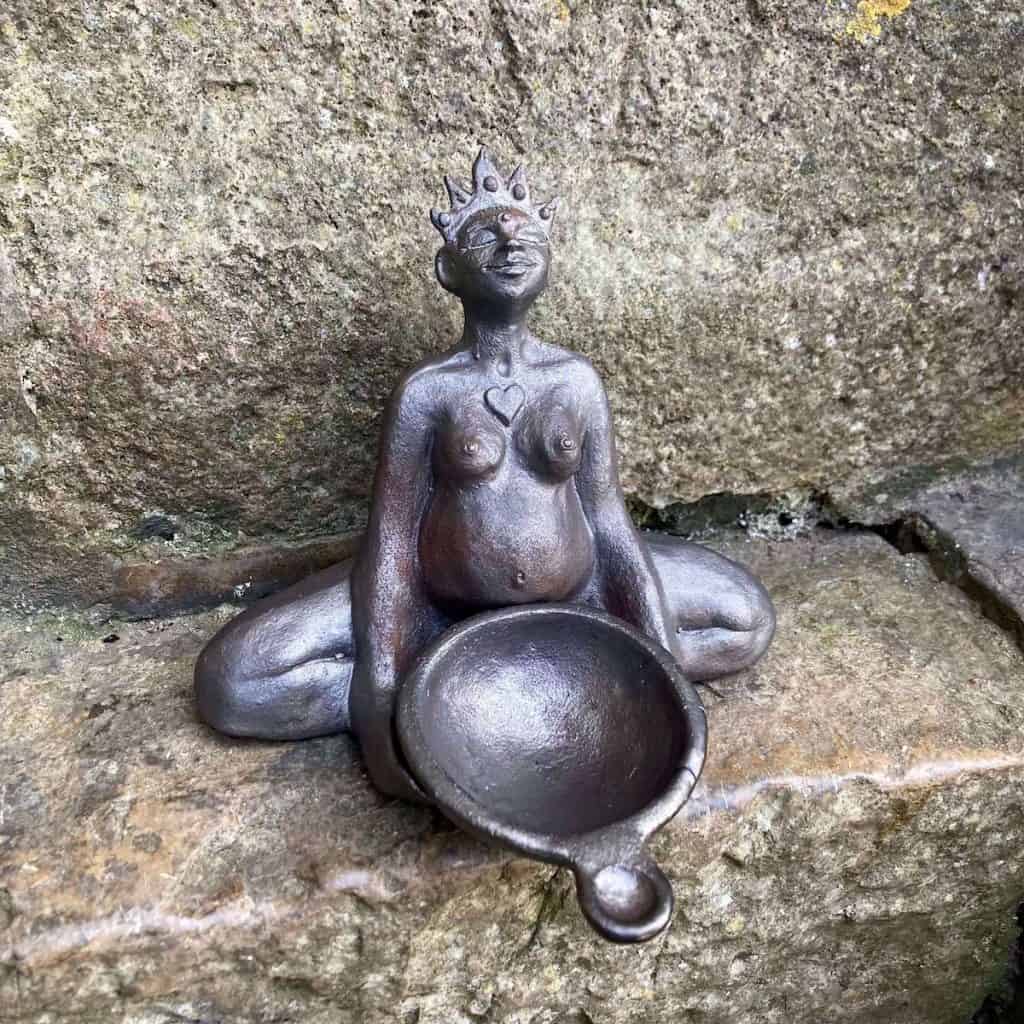 If you would like to find out more about Tati, or if you would like to see the rest of her work, then make sure you visit her website! Tati draws on a mix of imagery from her life, and her work is influenced by the surrounding countryside, her travels, her friends, and her dreams.
Tati also runs weekly classes and one-off weekend workshops from the studio in her garden, covering nearly all aspects of ceramic sculpture and pottery. Her classes are open to all levels of ability, in a relaxed and friendly atmosphere that's accompanied with cups of tea and cake! Teaching others has developed Tati's enthusiasm for pottery even more over the years, and she thoroughly enjoys watching people's creativity flourish through the medium of clay!