Herdwick Shepherd's Hut
Our Hobbit stove has found its new home in this beautiful little shepherd's hut on the edge of Dartmoor National Park.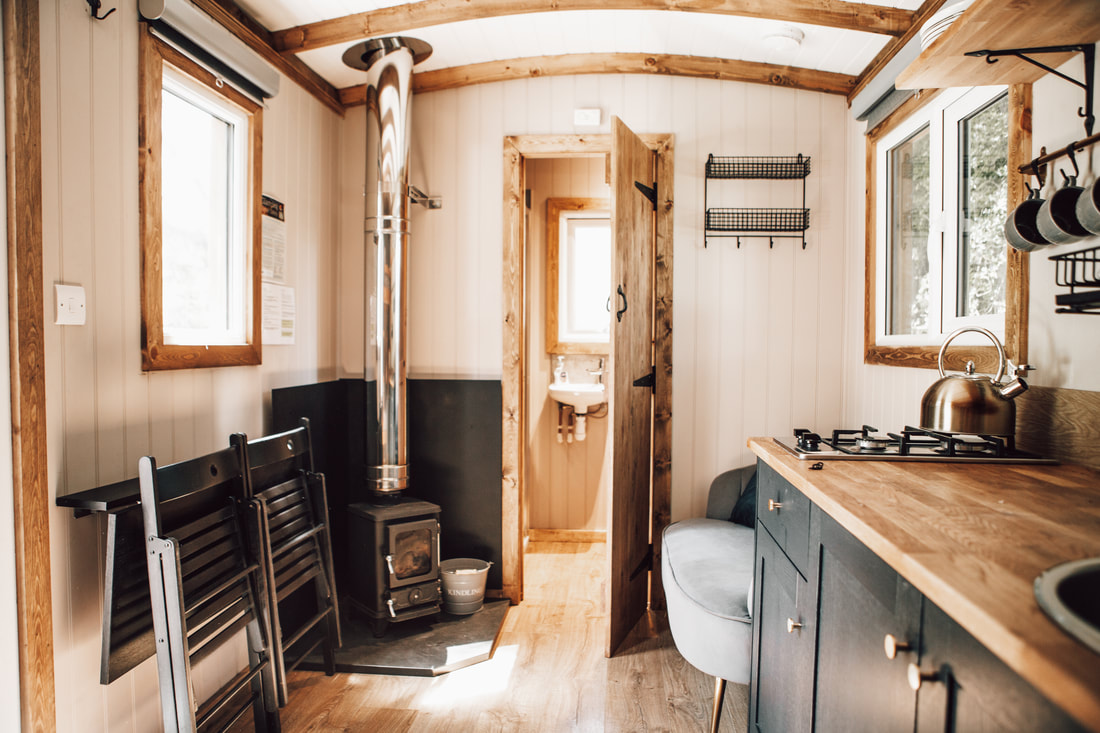 Dartmoor Shepherds' Huts are based near the beautiful moorland village of Holne, which is just a short drive away from our Devon workshop! The campsite is nestled in a quiet valley on the edge of Dartmoor National Park, with woodland on one side and the Holy Brook on the other.
They offer five unique shepherds' huts for guests to stay in. They're all slightly different, but each hut adds a good dose of luxury and glamour to your Dartmoor camping experience! The two larger huts – The Foxglove and Huck's Cabin – are open all-year-round.
All of the huts are made on their own farm in the traditional style. The modern, timber-built structures are even insulated with lamb's wool that comes from their own sheep! There's also plenty of tent pitches, so the campsite offers a range of prices to suit different budgets and needs. Every pitch comes with its own fire pit, so that you can enjoy a good old-fashioned camp fire! The site has direct access onto Holne moor, and it's just a short walk away from the River Dart.
Here, our Hobbit stove has been installed into the Herdwick Shepherd's Hut, which is the newest of the three huts. Our small wood burning stove adds a modern and cosy feeling to the hut thanks to its beautiful styling and the surprising amount of heat it kicks out from a warm and toasty fire.
Herdwick Shepherd's Hut is very spacious. It has a double bunk bed, making it the perfect rural retreat for couples, friends, or families. There's a small kitchen area with a fridge, a table and chairs, and a luxurious sheepskin bench. Basic cooking equipment and utensils are provided, so you don't need to pack a number of pots and pans for your stay! Outside, there is a small decking area with table and chairs as well as a lawn area, which boasts a picnic bench, fire pit and BBQ.
This hut also has its own bathroom with a toilet, shower and basin. The camping pitches benefit from a brand new toilet, shower and utility block, which is just a short walk from any of the pitches.
Click here to visit the Dartmoor Shepherds' Hut website, and view the page for Herdwick's Shepherd's Hut to book your stay today!
If you're wondering how you could incorporate our Hobbit stove or the Hobbit SE into the design of your shepherd's hut, then make sure you take a look at our shepherd's hut small stove installation kits. We have designed two different flue kits that are specifically tailored to shepherds' huts. 
Shepherd's Hut Kit 1 has the flue pipes exiting straight up through the roof of your structure. This is the most cost-effective way to install the stove. You will also benefit from a better draw and extra heat being radiated from your single wall flue pipes. However, if it is not possible to exit through the roof of your structure, then Shepherd's Hut Kit 2 uses twin wall insulated flue pipes to exit out through the wall of your shepherd's hut.
If you're at all unsure as to how you could install our small multi-fuel stove into your shepherd's hut, then please do not hesitate to contact us. We offer a bespoke flue consultancy service free of charge, so if you drop us an email with the following details, then we will be able to provide you with a list of specific parts that have been tailored to your space. We just need:
Some pictures of the inside and the outside of your structure.
The floor to ceiling height of where the stove is going to be sited.
Whether the stove is going to be placed on our stand option, or another raised platform.
The thickness of your roof.
The pitch of your roof.
The roofing material (an undulating metal profile is common for shepherds' huts).
If you are looking to exit out through the wall of your structure, then we would also need to know the height of the hut and the size of any overhang.
If you would like to see how other people have incorporated our small wood burning stove into the design of their project, then make sure you check out our other shepherd's hut case studies!