Bus Libertalia
Our tiny wood stove has found its home in this incredible 1979 Saviem bus!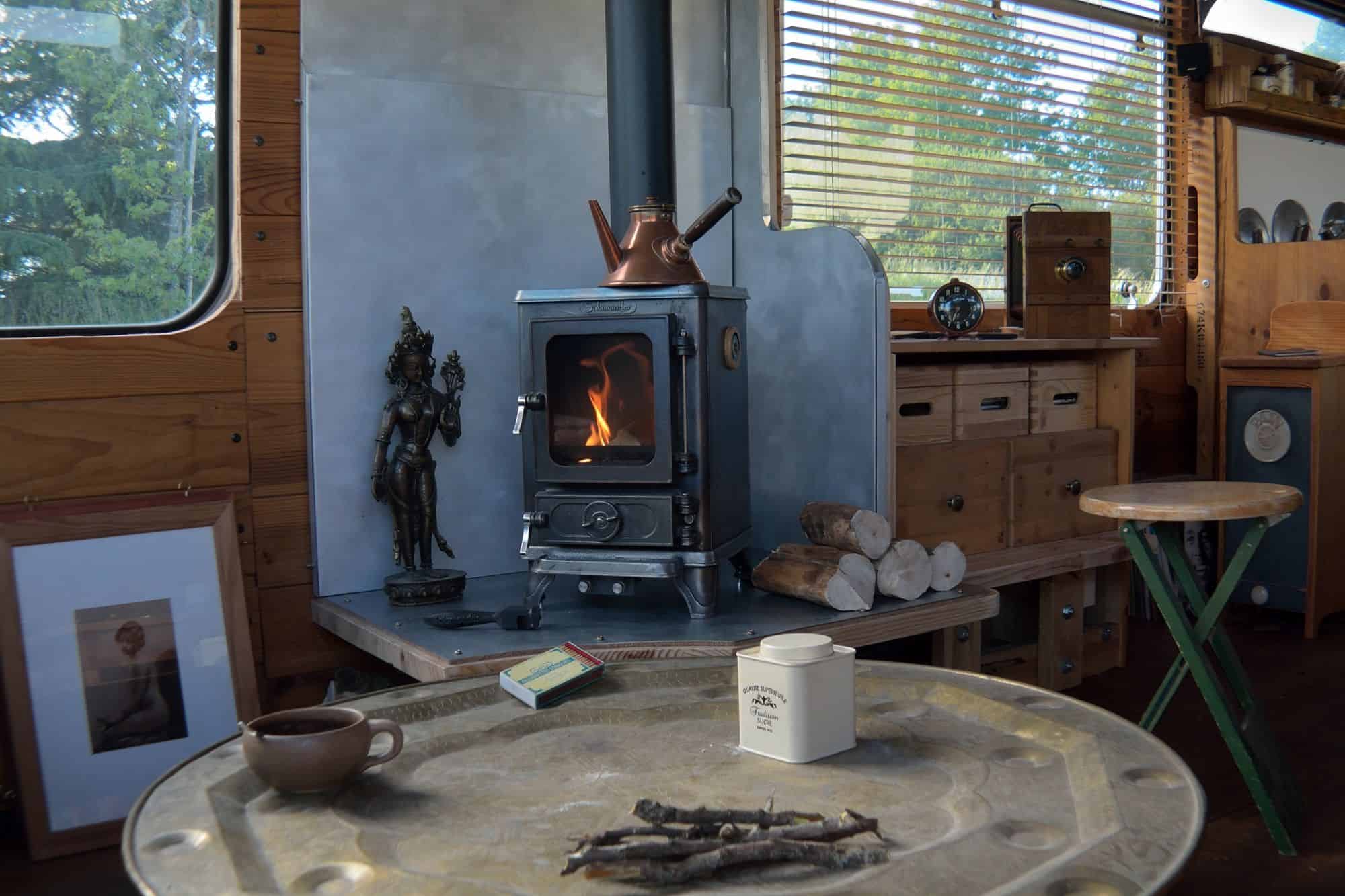 We were very excited to see that our small wood burning stove has been installed in this old French bus from 1979! Make sure you check out the Bus Libertalia Facebook page to see where they currently are, and where they're heading next! Here, our Hobbit stove has been fitted with one of our magnetic stove thermometers and our direct air intake system. 
Our direct air option is a fantastic choice if you're looking to install your tiny wood burner into a small, airtight space, as it enables plenty of outside air to be piped directly into the firebox of the stove. If you're based in the USA and you're looking to install a small log burner into a similar structure, then it's mandatory to have a stove with a direct air system.
Our small wood burning stove is a great choice for vehicles, as there's a pre-drilled hole at each corner of the stove, so that it can be securely bolted down. It also has a solid cast iron construction, so it can take plenty of knocks or bumps if any objects or furniture unexpectedly move about whilst you're travelling around!
If you're wondering how you might be able to incorporate one of our Hobbit stoves into the design of your vehicle, then make sure you take a look through the two van and RV flue kits that we've designed! If you're still unsure as to what flue parts you might need, or if you would like to make alterations to these flue kits, then please contact us, as we offer a bespoke flue consultancy service free of charge!
When it comes to the installation, our stove will need to be sited on a non-combustible hearth that's at least 12mm thick. You will also need to maintain at least 225mm of space from the front of the stove to the front of the hearth, in order to comply with regulations. 
The stove can be placed 400mm away from combustible materials, such as wood, but if you're tight on space, then you may need to shield these materials. This can be done by using metal sheets or fireproof boarding that's at least 25mm thick. The fireproof boarding will also need to sit on some spacers, which should have a 12mm air gap behind them as a minimum. 
If you're looking to install our small wood stove into an especially tight space, then it's worth taking a good look at our heat shield option, as this will drastically reduce the distances that you will need to maintain. You'll certainly need to have a carbon monoxide alarm and at least one vent fitted close to the stove for your safety.
If you're using 4"/100mm single wall flue, then this will need to be positioned at least 300mm away from any combustible materials, although it can be 150mm away from any non-combustible materials. On the other hand, twin wall insulated flue can be sited just 50mm away from combustible surfaces, such as wood. If you have any other questions about your installation, then please feel free to take a look through our help section, or you can contact us with any questions you might have!