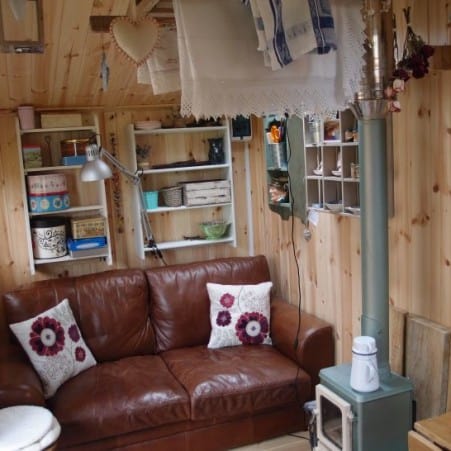 The Garden Room – the small space of your own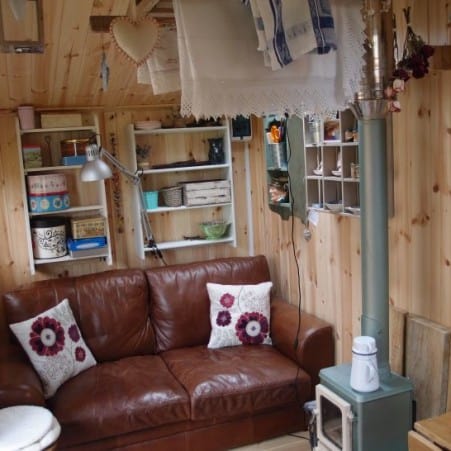 The Garden Room – a small space for you…
Sheds… where else can you create a small space that is completely your own? A space you can furnish and decorate exactly as you choose. A space to escape to, to relax and enjoy a favourite pastime, there's something really important about creating a space in our lives that allows us to just be ourselves. So, does every woman need a 'She Shed?'
Catherine Simpson from Ilkeston certainly thinks so. Catherine filled a lifetime dream in November 2014 when she ordered her bespoke built 'Wendy House.'
Catherine's mother sadly passed away in 2014, Catherine knew exactly what she would do in her memory. Catherine designed her 'she shed' that she named the 'Wendy House' in honour of her Mum. Then she set about finding a company to build exactly what she wanted.
Catherine said "my purchase decision wasn't based on price; it was based on quality, customer service and the ability of the company to build to my requirements."
Catherine's Wendy House is a 3 x 4 meter, lined and insulated building, it is insulated so that it will stay warm in the winter and cool in the summer. The building is constructed from durable, redwood timber. It has a front canopy, decking, patio doors, two skylights and four UVPC, double glazed cream windows. Catherine wanted all the windows to let in as much natural light as possible. Catherine also had the cabin fitted with a small Hobbit stove. She chose our stove but used a local stove fitting company to carry out the stove installation. If you want all of the flue parts you need to install your stove then take a look at our garden room flue kit.
A small wood burning stove really helps to turn any 'she shed' into a home from home. The warmth and comfort it provides along with the possibility of boiling a kettle to make a cuppa or even cooking dinner.
The 'She shed' Wendy House has two areas; one end of the building is fitted with shabby chic shelves, a work bench and moveable work lamps. This is where Catherine does her craft work. The other end has a comfy, leather sofa for reading, relaxing and cosying up to the wood stove. There are shelves on the walls, purchased from antique shops; there is even a bookcase from Catherine's childhood bedroom that has been upcycled to make shelving. The shelves are full of treasures from Catherine's mother's house.
Though Catherine's Wendy House is full of lovely girlie things there is space for her puppy who has his own chair and Kev, Catherine's husband often pops in to relax and share a bottle of wine at the end of the working week.
Catherine said
"I knew exactly what I wanted and I am delighted with my Wendy House. It's warm, cosy, it has a completely different atmosphere to the house, it's my haven and the place I escape to."
The 'She shed' garden room looks right at home in the Simpson's garden, it doesn't dominant or detract, it enhances and has given the garden a lovely focal point.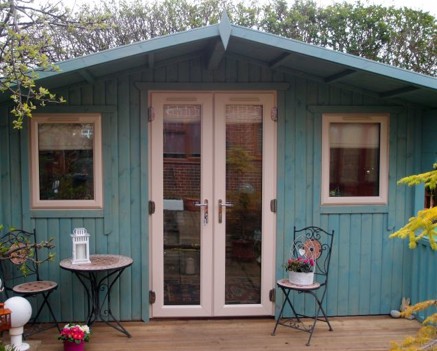 The shed was made by Cabin master visit their website www.cabinmaster.co.uk
INSTALL A WOODSTOVE IN YOUR GARDEN ROOM/OFFICE USING ONE OF OUR GARDEN ROOM FLUE KITS.