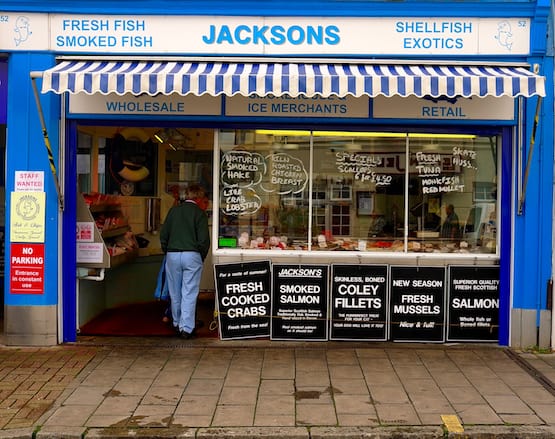 Cacciucco – Food for the people cooked on a wood stove.
Cacciucco – Italian fish stew. Translates as 'bits and pieces' or what was in the net that day. 
Fish & tomato or veg stew is a ubiquitous classic, coined in Italy as 'Cacciucco' but found around the world. A dish that unites the common man
……………………………from whatever shoreline or lakeside he is living.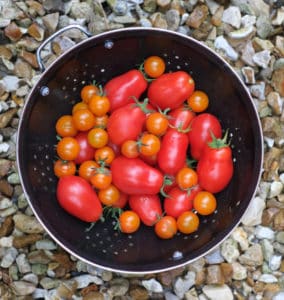 My version we will be using a lovely fillet of monkfish that I picked up from Jacksons fishmongers in Newton Abbot.
Watch me cooking Cacciucco on the Hobbit stove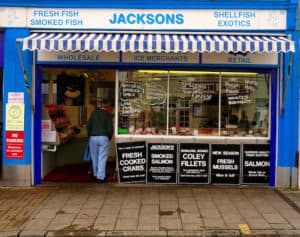 My VEGAN CACCUICCO leaves out the fish and uses stock soaked mushrooms and puy lentils
Using the 'odds and ends' of the vegetables you have in the bottom of the fridge.
On the day I made this version I was sat watching the Masters snooker on the tv.
I used garlic, squash and two small red onions from the garden along with two large fresh tomatos, a red pepper, celery, parsley and some spinach from the supermarket.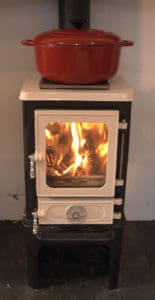 I cooked this slowly on a slow to medium running woodstove. I could hear the feint sizzle of the vegetables as I had drizzled them with olive oil, salt and pepper.
My olive wood spoon that Rosy gave me for Christmas is my new favourite stirry stick.
Best to leave them alone for as long as possible between stirs to increase caramalisation of the edges.
Start with the firmer veg and add the toms, spinach and parley after 30-50 minutes along with a good glug of red wine and top up with vegetable stock. Cover and simmer gently until 30 mins before serving. Then add the lentils.
Cook out the puy lentils until they are soft and have absorbed the lovely broth.
 Watch Keith Floyd in Tuscany – cooking on an open fire. (21.55secs)
Watch Korean cook make fish soup.
This is an Italian classic. There is even a website dedicated to the dish
to read about the history of the dish Cacciucco and it's origins
Of course fish stew is found the world over and you just have to cross the Meditteranean to Greece and the stew is known as Kakavia
Sicilian cacciucco – a video on how to make it by Italian chefs.
Once again a great version of this style of fish stew is provided by the amazingly engaging ,Jamie Oliver. In his series where he takes a road trip around Classical Europe, he makes a version from Greece which is awesome.
The recipe can be found in this book 
The best place to start is by making a killer fish stock from 'bits and bobs' you can hopefully pick up from your local fishmonger for free. Jacksons in Newton Abbot kindly gave me a bag of filleted plaice fish bits which were perfect for combining with a range of odd veg bits from the fridge. I added a splash of wine to some water and simmer this in a saucepan all afternoon.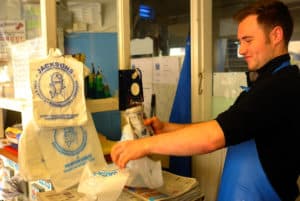 This will be split between a stew and soup which means double the pleasure. The smell of boiling up fish stock is to my nostrils quite delicious but I can concede others, especially those living further from the coast, might not agree. The rewards for the pleasure or pain are however massive so it is a must to make your stock for the stew rather than buying a cube of brown!
To season the stock which after further reduction could easily be described as FISH SOUP, we used Cornish smoked sea salt.
And a dozen turns of the black pepper mill.
 SERVE IN A BOWL WITH CHUNK OF BREAD OR IF REALLY HUNGRY WITH BEETROOT BREAD COOKED ON THE STAINLESS STEEL COOK TOP OR BOILED NEW POTS/RICE & SPRING GREENS.
 For more classic cacciucco recipes, some of which date back over 500 years.
Look below;
Draw a line around the coastal countries of the Mediterranean and you trace a line of fish stews. Each country has there own classic fish and tomato stew
Which is simple to make and glorious to consume.
The literal translation of cacciucco is 'bits and bobs' which describes the way in which fisherman and their friends would have assembled their own unique take on the dish. They would have used what they would have caught in the net and what was available from the vegetable patch or local market. Forget Brexit and the EU, it is fish stew that unites us all.
Here is a collection of fish stew recipes from around the globe.
A collection of fish stew recipes
An Italian cacciucco kitchen enthusiast shows how it would have been done For generations
Really easy Mediterranean fish stew.
http://www.turismo.intoscana.it/allthingstuscany/tuscanycious/cacciucco-alla-livornese-recipe/
http://www.saveur.com/article/Recipes/Tuscan-Seafood-Stew
North African fish stew recipe
Tunisia Morocco Algeria Libya Egypt Israel Lebanon Syria Cyprus Turkey Greece Albania Montenegro Croatia Slovenia
Spain France
Brazilian fish stew – Moqueca
Californian fish stew – Cioppino
Sri Lankan fish curry by Jamie Oliver
Watch Rick Stein making fish stew
Homes and garden fish stew recipe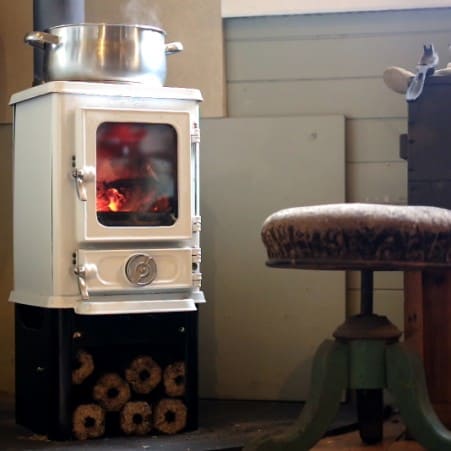 VIMEO VIDEO CHANNEL FOR THE SALAMANDER COOK STOVE